Newly Discovered Film Reveals More About Market
On the heels of a busy History Days weekend, we learned of an interesting historic discovery from The Chronicle's Amy Graff-- a long-lost companion film to the famous 1906 "A Trip Down Market Street."

This is a view of Market Street looking west from Geary in January 1906. At right is Lotta's Fountain, an important landmark in downtown and at center, a cable car headed for the Ferry Building.
According to film historian David Kiehn, the first "Trip Down Market" film was shot about three months after the above photograph, and just days before the great 1906 Earthquake and Fire in April 1906. It was shot from the front of a cable car, which were the primary transit mode at the time. Taken as the car rolls towards the Ferry Building from about 8th Street, the film shows an incredible "slice of life" look at the city's most important thoroughfare.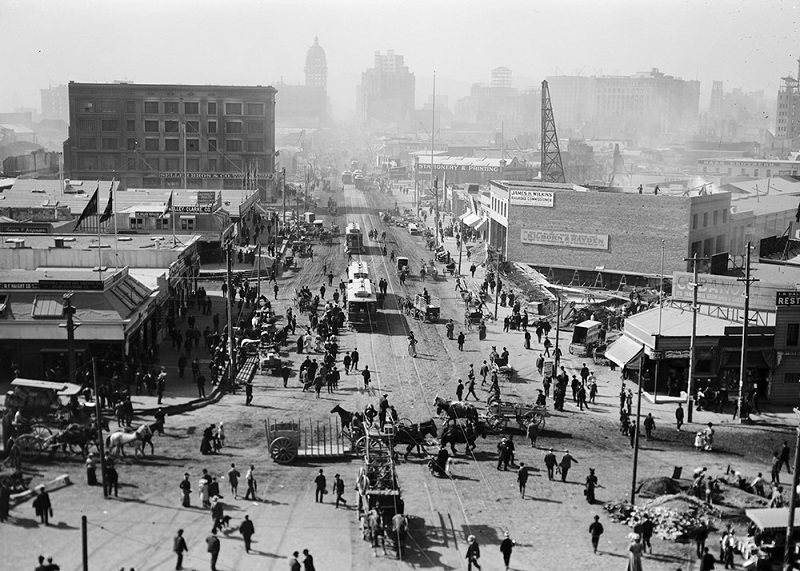 This view of Market Street, looking west from the Ferry Building in October 1906 shows a city busy at work to rebuild. The burnt-out skeletons of buildings still loom above the mass of activity.
The newly discovered film, made by the same people who produced the first, was apparently shot a couple of weeks after the disaster. It includes a post-quake version of the first film, among other incredible shots of the aftermath.
This film, which has been digitized by the Niles Essanay Silent Film Museum, will be shown at the museum's theatre in Fremont on April 14, just four days before the 112th anniversary of the 'quake.
Market Street today remains as the city's primary corridor for buses, pedestrians, cyclists, and auto traffic travelling to and from downtown. In order to make a Better Market Street, we're holding two upcoming community workshops this Saturday, March 10 and next Wednesday, March 14th. Join SFMTA and Public Works outreach staff to share your thoughts on how to make Market a street for all.
Follow us on Instagram for more great SFMTA Photo Archive photos!