Our Newest Bike Corral is a Work of Art
An art piece that parks bikes?
That's the new life of a slice of street pavement at the corner of Fell and Divisadero streets, which was recently converted from its former use as a car parking space.
Unlike other merchants who request bike corrals, Madrone Art Bar owner Michael Krouse wanted the curb space outside his business to become something even more. When the SFMTA Bike Parking Program floated the idea of a mural in asphalt, Krouse jumped at the opportunity and commissioned local artist Kristin Farr to use the pavement as a canvas for her mural.

Artist Kristin Farr relaxes after installing our first bike corral mural outside of the Madrone Art Bar. Photo credit: SFMTA
"We are proud to launch this unique initiative with the SFMTA," said Krouse. "Having the city's first on-street mural outside our art bar in a bike corral isn't just fitting, it highlights the nexus between local business, art and transportation."
"City initiatives like these bring out the creative side of our communities," said Board of Supervisors President London Breed, who represents the local district. "I'm excited to see a District 5 business like Madrone Art Bar using public space to promote both local art and sustainable transportation. I hope other businesses in the city will consider doing the same."
Farr's colorful, painted geometric designs have been painted on many types of surfaces in thematically selected palettes, using contrasting colors to create structure and dimension. Farr's distinctive work can be found in public spaces throughout SF and other cities around the world (check out her work on Flickr).
Meanwhile, the mural-decorated space now hosts our 69th bike corral, which is a curbside area holding four to five bike racks (parking for eight to 10 bikes) in one car parking space. Our city is among those with the most bike corrals in the country.
"Streets, buses and parking facilities don't just help people get where they need to go, they can also be canvases for our vibrant communities," said SFMTA Director of Transportation Ed Reiskin. "We wanted to demonstrate how a simple bike parking space could be more than just that with creativity and the support of local business. While this was our first pilot, we're eager to work with all those interested in marrying bike parking and public art near their front doors."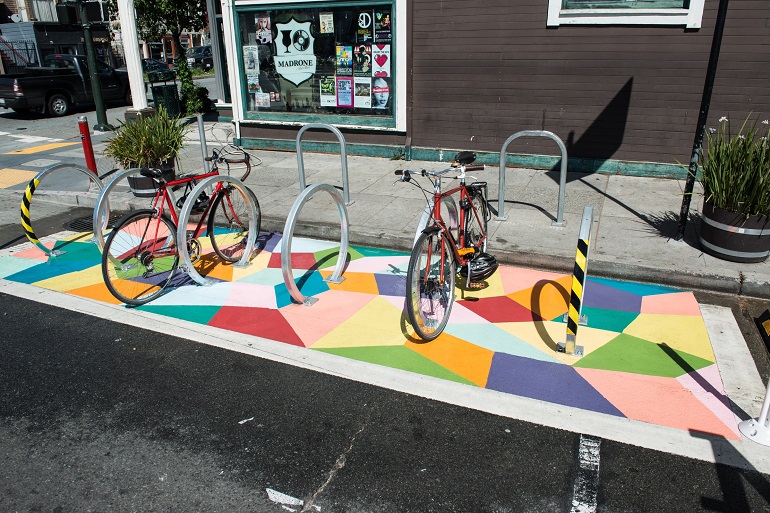 The latest bike corral in SF also comes with some art appreciation. Head to Fell and Divisadero to check it out. Photo credit: SFMTA
Last year, the we installed more than 800 new bike racks throughout the city. Each year we receive more than 300 requests for bike parking. San Francisco now has more than 5,000 bike racks (which park more than 10,000 bikes) at more than 3,000 locations.
Check out our Bicycle Parking webpage for an interactive map of all of those locations as well as info on how to request a bike rack or corral.