Pardon Our Dust, Fisherman's Wharf: Work to Start on Muni Yard's Fuel Tanks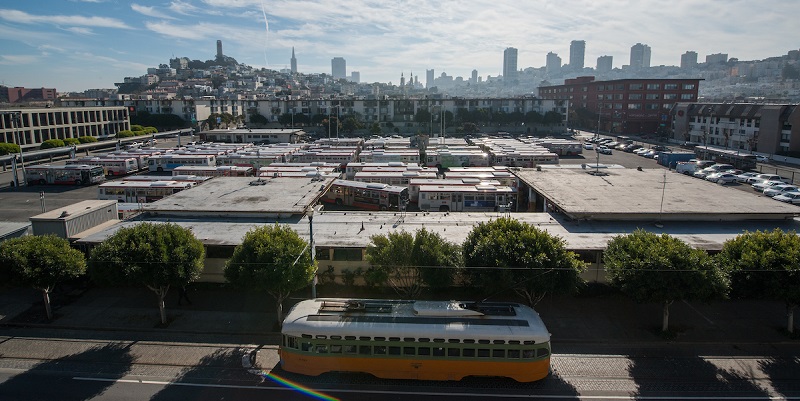 Starting next week, we will begin work at Muni's Kirkland bus yard in Fisherman's Wharf that will require some disruptions on the block surrounded by Beach, Stockton, North Point and Powell streets.
This work, which is expected to last about nine months, will replace two outdated, underground fuel tanks used for refueling Muni buses at the Kirkland yard with a safer, more efficient system.
The new fueling system will store renewable biodiesel and feature double-walled tanks, a new monitoring system to detect leaks and faster, more reliable fuel dispensers. During the tank excavation, any contaminated soil and water will be treated on site and disposed appropriately.
Construction Impacts
Here are the impacts on expected for this work: 
Stop moved for E Embarcadero and F Market & Wharves streetcar lines: The outbound stop at Beach and Stockton streets will be moved from the southwest corner to the southeast corner. The closest wheelchair-accessible stop is two blocks west, on Beach at Mason Street.
 
Sidewalk closed on the south side of Beach Street between Powell and Stockton streets. Please use the north side of the street.
 
Some curbside parking occupied for construction on and near North Point at Powell and Stockton streets.
 
Intermittent traffic lane closures around the block where necessary.
 
Possible noise, dust and odors during excavation.
The work will take place on weekdays, from 7 a.m. to 4 p.m., and some weekend work may be required.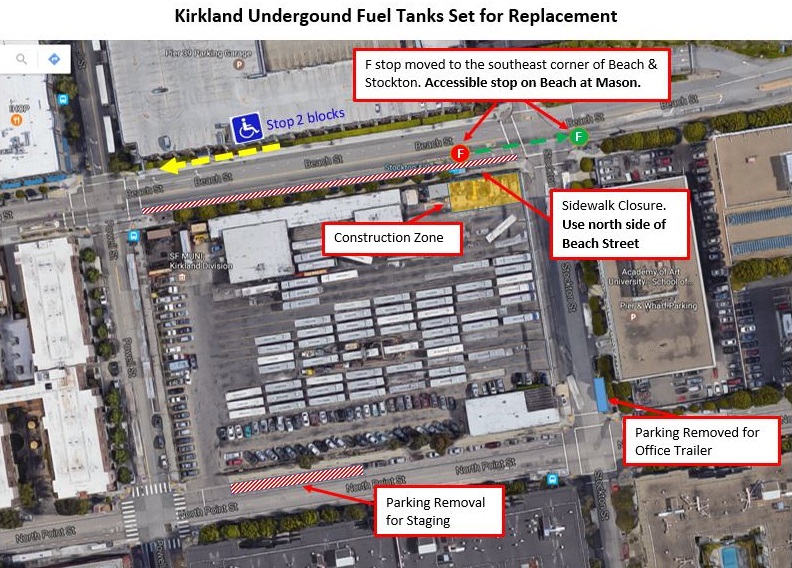 We've worked to minimize any inconvenience for Muni customers, residents and businesses. We revised an original plan to avoid disrupting service on the E and F lines, and our goal is to re-open the streetcar stop and sidewalk on Beach Street well ahead of the completion of the project.
As the work proceeds, we will provide updates via fliers, signs, on social media and ambassadors on the street.