Potrero Yard Modernization Project Reaches Milestone
Tuesday, November 1, 2022
The Potrero Yard Modernization Project has reached a key milestone to replace the obsolete, 107-year-old Potrero Bus Yard with the nation's first joint development of a bus facility with housing constructed on top. Today, the SFMTA Board of Directors approved awarding the project's predevelopment agreement (PDA) to Potrero Neighborhood Collective, LLC (PNC) as lead developer (LD). This milestone serves as a starting point for Potrero Neighborhood Collective to work together with the City and project stakeholders to further develop the current concept design and start the process that will produce the final project and housing agreements. 
The successful proposal's conceptual design is for a modern, three-story bus storage and maintenance transit facility and approximately 575 affordable rental units for those with low or moderate incomes. This unique use of a public resource to advance the City's housing goals while improving desperately needed transit infrastructure would make the facility the first of its kind in the nation.  
Approximately half of the units are planned for low-income seniors, families and single-occupant households. The "low-income" designation is based on earning levels of 80% or below of the Area Media Income (AMI). The remaining units will be available to "moderate-income" households earning between 80% and 120% of the AMI. Many SFMTA staff, including bus operators and maintenance staff, fall within this income bracket. 
The ambitious affordability goals for the housing component are reliant on competitive non-City sources, and should the project not secure these sources on a schedule that can accommodate the construction of the bus yard facility, the housing program may need to be amended.
Planning for the project included multiple outreach events with community members and organizations, as well as the formulation of the Potrero Yard Neighborhood Working Group, an advisory panel made of community stakeholders, housing advocates, nearby neighbors and transit operators. The successful proposal includes input received from the community and is consistent with City policies on anti-displacement, inclusive communities and creating stable housing for vulnerable populations.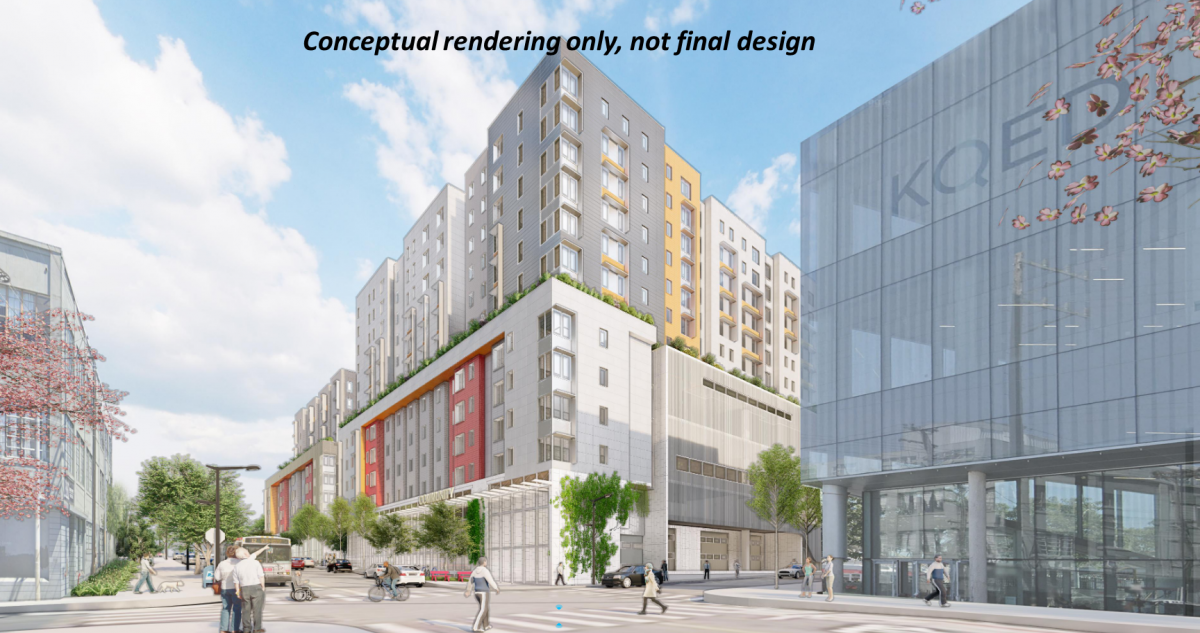 A conceptual rendering of the multi-use Potrero Yard Modernization Project design. This view looks at the SW corner of Bryant and Mariposa streets, and shows how housing elements might be situated atop a three-story, all-electric bus facility. The concept design includes commercial space fronting Bryant Street with ground floor spaces that anticipate uses by community-based organizations and small businesses, that would complement the existing neighborhood-serving commercial presence there. The concept design showcases a commitment to being a good neighbor to the community. For example, the building massing is oriented to minimize shadowing on Franklin Square Park with a design strategy that steps down the building height as it ranges from the highest point at Mariposa Street towards lower heights at 17th Street adjacent to the park.  (Image: IBI Group, ibigroup.com)  
The Potrero Neighborhood Collective (PNC) team is led by its sole equity member, Plenary Americas US Holdings Inc. (Plenary). An investor and developer of public infrastructure, Plenary has a long track record of delivering complex infrastructure, project finance and public private partnership (P3) projects. PNC also includes veteran San Francisco affordable housing and housing developers Mission Economic Development Agency (MEDA), Young Community Developers (YCD), Tabernacle Community Development Corporation (TCDC), and Presidio Development Partners. Rounding out the team are design consultants IBI Group and Y.A. studio; providing preconstruction services from the general contracting and construction management perspective are Plant Construction Company and The Allen Group; and infrastructure facility management consultant WT Partnership.  
When the SFMTA launched the Building Progress Program in 2017 — a $2.3 billion multi-year effort to repair, renovate, and modernize the Agency's aging facilities —the first facility to be prioritized for an overhaul was Potrero Yard. Potrero Yard houses bus routes that service neighborhoods across the city, including many communities that are heavily reliant on transit. Routes include the 5 Fulton, 5R Fulton Rapid, 6 Haight/Parnassus, 14 Mission, 22 Fillmore and 30 Stockton.  
The current yard does not meet up-to-date seismic safety standards and is unable to adequately support modern maintenance and cleaning. The design of the new bus facility would provide adequate space and operational flow for bus maintenance, parking and circulation of the bus fleet. A modernized facility will create better working conditions for the frontline workforce entrusted with keeping the buses in safe operation and reduce downtime for buses for both scheduled and ad-hoc repairs. A new facility would make possible Muni's transition to an all-electric fleet that uses trolley and battery electric buses (BEBs), a critical component in the City's efforts to address climate change. The new facility is planned to have a fleet capacity of 213 buses, an increase of over 50% from current levels.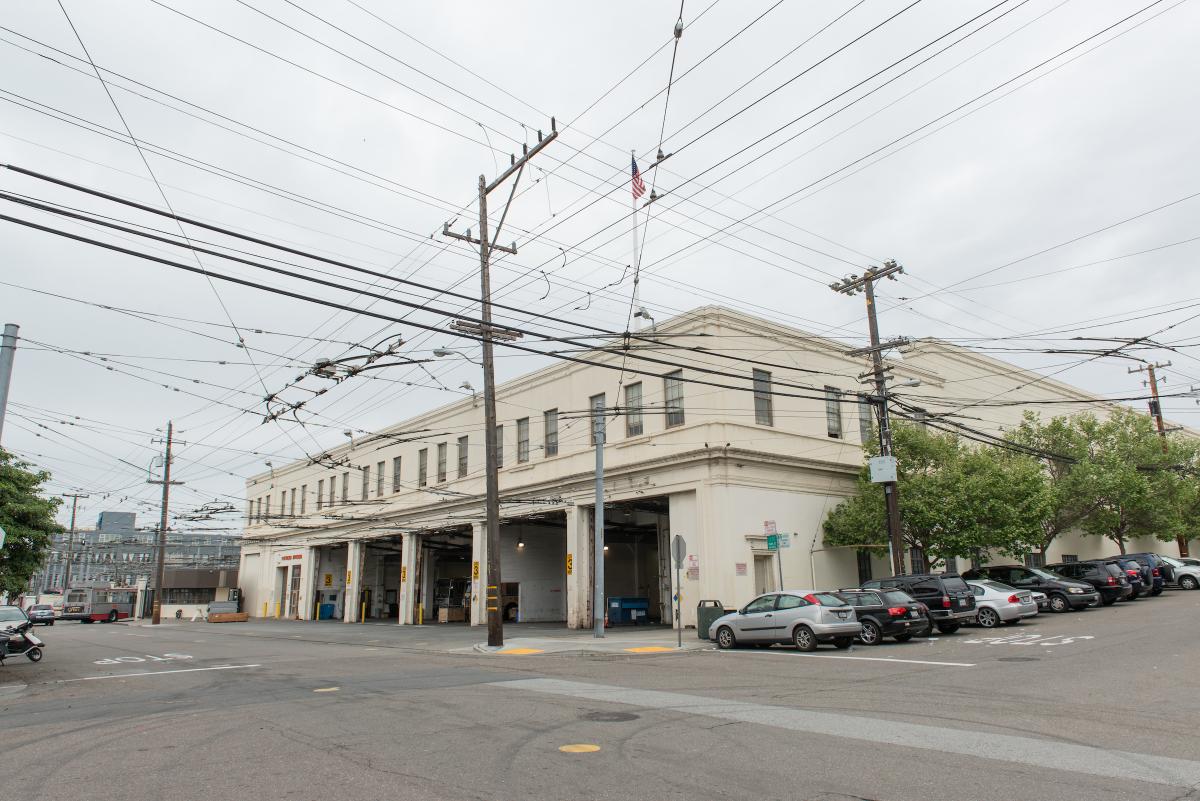 The Potrero Division Building and Yard seen from the intersection of Mariposa and Hampshire streets.
Addressing the City's affordable housing goal while creating a transit facility – one that will prepare the Agency for another century – demonstrates SFMTA's continued national leadership in delivering sustainable transit and shows a capacity for creative thinking to address San Francisco's housing goals. Check out the project presentation online, which provides information about this milestone and the successful proposal for the project. For additional information, visit the Potrero Yard Modernization Project website or SFMTA.com/PotreroYard.