A Red, White and Blue Muni
As we approach one of our country's biggest holidays, the Fourth of July, we'd like to share a photo from a past celebration that was extra special. In 1976, for the 200th anniversary of the signing of the Declaration of Independence, Muni went all out to show its red, white and blue colors by painting three pieces of equipment in a star-spangled livery just for the bicentennial.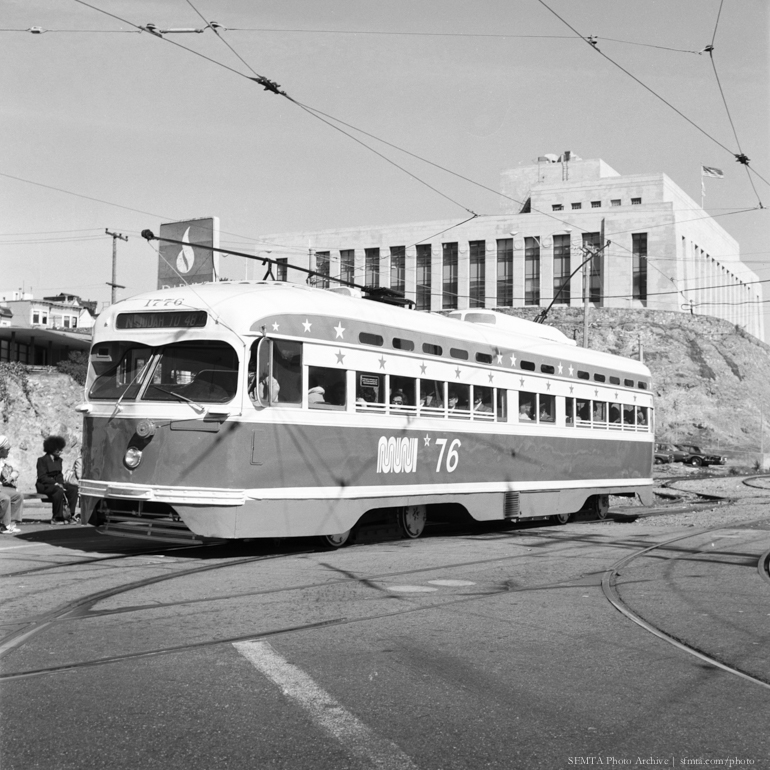 Bicentennial Streetcar 1776 in Service | February 19, 1976 | M2166_8
Streetcar 1776 was appropriately chosen as the bicentennial rail vehicle, seen here passing the U.S. Mint on Duboce Avenue and Church Street. Along with car 1776, Trolley Coach 776 and GMC Motor Coach 3210 were painted in special color schemes for the year, using three different designs on the three vehicles. Each vehicle incorporated the stars, stripes and colors of the American flag in different ways, along with the famous Muni "worm" logo, which was only a year old at the time.
While we won't be rolling out any of these red, white and blue vehicles for this year's holiday, you can still catch Trolley Coach 776, which was saved from the scrap yard and is now fully restored, during Muni Heritage weekend on Sept. 26-27. GMC Coach 3210 was also saved from the torch and is currently undergoing restoration in the '76 bicentennial livery by its loving owner, a long-time Muni operator and equipment fan. Hopefully the bicentennial "Jimmy" will be operational and hitting the streets in time for America's 240th birthday next year.
Be sure to plan ahead and consider avoiding the driving and parking hassles by taking Muni if you're headed out to the Fourth of July celebrations and spectacular fireworks displays at Pier 39 and the Municipal Pier (in Aquatic Park). Or spend some extra time for a special holiday bike ride or walk along the waterfront to the displays. Muni will operate on a regular weekday schedule this Friday, July 3, while service on Saturday, July 4, will operate on a Sunday schedule. For details click here.
Check out more historic photos on the SFMTA Photo Archive website and follow us on Flickr, Twitter, Google+, and Instagram to stay tuned to our photo posts.