Reimagine Potrero Yard with Us
Potrero Yard, one of Muni's oldest bus yards, is the first facility in the modernization and improvement project being proposed through the Building Progress Program. The SFMTA launched the Building Progress Program with the intent to upgrade our old facilities across San Francisco. These upgrades include facility improvements for Muni operations, traffic enforcement, and systems maintenance to better serve our riders and to keep the City moving.
After nearly two years of community outreach and with guidance provided by the Potrero Yard Neighborhood Working Group (consisting of eleven community members and two Muni operators), the SFMTA will be hosting a Potrero Yard Project Open House & Pre-Application Meeting at The Archery, located at 498 Alabama Street, to present our project concept to rebuild Potrero Yard.
The event will provide an opportunity for the public to learn and share feedback about the project concept, which is the framework for: a modern new bus facility, a residential community above the bus yard, and ground floor activation around the building before it is submitted to the San Francisco Planning Department. The pre-application meeting is the first step of the development process and there will be many more opportunities for community members to weigh in as we continue to define the project.
Event Details:
Saturday, October 26, 2019
11 a.m. to 2 p.m.
The Archery
Nearby Muni Routes: 9 San Bruno, 22 Fillmore, 27 Bryant, 33 Ashbury/18th, and 55 16th Street.
Families are encouraged to bring children - we will have fall activities and snacks for all!
Current Potrero Yard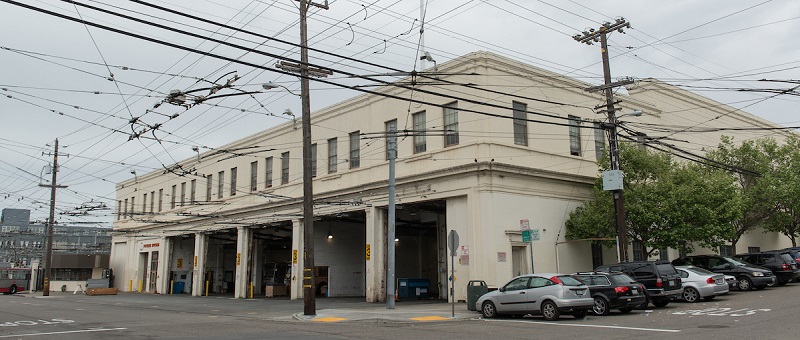 Potrero Yard was built in 1915 and sits on 4.4 acres between Bryant and 17th streets, near the Mission, Potrero Hill, and South of Market neighborhoods. The two-story facility originally operated as a streetcar facility and has since expanded to hold 158 40-foot and 60-foot trolley buses.
Due to the building's age and changes in bus fleet technology, major improvements are needed to ensure we maintain our fleet of buses as efficiently as possible and that we can accommodate our new buses that will be delivered in the next eight years.
A building renovation cannot solve all of the maintenance challenges and facility expansion needs of the yard. Further, we need to enhance the building's resilience to climate change and natural disasters. So, we are looking to completely rebuild Potrero Yard.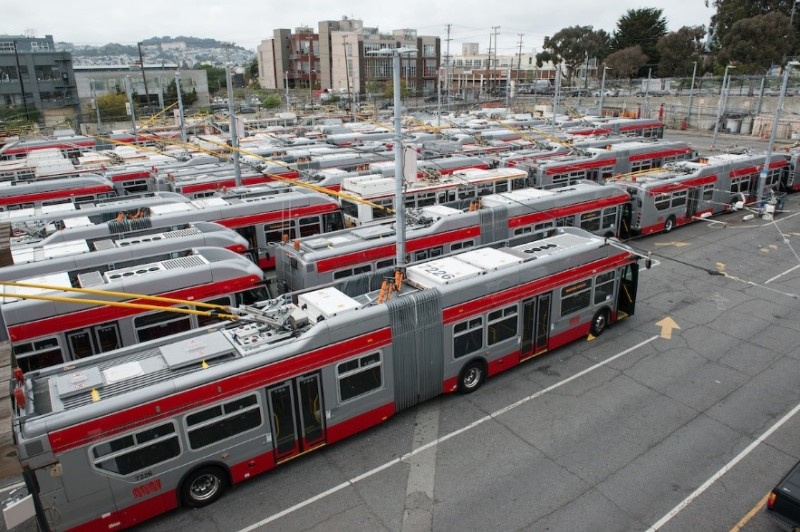 The Proposed Facility
The new three-story facility will be state-of-the-art and will allow the SFMTA to keep buses on the road longer between fixes. As a result, we will improve service for our 102,000 daily customers who rely on the six bus routes (5 Fulton, 5R Fulton Rapid, 6 Haight-Parnassus, 14 Mission, 22 Fillmore, and 30 Stockton) that run out of the yard.
The modern yard will store 213 buses - an increase of 35 percent.
In addition, the facility will:
Accommodate our battery-powered electric buses

Support street operations activity

Centralize and modernize Muni operator training
Housing on top of a Bus Yard?
As the SFMTA plans how to modernize our facilities, we are also partnering with the City (SF Planning, Mayor's Office of Housing and Community Development, and the Office of Economic and Workforce Development) to explore housing above Potrero Yard. Given the large footprint and centralized location of many of our yards, we understand working with our City family to tackle the need for more housing is important. With stakeholder input, the City has collaborated on specific elements such as zoning, neighborhood characteristics, density, and shadow considerations, as well as cost estimates. As we present the proposed project concept to our community stakeholders, we hope to collect feedback that will help inform the project concept that we include in the Project Application to the Planning Department.
We hope you can attend this month's event. However, if you are unable to attend there are additional ways to stay engaged.
Learn more about the project, register to take a tour of the yard and subscribe to project updates by visiting our webpage.
.
For more information, please email us or call us at 415.646.2223.