Ringing In 55 Years of Landmark Status
Wednesday, October 9, 2019
This year we're commemorating the 55th anniversary of the designation of the cable car system as a National Landmark with the 55th Cable Car Bell Ringing Contest! Come on out to Union Square tomorrow at noon to celebrate our city's most iconic transit mode with a San Francisco original event.
While the charming cable cars themselves tend to get all of the attention, the Cable Car National Landmark actually encompasses the entire system from the powerhouse and cable winding machinery to the tracks and turntables. Just like you cannot have a true "San Francisco summer" without fog, you can't have Landmark cable cars without all of the mechanical components that make the system run.

Photo of the 1964 plaque designating the San Francisco Cable Car System as a Registered National Historic Landmark.
By the time the cable car system was established as a National Landmark in 1964, cable cars had already been around climbing the hilly streets of San Francisco for over 90 years. As the 20th century progressed, it became clear the entire antiquarian system was due for a major restoration, necessitating a complete shut-down and major rebuilding project that lasted from 1982 to 1984.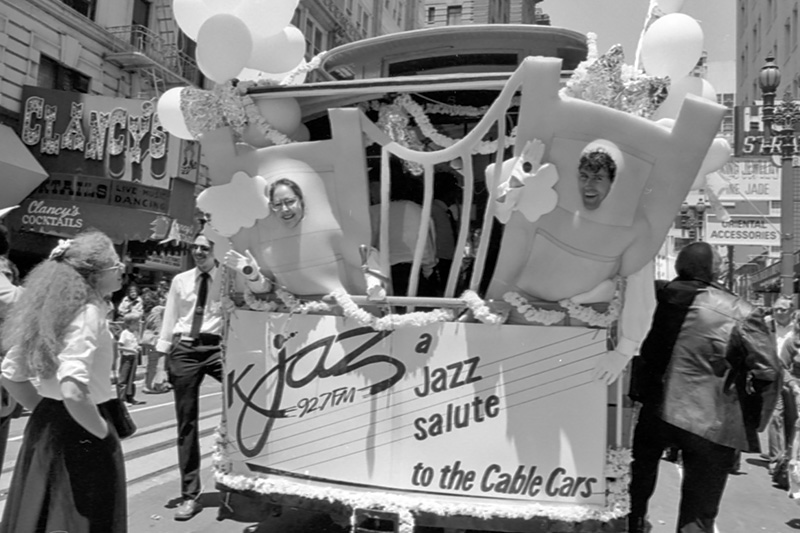 The return of the cable cars after their two-year restoration hiatus was marked by major celebrations, including a parade of cable cars and San Francisco-themed costumes in June of 1984. The parade was accompanied by the 22nd Cable Car Bell Ringing Contest in Union Square.
It has been noted that San Francisco's cable cars are the only National Landmarks that are a moving part of a transportation system, but since 2014 that distinction is not San Francisco's alone as our City by the Bay's cable cars were joined by the St. Charles streetcar line of New Orleans-- and we say the more the merrier!
On the other hand, it is true that San Francisco is the only city to hold a Cable Car Bell Ringing Contest. You can be a part of the festivities at this year's "Emerald" Bell Ringing Anniversary. As always, the big event is free to attend and will feature the best of SFMTA's squad of cable car bell-ringers vying for the title of World Champion.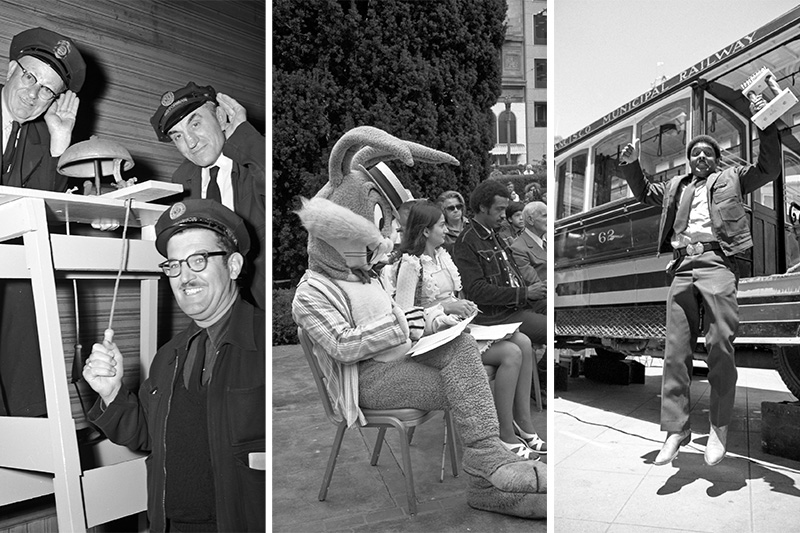 On the left, one of the earliest Cable Car Bell Ringing Contests in 1957. At center, Bugs Bunny—voiced in the Looney Tunes cartoon by San Francisco native Mel Blanc— sits in as a competition judge at the 1973 Bell Ringing. On the right, ten-time winner Carl Payne gives a victory leap with his trophy in 1987.
Check out more of our Bell Ringing photos from the past 55 years at the SFMTA Photo Archive website and follow us on Instagram!