San Francisco is Growing. Driving? Not So Much.
Wednesday, September 21, 2016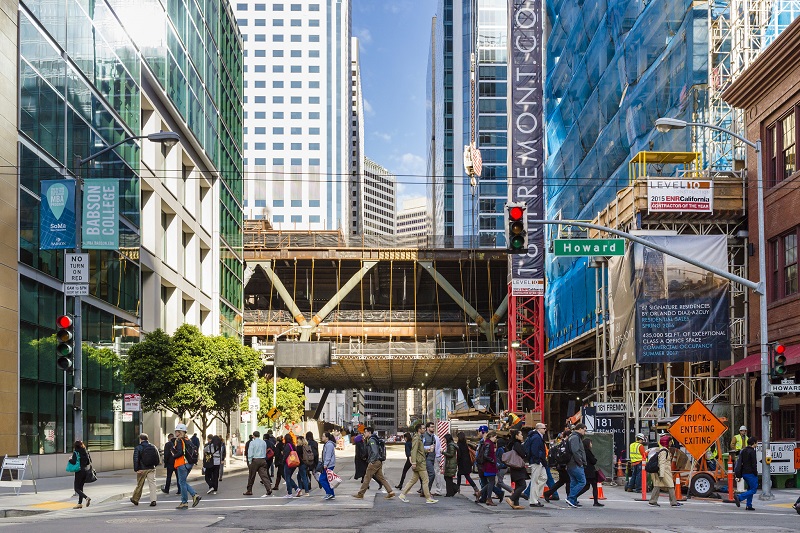 Fremont and Howard Streets, with the Transbay Transit Center under construction behind. Photo: Sergio Ruiz/Flickr
As San Francisco grows, the city's investments in encouraging people to take transit, bike and walk are paying off.
That's the picture from the U.S. Census Bureau's 2015 American Community Survey, which showed that as SF's economy booms, the vast majority of new commute trips in the city are made without a car.
From 2006 to 2015, SF added roughly 100,000 commuters, and 85 percent of the additional trips are car-free. Just over half (53,000) are made by transit, and the combined growth in commutes by foot (13,000) and bike (12,000) is nearly double those by car (15,000).
Prioritizing walking, bicycling and transit over private car usage is at the core of the city's Transit-First Policy, which directs the SFMTA's vision for a world-class, people-centered city.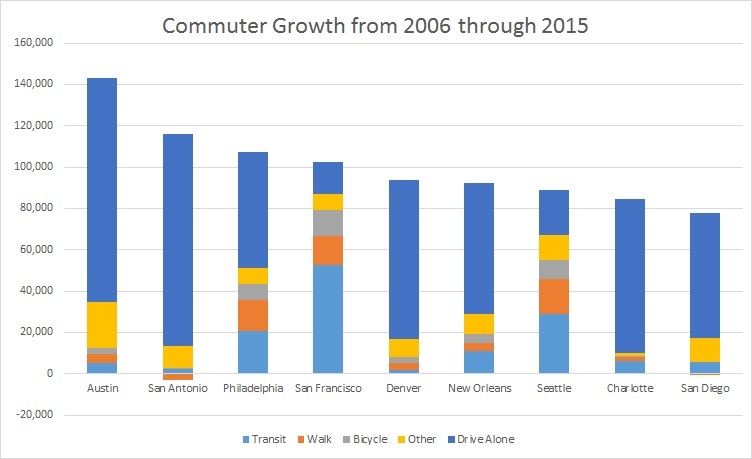 Commuter growth from 2006 through 2015 for Ausin, San Antonio, Philadelphia, San Francisco, Denver, New Orleans, Seattle, Charlotte and San Diego. The dark blue sections represent driving commuters.
The Transit-First Policy has guided the agency's decisions to:
Accounting for San Francisco's rapid growth is at the heart of the city's Transportation Sustainability Program, a joint effort by the SFMTA, the Planning Department and the SF County Transportation Authority to smartly plan and invest in a transportation network that accommodates new growth with safe, efficient alternatives to driving.
This long-range vision already has significant wins, including requirements for developers to pay more to improve transportation options and reforms of the environmental review process that will foster more sustainable transportation and land use planning decisions.
The final piece of the sustainability program is an ordinance that would provide incentives to developers who include amenities in lieu of car parking, like subsidized transit passes and secure bike parking, to their tenants. That ordinance is slated to go before the Board of Supervisors for approval this fall.
With those efforts underway, the American Communities Survey findings are welcome news. And the statistics align with other recent findings which show a clear trend in San Francisco: Transit, walking, and bicycle commuting are each growing much faster than driving.
Further proof lies in what the Census survey says about car ownership. The survey found that over 30 percent of all San Francisco households do not own a car, and that number has increased. Between 2006 and 2015, the city added over 34,000 new households, 56 percent of which were car-free. (Car-free households grew by over 19,000, while those with one car grew by over 8,000, and those with two or more cars grew by just under 7,000.)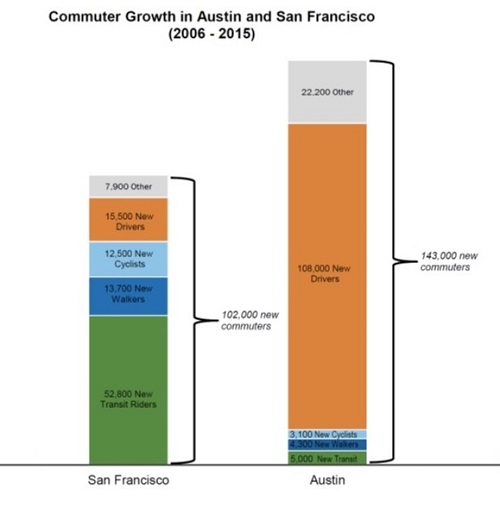 In San Francisco, 15 percent of growth in commuting was by car, compared to 75 percent in Austin, Texas.
This isn't every city's story. In the same nine-year period, the survey showed that in many American cities solo driving increased much faster than in SF. San Diego added nearly 61,000 drive-alone commutes (about 79 percent of its additional trips), Denver added nearly 77,000 (82 percent) and San Antonio added over 100,000 (91 percent). Austin, a tech hub with a population that roughly matches SF's, hitched on an extra 108,000 new car commutes (75 percent).
All this data underscores the idea that investing in infrastructure to improve transit, walking and bicycling works. The choices people make reflected in these statistics remind us why our commitment to making these options safer and more convenient is crucial for the present and future of the city's travel needs.