San Francisco's Stationless Bikeshare Pilot Reaches Mid-Point Milestone
Tuesday, September 18, 2018
At today's SFMTA Board of Directors meeting, agency staff shared preliminary findings from a mid-point evaluation of San Francisco's 18-month electric, stationless bikeshare pilot.
JUMP Bikes is the only permittee in the pilot, which began in January. They were also the only applicant that completed an application and met the requirements for a stationless bike share permit from the SFMTA.
When JUMP was first offered its permit in January 2018, the SFMTA created a pilot program that allowed for an initial rollout of 250 bikes, with the potential to add an additional 250 after the first nine months, pending agency review.
The decision to expand the number of bikes in the pilot ultimately lies with the SFMTA Director of Transportation and today's staff presentation was an informational update to the agency's board. The Director of Transportation's formal decision to expand the pilot is expected by October 9.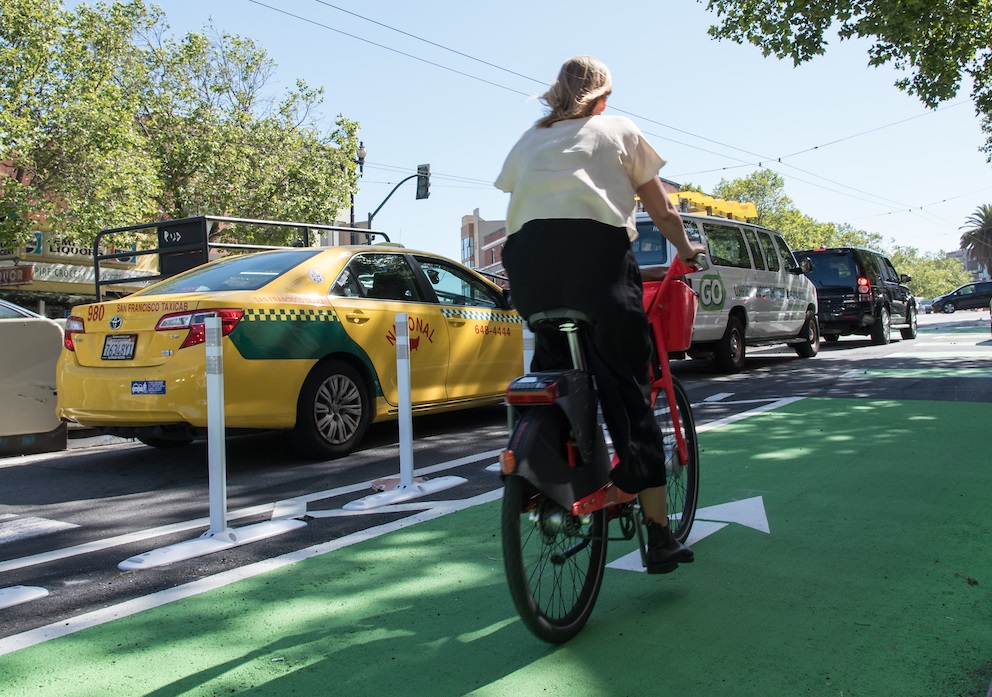 Preliminary Findings and Data
While the pilot's mid-point evaluation and analysis will be made public in October, preliminary findings have produced a staff recommendation for the agency to expand the number of bikes in the pilot from 250 to 500.
In just over seven months of operation, data received from JUMP showed the SFMTA that:
More than 326,000 total trips were taken

Approximately 2,250 trips are taken each weekday

The average JUMP bike is used eight to 10 times a day

The average JUMP trip is 2.6 miles

There have been approximately 38,000 unique users of the pilot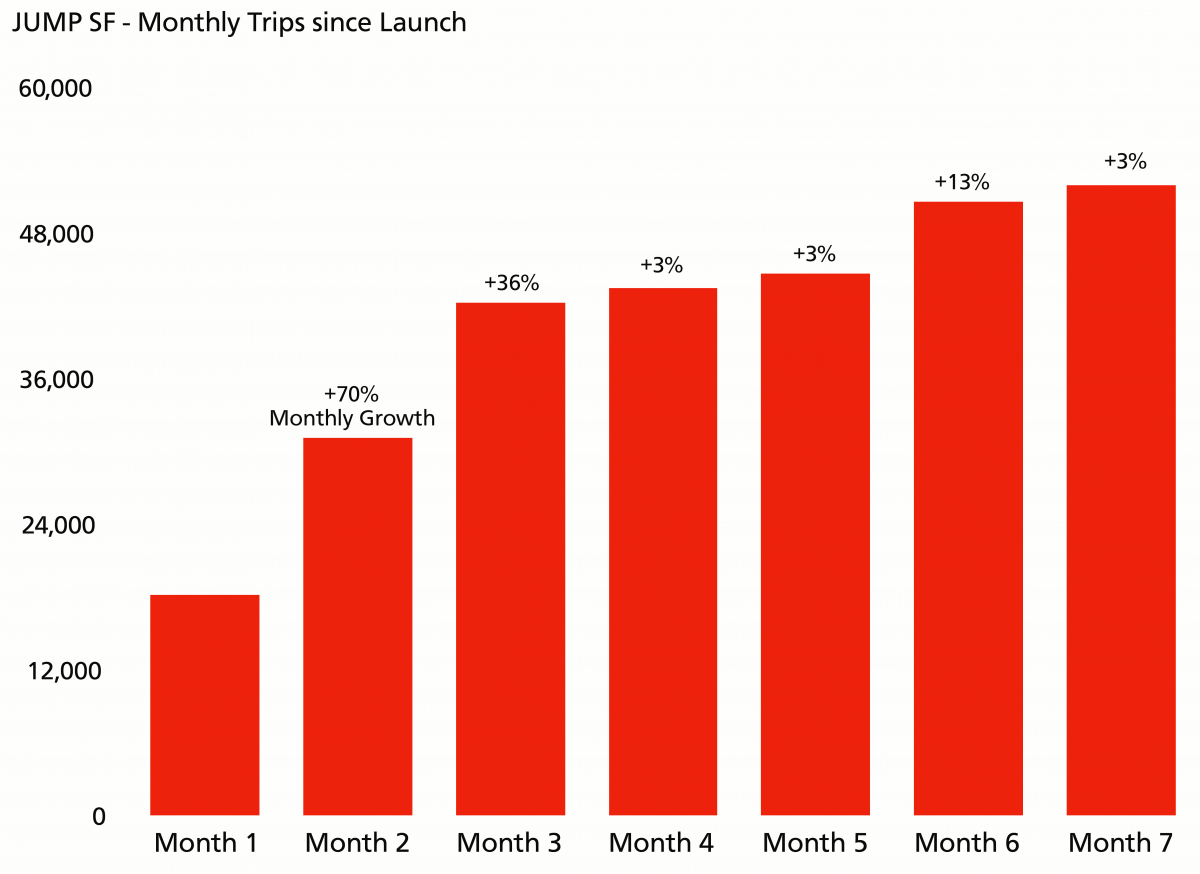 Data and graph provided by JUMP Bikes.
Public Feedback and Equity
Through this pilot program, the agency has also prioritized gathering public feedback to identify opportunities for improvement.
For example, while 55 percent of JUMP trips start or end in San Francisco's Communities of Concern (CoC), which are the most disadvantaged communities in the city, some CoCs have reported underservice. To that end, agency staff will work with JUMP to improve geographic equity and distribution, as well as develop more robust community engagement.
One area where the SFMTA has heard very limited public concern is improper parking and blocked sidewalk access. An integrated lock that secures a JUMP bike to a bike rack has addressed the city's initial concerns with potential parking issues. At the time of their permit application, JUMP was the only company to include an integrated lock on their bike.
Agency Mid-Point Evaluation Conclusions
The SFMTA's stationless bikeshare pilot is similar to approaches the agency has taken in the past, using pilots and short-term permits to better understand the needs and impacts of new mobility services.
This approach has allowed the city to use data to draw conclusions and make informed decisions. Some of the key mid-point conclusions the agency has reached from this pilot include the following:
Public demand for shared, electric bikes is high.

JUMP bikes complement the Ford GoBike system, with different trip lengths, origins and destinations.

Integrated locks address issues with improper parking and sidewalk access.

Stationless bikeshare leads to an increasing demand for bike parking infrastructure.

The city needs to work with JUMP to improve bike rebalancing and better address geographic equity and equitable community engagement.