SF's First 'Protected Intersection' to Break Ground at 9th and Division
Thursday, August 25, 2016
A new type of safer intersection design for San Francisco breaks ground this week: The city's first "protected intersection" treatment is coming to 9th and Division streets.
Protected intersections use a simple design concept to make everyone safer. Under this configuration, features like concrete islands placed at the corners slow turning cars and physically separate people biking and driving. They also position turning drivers at an angle that makes it easier for them to see and yield to people walking and biking crossing their path.
"Earlier this month I issued an executive directive for city departments to accelerate our Vision Zero goal and make our streets safer," said Mayor Ed Lee. "Today, San Francisco's first protected intersection is breaking ground on 9th and Division and we will continue to deliver more safety improvements through engineering, education and enforcement to make our streets safe for everyone."

How a protected intersection works. Video screenshot from Nick Falbo/Vimeo.
Here are the protected intersection features that will make 9th and Division safer:
Concrete islands at corners to help those driving make safer, slower turns
Better bikeway design to safely separate people biking and driving as they approach the intersection
Raised crosswalks to slow drivers as they cross them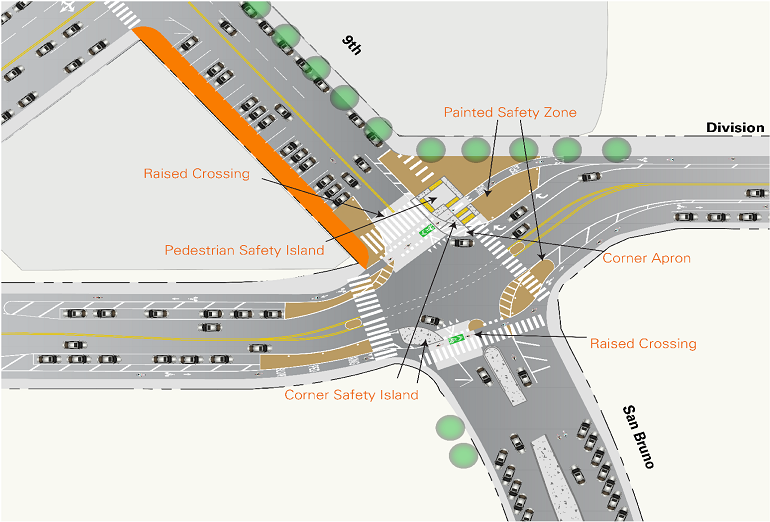 And that's not all that'll come with this project. The adjacent blocks of 9th and Division will also get these safety improvements:
9th Street, between Division and Brannan streets, will get a new sidewalk and be reconfigured to calm traffic. Traffic will be converted from one-way to two-way, and 90-degree angled parking on the south side will help narrow the roadway.
The 13th/Division Street parking-protected bikeway will be extended between Potrero Avenue and 9th in both directions.
The road will be re-paved on these street segments:
9th, between Brannan and Division
Division, between 10th and 9th
The intersection of 9th and Division
Ninth and Division has a clear need for this type of safety improvement. The intersection is on the city's High-Injury Network - the 12 percent of streets where 70 percent of severe and fatal crashes happen - and a hot spot for collisions between turning drivers and bicyclists.
This is the second phase of recent improvements on this section of 13th/Division Street. Last year, we installed a parking-protected bikeway on westbound 13th between Bryant and Folsom streets.
SF Public Works is expected to start construction on the new improvements this week and complete them by the end of the year, so please pardon our dust during this time.
In the meantime, check out this video from urban planner Nick Falbo to for a full illustration of how protected intersections work.