Slow Streets Takes it to the Streets
Wednesday, November 4, 2020
As the Slow Streets program develops plans for its next phase, the team is headed directly to historically under-served neighborhoods to conduct outreach. Most of the current Slow Streets have come from community suggestions from the over 6,500 responses to our online questionnaire. For this next phase, the program will go to those neighborhoods that don't yet have Slow Streets to see if there is interest and support.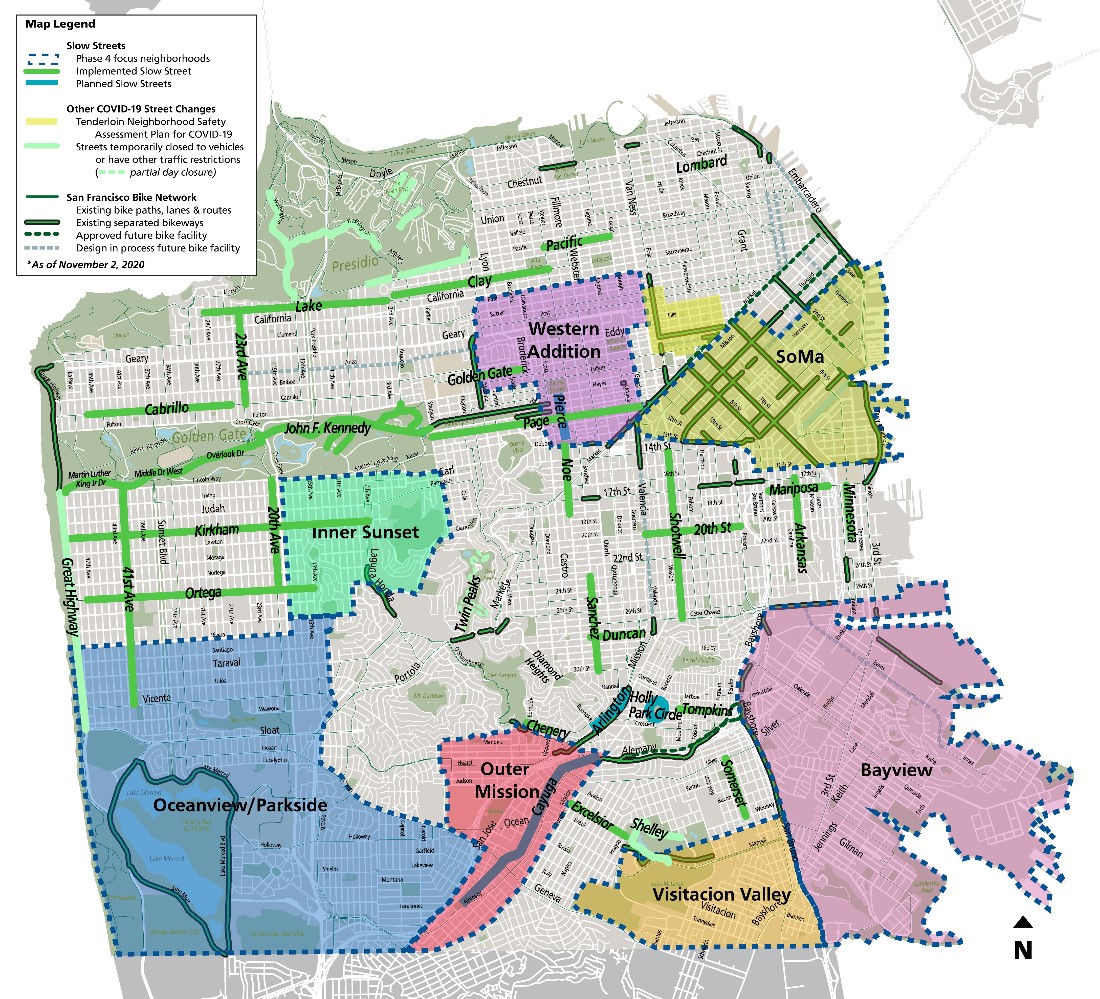 Map of Slow Streets showing the seven neighborhoods where conversations with residents will determine if there is interest and support for Slow Streets corridors there.
Looking at the questionnaire responses received, we heard a lot from residents in some neighborhoods and very little from others.   While there were many great suggestions for Slow Streets, including some that aren't yet implemented, we want to improve the process for a more equitable citywide program that is representative of the city as a whole.
From Tuesday, November 10 through Thursday, December 10, the Slow Streets team will take to the streets and engage residents on a neighborhood planning level for the next phase of Slow Streets. The team will be working with stakeholders in:
Throughout the month staff will talk to residents in each of these neighborhoods to share what Slow Streets are and find out about whether residents would like Slow Streets in their community. Additionally, the SF Parks Alliance will help broaden our outreach and engage with neighbors that we've yet to hear from, utilizing local knowledge to empower communities and develop solutions that respond to the unique needs of each neighborhood. Several suitable candidates for Slow Streets in each neighborhood have been identified preliminarily, and we'll be collecting feedback through area-specific online questionnaires, community meetings, limited physically distant on-the-ground outreach with residents and live online office hours. Following the month-long community input process, SFMTA staff will prepare corridors for review and approval of the fourth phase of Slow Streets at the MTA Board of Directors in early 2021. For more information on our Slow Street Program please visit our project page.
What is Slow Streets?
Slow Streets is a temporary, emergency response program designed to limit through traffic on certain residential streets and allow them to be used as a shared space for people traveling by foot and by bicycle. Throughout the city, 25 corridors have been implemented as Slow Streets. On these Slow Streets, signage and barricades have been placed to minimize through traffic and prioritize walking and bicycling. The goal of the Slow Streets program is to provide more space for physically distant essential travel and exercise during the COVID-19 pandemic.