From Streetcars to Trolley Buses: 'On Deck' at Muni's Potrero Division
Thursday, November 17, 2016
The SF Municipal Railway (Muni) had operated for a little over a year when its Potrero Division was constructed in 1914. The division still operates out of its original building at Mariposa and Hampshire streets, on the border of Potrero Hill and the Mission District, and hosts Muni's largest trolley buses.
This historic facility, once known as the "17th Street Car House," has a few unique features, like a relaxing "rec hall" for operators and a second-floor trolley bus yard, once called the "flight deck."
In a rare behind-the-scenes image below from the division's early years, streetcar operators can be seen taking advantage of the recreation hall in 1925, playing a game of pool while they wait to start their next streetcar run.

Left: Potrero Division in the 1920s, an enjoyable place for operators to pass the time between "split" runs, had a "rec hall" with billiards tables, a shuffleboard table and tobacco spittoons. Right: Potrero's custom-built "flight deck," seen here in 1949, houses trolley buses above facilities including a washer.
As the world's fair approached in 1915, the addition of Potrero as a facility for streetcar storage and operations helped Muni greatly expand its system and transport the massive crowds in town for the event.
In the early 1940s, Potrero underwent renovations to support Muni's newest mode: electric trolley buses. The 17th Street end of the car house was re-made into a modern, sleek trolley bus facility that was nicknamed the "flight deck," likely inspired by the flight decks of the aircraft carriers active in World War II at the time. Like an aircraft carrier, Potrero's upper deck was located above the main shops and storage areas.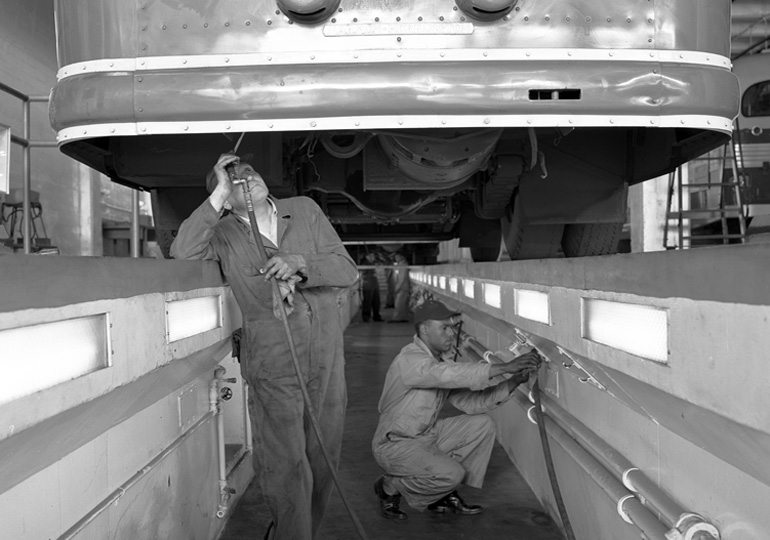 By the 1940s, Potrero had features added to service trolley buses, including these pits for Muni mechanics to work on buses from underneath, as seen here in 1949. Note that the pit has light panels and dedicated lines for air, water and lubricants to ease the work for mechanics.
By 1949, Potrero Division was responsible for trolley bus routes that are active to this day: the 22 Fillmore, the 33 Ashbury (now the 33 Ashbury/18th) and the  41 Union. At 102 years old, Potrero continues to be a primary operations center for Muni's trolley buses. It houses all of its longer, 60-foot "articulated" trolley buses – some of the newest vehicles in the fleet – which have recently been used to expand capacity on busy routes like the 5R Fulton Rapid.
The next time you're in Potrero's neighborhood, take a moment to note the original architectural details still featured on the outside of the facility. The Municipal Railway's original logo can be seen on the Mariposa Street façade, and a side entrance on Hampshire features an ornate Beaux Arts doorway.
Get your San Francisco history fix by checking out the SFMTA Photo Archive and following us on Twitter and Instagram.