A Sunday in the Park: AIDS Walk San Francisco
While the last several weekends have been busy to say the least, this weekend will be relatively calm and mellow. If you are interested in finding something to do this weekend, be sure to check out these event calendars to discover what's going on locally: FunCheapSF, EventBrite, SF Weekly, and SFGate.
Event: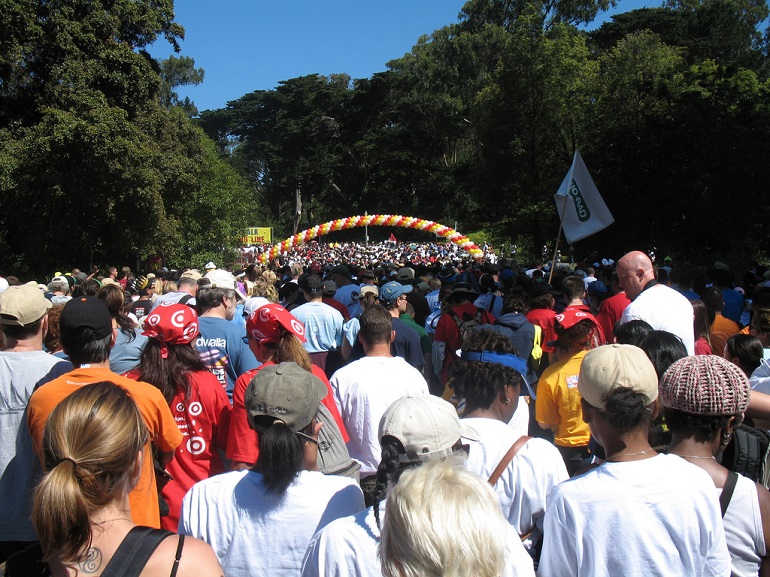 Participants getting ready to begin AIDS Walk San Francisco on July 16, 2006. Photo credit: Jere Keys/Flickr.                                                                                       
AIDS Walk
Sunday, 10:30 a.m.
Golden Gate Park
Last year 20,000 participants raised more than $2 million bringing the grand total raised by AIDS Walk San Francisco to $86 million. The money raised from what is now Northern California's largest AIDS fundraising event goes to support agencies and provide much needed services throughout the Bay Area.
An opening ceremony at 9:45 a.m. gets things kicked off. The walk then begins at 10:30 a.m. with the start/finish line in Sharon Meadow. The 6.2 mile course will take walkers the virtual length of Golden Gate Park. A post walk concert begins at 12:30pm.
If you are planning on participating or going to lend your support, consider taking public transportation and help reduce traffic congestion. Muni service on the N Judah Line, 5 Fulton, 7 Haight/Noriega, 21 Hayes, 33 Ashbury/18th, 37 Corbett, 43 Masonic, and 44 O'Shaughnessy routes will take you to Golden Gate Park or close to it.
Muni service note: the 44 O'Shaughnessy will have a re-route while other Muni service routes near the park may see minor delays due to an increase in ridership.
On Tap in two weeks: Giants baseball, SF Marathon, and the Up Your Alley Fair
Upcoming weekend BART closures between Daly City and Glen Park stations, begins July 30 through October 16.
"On Tap" gives you a heads up about the big events in town and what Muni routes and lines will get you to the party. Look for this feature to be posted usually on Wednesdays for a look ahead to the weekend. Check out our Weekend Traffic & Transit Advisory for more details.