If getting to the Super Bowl events by transit, walking, and bicycling doesn't work for you, try an official San Francisco taxi.
Taxis may help get you closer to the action, since they will be allowed to use transit-only lanes and streets which will be closed to private auto and bicycle traffic from January 23 to February 12.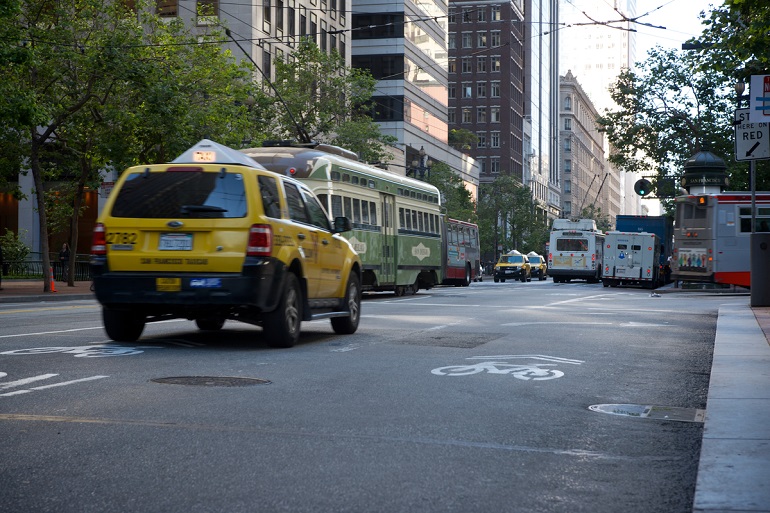 While you can always hail a taxi on the street or by smartphone, using the Flywheel Taxi App, there will be three temporary taxi stands at San Francisco's two Super Bowl 50 events (Jan. 30 to Feb. 7):
Super Bowl City (in Justin Herman Plaza, The Embarcadero and Market Street)
California Street, south side, between Davis and Drumm streets

Steuart Street, west side, between Mission and Howard streets (south of the Ferry Plaza)
The NFL Experience (at Moscone Center)
Howard Street, north side, east of 3rd Street
If you're taking a taxi to the game at Levi's Stadium in Santa Clara, the drop off/pick up location will be on Calle de Luna, located to the east of the stadium. Check the Levi's Stadium website for information on transit options and more.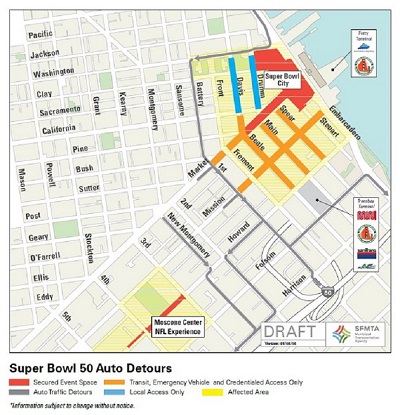 The Super Bowl event auto detour map shows where transit and taxis can go versus private autos. Get full details at Super Bowl 50: Street Closures Coming to Downtown & SoMa.
Loading zones for the general public are available in the following locations:
Front Street, west side, south of California
The Embarcadero, east side, just north of the Ferry Building
To avoid traffic disruptions, private automobile drivers, including Transportation Network Companies (like Lyft and Uber), should identify designated pick up zones beforehand. 
We'll continue to post more details on getting to and around the Super Bowl events. As a reminder, traffic/bicycle detours and Muni reroutes for the setup of Super Bowl City will be in place tomorrow until Feb. 12. Pedestrian access restrictions will also be in place by the time Super Bowl City opens on January 30, and they may begin sooner. Howard Street will also be closed to bicycle and vehicle traffic between 3rd and 4th streets for two weeks starting on Tuesday, Jan. 26.
Keep up on all the latest transportation information by visiting our Super Bowl 50 page. For Super Bowl 50 San Francisco event information, please visit the Host Committee website.