Super Bowl 50 Transportation Updates Kick Off!
Wednesday, November 18, 2015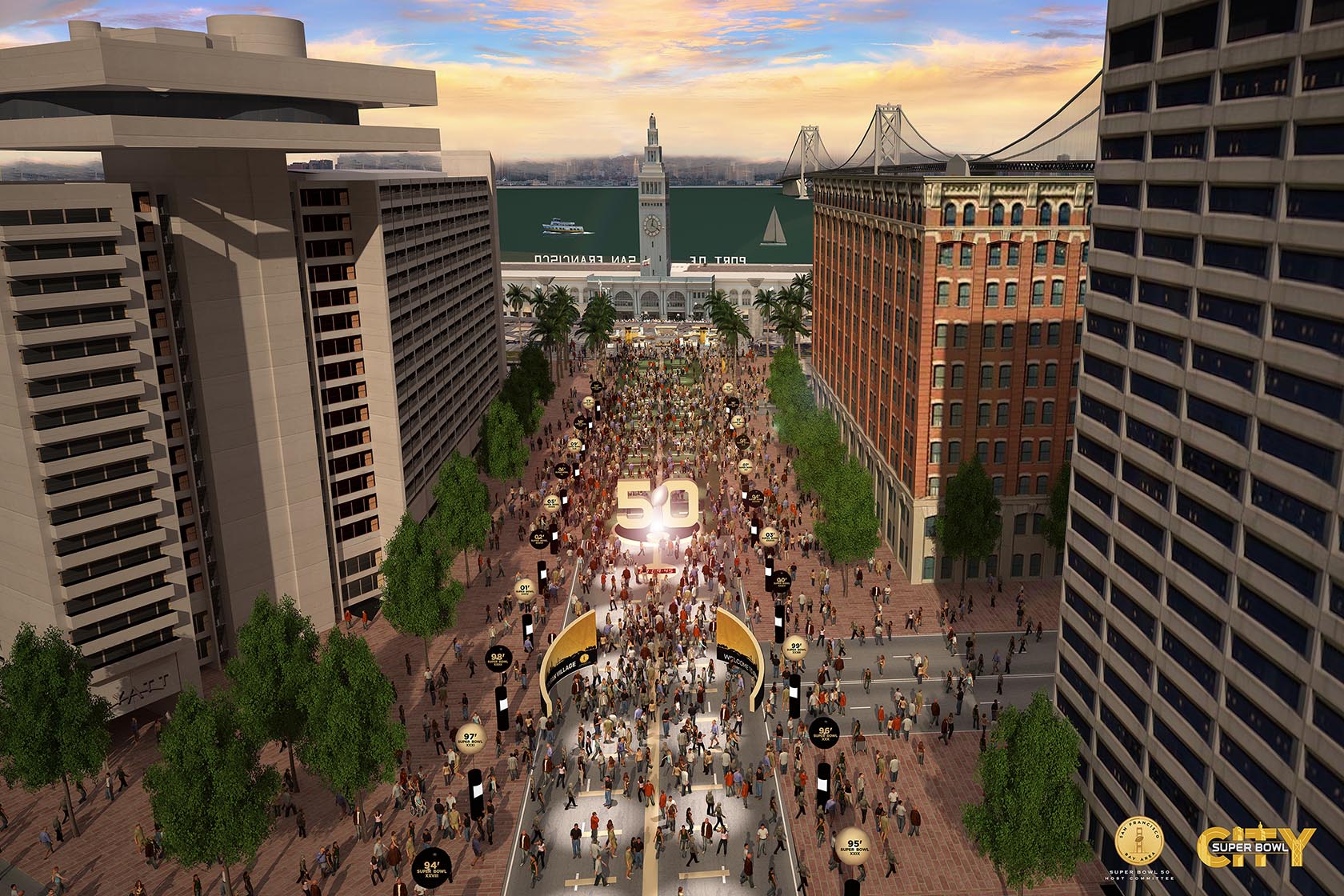 Super Bowl City rendering from the Super Bowl 50 Host Committee's Announcement this spring. 
The NFL is coming in late January for the 50th anniversary of one of the country's biggest sporting events. Transportation is a key factor in making Super Bowl 50 a fun, safe and successful event for the city. And we want to keep you up to date on what's coming in the next two months leading up to the big event.
The game will be in Santa Clara, but many of the activities ― including Super Bowl City, which is free to the public, at the foot of Market Street and the NFL Experience at the Moscone Center ― will be held in San Francisco. The public events run January 30 – February 7.
We're working closely with the Super Bowl 50 Host Committee, the rest of the city family and our regional transit partners, like BART, Caltrain and Golden Gate Ferry, to ensure that residents, commuters and visitors can get where they need to go safely and with minimal disruptions during all the festivities. 
With an estimated one million more people coming to San Francisco for the Super Bowl, public transit, biking and walking will be the best ways to get around the city.
Muni will be fully up and running, and nearly every route and line will be needed to ferry passengers both downtown and across the city.
Of course, there will be some street closures and re-routes. These are needed not only for the events, but to also keep transit moving and to make the streets accessible to emergency vehicles. We're working hard to ensure the fewest disruptions for the shortest time period. Our operations and planning staff have been working hand in hand with the Host Committee. Thanks to the committee's efforts, we will not have to take extra time to remove Muni's overhead wires.
Expect to see more specific travel information in the coming weeks leading up to the holidays and into early January. Please stay tuned to our website, www.sfmta.com/sb50, for more details about transportation or sign up for updates from us directly to your inbox. For more details about Super Bowl activities, visit www.sfbaysuperbowl.com.