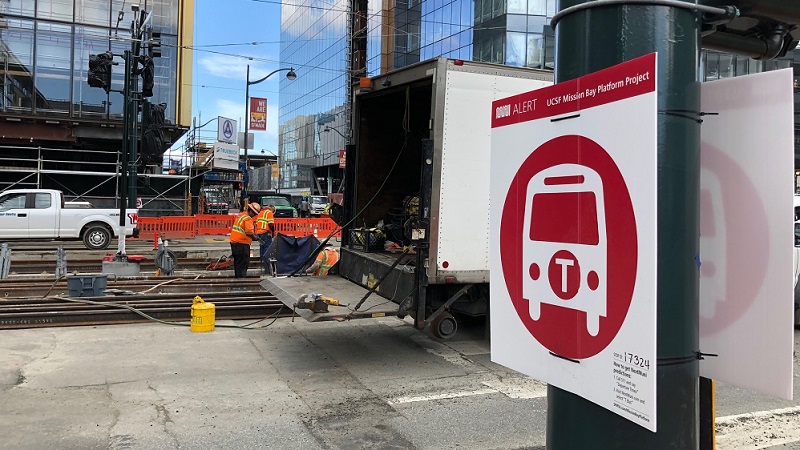 We are pleased to announce, we are in the final stages of finishing the UCSF Mission Bay Platform. This weekend a T Third bus substitution will be needed to perform key construction tasks that must be done when the line is out of service and de-energized. The T Third Line will be served by buses from Embarcadero to the terminal at Bayshore Boulevard and Sunnydale Avenue beginning Saturday, July 27 and lasting approximately 10 days.
All Muni train stations between Embarcadero and the terminal at Bayshore and Sunnydale will be closed and buses will service all stops along 3rd Street, curbside. Customers traveling underground on Muni Metro towards Bayshore and Sunnydale will transfer to a T Third bus at Embarcadero. Please watch for signs that will direct you to the T Third bus shuttles.
Our goal is quickly and efficiently finish construction and open the platform as soon as possible.
T Third bus substitution
Start of service

Saturday, July 27 for about 10 days

.

Like last time, a robust sign plan will be implemented in addition to ambassador support at key locations and at key times.
Other Muni service changes:
Street and traffic details:
One lane in each direction will remain open on 3rd Street near the construction site throughout this phase.
Construction details
Testing for equipment and trains

Concrete pouring at two intricate rail sections, the single and double crossovers

Work will take place 24 hours per day in order to take advantage of the train's absence and the need for de-energization of the overhead wires
The new platform opening is anticipated for August, with a firm date yet to be determined. For more information and to sign up for alerts, go to our webpage.