Taken with Transportation Podcast: More than a Meter Maid
Wednesday, November 1, 2023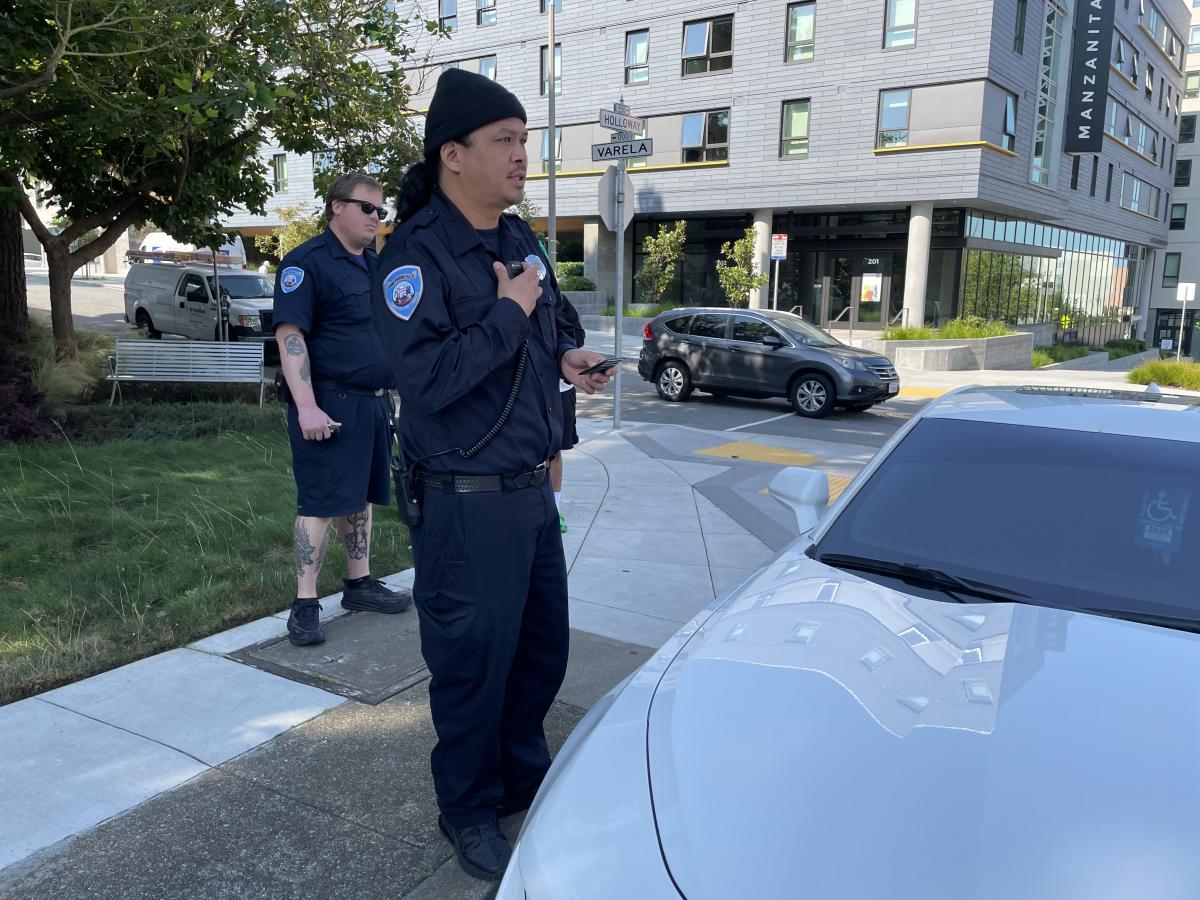 SFMTA Parking Control Officers Scott Ong and Todd Baxter inspect a car to make sure its Disabled Person Parking Placard is compliant. 
One of the most misunderstood roles at the SFMTA is that of the Parking Control Officer, or PCO. In this episode of our Taken with Transportation podcast, host Melissa Culross spends time on the streets of San Francisco with PCOs Scott Ong, Todd Baxter and Ruben Reveles, as well as Parking Enforcement Assistant Director and Captain Kent Chiu. She learns why parking enforcement is essential, what parking control officers do and discovers that they are much more than just so-called "meter maids."  
People often overlook the fact that PCOs help the public access parking. One violation that comes up in the episode is the misuse of Disabled Person Parking Placards. That happens when a driver uses a placard that was not issued to them. 
"These spaces are…they're needed. The people that park there need them. And making sure that the people that are parking there should be there…it's needed. So, we always want to make sure that the people that are needing the spot can always have the spot if it's available," says Parking Control Officer Todd Baxter. 
It's a tough job, given that some people believe all PCOs do is write tickets, but Parking Control Officer Scott Ong knows he and Baxter are doing a good thing when they enforce disabled parking regulations. "The general public, I feel, they look at us like we are, I guess you can say monsters," says Ong. "But on this detail, when we go and take a bad placard off of the street, people that really do need the spot, they see it, and they see what you're doing, and they thank us for it." 
The work our PCOs do is critical to keep San Francisco moving. Illegal parking can cause traffic disruptions and even create unsafe conditions on our streets. Parking Enforcement Assistant Director and Captain Kent Chiu describes how PCO duties go beyond parking and traffic control, whether they're lending the public a helping hand or providing assistance during emergency situations. 
"If there's any immediate hazard, like a fire, it's something we get called to. If we can hold a perimeter for something like that, it's even better for the public at that point," says Chiu. "It's an extra layer...and we can keep life flowing, whatever the situation is." 
You can find "More than a Meter Maid" and all the episodes of Taken with Transportation at our podcast page (SFMTA.com/Podcast).