Powell-Mason Cable Car Gearbox Set for Rehabilitation
Taking Care of a San Francisco Icon
Wednesday, September 19, 2018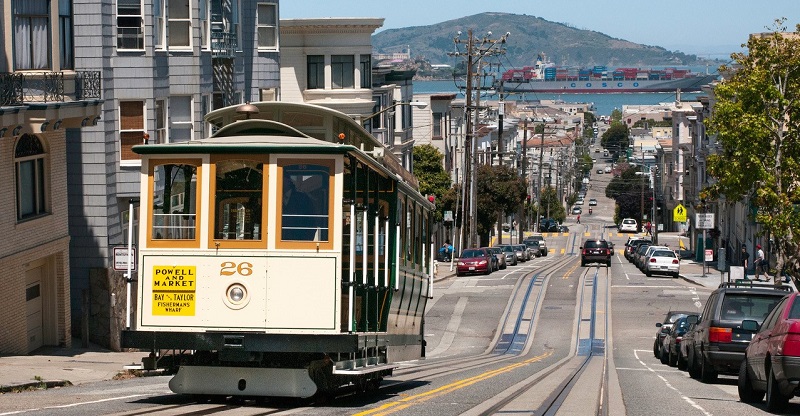 There is nothing more San Francisco than jumping on a cable car and stepping back in time. With 130 years of service, upgrades and maintenance are inevitable. This week we will begin upgrading the gearboxes located in the Cable Car Barn. To accommodate the work, bus shuttles will substitute the Powell-Mason Line along the northern route from Powell and Washington streets to Taylor Street at Francisco Street. Bus service will begin on Friday, Sept. 21 at 10 p.m. until the end of service on Saturday, Sept. 29. Regular cable car service will resume at the start of service on Sunday, Sept. 30.
During this bus substitution, all other cable car lines will operate as usual providing service for those who want to enjoy a delightful ride on one of San Francisco's iconic cable cars.  Powell-Mason customers traveling to the northern terminal at Francisco and Bay can ride Powell-Hyde Line and transfer to a bus at Powell and Washington streets to continue the rest of the trip.
The bus shuttles will follow the Mason Line and pick up passengers at the curb at cable car stops. The terminal at Taylor and Bay streets will be out of service. The temporary bus stop is on Taylor, north of Francisco Street. Bus service will be free for cable car customers. Regular fare of $7 will apply on cable cars.  
The purpose of the Cable Car Barn Propulsion Gearbox Rehabilitation Project is to overhaul and refurbish the gearboxes that have been in service since 1984. They are in need of a thorough overhaul to keep the cable cars running properly on the streets of San Francisco.
The gearboxes functioning in the Barn control the speed and movements of cable cars. Each of the four gearboxes takes about eight days to refurbish, after which there is a five-month break-in and monitoring periods. Out of the four gearboxes, the California gearbox was rehabbed in September last year. After the Mason Line work, there will be two more phases:
Powell Line – Spring 2019

Hyde Line –  Fall of 2019