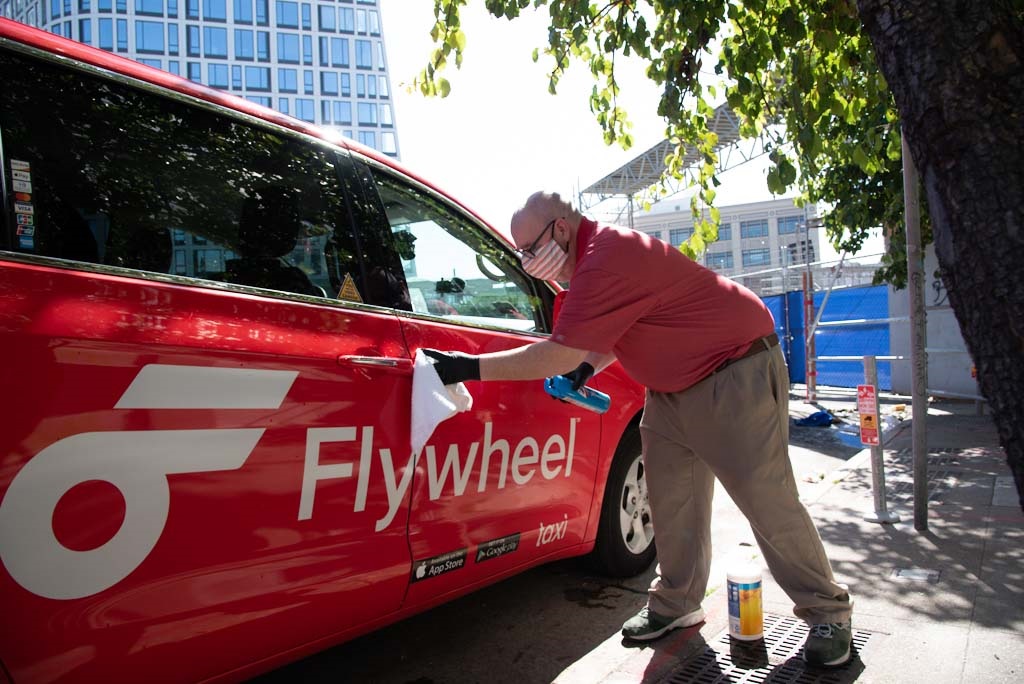 During this time of physical distancing and temporarily reduced Muni service, our Taxi program continues to provide essential trips around the City. A number of changes have been made to meet the challenges of this crisis and instill confidence in drivers and passengers during the COVID-19 pandemic. 
To start with, taxi company representatives have been trained, including with an SFMTA training video on proper cleaning procedures. Taxis are now required to be sanitized after each passenger trip and the SFMTA follows up with enforcement activities to ensure compliance.  
In addition to making personal protective equipment (PPE) kits available to all taxi companies for distribution to drivers, the SFMTA has procured and distributed clear plastic shields for vehicles. These plastic shields are easily installed inside the vehicle, separating the rear and front seats, adding a layer of protection for both the driver and passenger. The SFMTA has provided these plastic shields to all taxi companies at no charge.  
SFMTA provided plastic "bubbles" to all taxi companies that add a layer of protection for Taxi drivers and passengers alike. 
We are also committed to helping the taxi industry as a whole. Here are some things that the SFMTA is doing to boost the Taxi industry during these trying times: 
Increased the SFMTA's Clean Air Taxi program per vehicle rebate up to $7,700 and used vehicles are now able to qualify.  
Support the Department of Environment's Essential Worker Ride Home program that provides subsidized taxi trips for essential workers.  
Meet weekly with taxi companies to share information and get updates from company managers 
Provided a list of financial resources and other support programs, including unemployment assistance and paycheck protection program, to the taxi industry 
Ensured that SFPD is aware that taxis are considered essential during the shelter-in-place order and are able to continue operating 
Route industry requests through the SFMTA's Incident Command System and continue to seek additional resources for taxis 
Meet weekly with taxi regulators across the country to share best practices to support taxi industry 
Taxis deliver critical service as part of the Essential Trip Program
With a shortage of operators, car cleaners and other key personnel, Muni has implemented significant reductions to Muni service. For many older adults and people with disabilities, walking farther to an alternate bus or paying for other transportation simply isn't possible. To address this need, SFMTA's Essential Trip Card (ETC) helps older adults and people with disabilities pay for essential trips in taxis. We are thankful that taxis have stepped up to serve this critical need.  
The ETC provides two to three round trips per month at 20 percent of the cost of a regular cab fare. All taxis in San Francisco will accept the card to pay for essential trips like going to the grocery store or the doctor during the shelter-in-place period. Customers who pay $6 will receive $30 value or $12 for $60 value for taxi trips on a debit card. Cards can be re-filled once a month for each month of this special temporary program until the SFMTA announces its end.  
The taxi industry is an essential part of our transportation system. Taxis have been instrumental in our city's efforts to effectively serve people with disabilities and older adults before and during this crisis. Since the early 1980s, taxis have been an integral part of Paratransit and San Francisco has had wheelchair-accessible ramp taxi service since the early 1990s. The SFMTA is thankful that taxis continue to deliver these critical services to our most vulnerable citizens during these challenging times.