Today in History: The Making of the Geary Expressway
Thursday, October 4, 2018
Travel back 45 years ago today to Oct. 4, 1973 for a glimpse at the transformation of Geary Street into the Geary Expressway. Starting in the mid-1940s, cities across the U.S. were undergoing massive transformations amidst post-war cultural changes that demanded more development based around automobiles. San Francisco was certainly not immune to this "auto fever," and the Geary Expressway was a direct result of these demands.

View east from Geary and Masonic, looking at construction of Geary Expressway underpass and Muni's Presidio Division (at left) on October 4, 1973.
Geary has always been one of the city's most important streets, undergoing change after change from the early days of steam trains and cable cars run by the Geary, Park and Ocean Railroad to the birth of the San Francisco Municipal Railway in 1912 and beyond. Following World War II, city officials and planners were eyeing Geary once again for a transportation transformation. Multiple plans were considered including running BART along the road and north to Marin County. Amidst the fever pitch of redevelopment and automania, the decision was made to replace Muni's streetcar lines with buses and create a wide expressway dubbed the "Great Wide Way." 
In addition to transforming the streets in this part of town, the Geary Expressway was part of reshaping of the character and population of the surrounding neighborhoods that still affects the city today.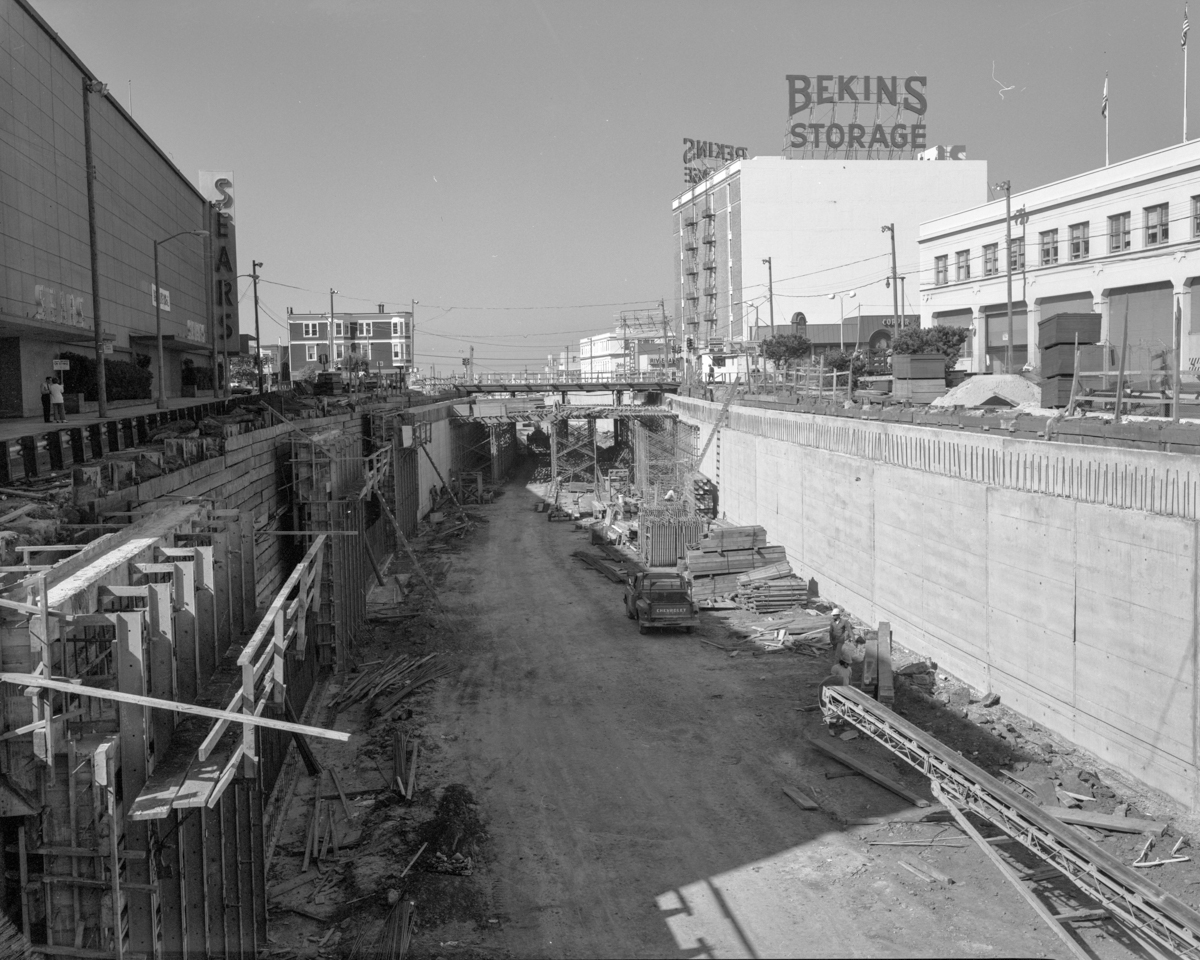 View west from Presidio Avenue showing the construction of the Geary Expressway tunnel between Presidio and Masonic.
Construction of the Geary Expressway took about 15 years, with excavations and wrecking balls coming to the street in early 1960. By the mid '70s, six to eight lanes of asphalt cut across town from Van Ness and into the avenues.
Today, Geary is yet again undergoing a transformation through the Geary Rapid Project, which started construction this week. This project aims to calm the expressway, improving pedestrian safety and transit speed along the corridor, which sees 54,000 Muni riders a day.
Check out more great historic photos from the SFMTA Photo Archive online and follow us on Instagram!