Traffic Lane Changes for Van Ness Transformation Start Next Weekend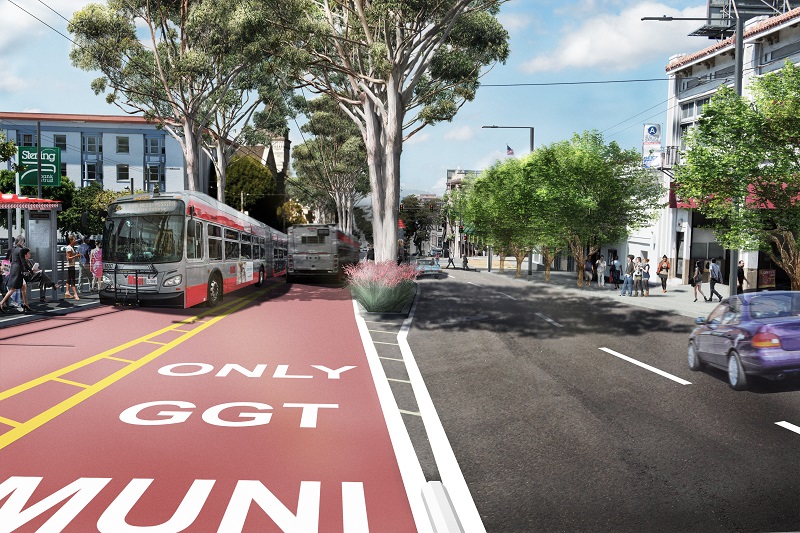 If you travel on Van Ness Avenue, prepare for major traffic lane changes starting next weekend as construction on the Van Ness Improvement Project takes its first major step forward.
The project, a major overhaul of Van Ness between Lombard and Mission streets, will bring much-needed safety improvements, utility replacements and transportation upgrades including San Francisco's first bus rapid transit system in 2019.
Construction for the new Van Ness, which will coincide with a similar transformation on Polk Street, will be a challenge - but it'll be worth it. Here's a breakdown of construction impacts on the way.
Weekend of Fri., Nov. 11: Lane Changes at Broadway and Left Turn Removals
Beginning overnight on Friday, November 11, at the intersection of Van Ness and Broadway, construction crews will reconfigure lanes on the western side of Van Ness to include two southbound traffic lanes and two left-turn lanes from Van Ness on to Broadway. This change required the temporary relocation of a southbound Muni stop on Van Ness from Vallejo Street north to Green Street on October 27.
Over that weekend, left turns on Van Ness will be removed at all but three intersections.  By Monday, November 14, left turns on Van Ness will only be allowed southbound at Broadway and northbound at Hayes and Lombard streets. The left turn at Hayes is temporary and will be removed in April 2017. These removals are permanent.
Removing these turns will allow us to re-time traffic signals to maintain traffic flow during construction and to make safety on Van Ness a top priority.
Van Ness is part of San Francisco's High-Injury Network, which includes 12 percent of city streets that account for 70 percent of traffic collisions that result in serious injuries or fatalities. Left turns are one of the leading factors in collisions between people walking and driving in San Francisco.
Starting Next Week: Traffic Lane Reductions and Concrete Median Removal
Starting next week, the concrete median in the center of Van Ness will be removed and temporarily paved to make room for utility replacement work that will begin in early 2017. This work will include the removal of 86 trees in the median, and the phased reduction of traffic lanes on Van Ness from three to two in each direction. Note that 12 median trees will be protected and 210 new trees will be planted once construction is completed.
The median work will begin on the northbound side of Van Ness between McAllister and Pine streets and on the southbound side between Broadway and Geary Street. The work area and traffic lane reduction will expand in both directions, reaching Mission and Lombard streets by Thanksgiving. The removal of the median will continue through the new year.
Construction Outlook for 2017 Thru 2019
In early 2017, work will move to the curb and utility replacement will begin. Work will be done on one side of Van Ness at a time to provide room for equipment and to preserve on-street parking. Once the utility work is completed in late 2018, construction of improvements for the bus rapid transit system, pedestrian safety  and landscaping will follow and be completed by 2019.
If you're traveling near Van Ness during construction, we encourage you to  take transit, walk or bike to your destinations and use alternate routes if you need to drive. And, of course, allow for extra travel time.
For the latest project information, including weekly construction details and invitations to special events, be sure to sign up for updates. And to learn more about the Van Ness Improvement Project and the next three years of construction, check out our new three-part video series.