Twin Peaks: A New Vision for All
Tuesday, January 19, 2021
SFMTA staff are recommending a proposal for Twin Peaks access aimed at balancing the diverse needs of the community, which they selected based on park usage data, feedback from neighbors and other stakeholders, as well as a public survey with over 1,700 responses.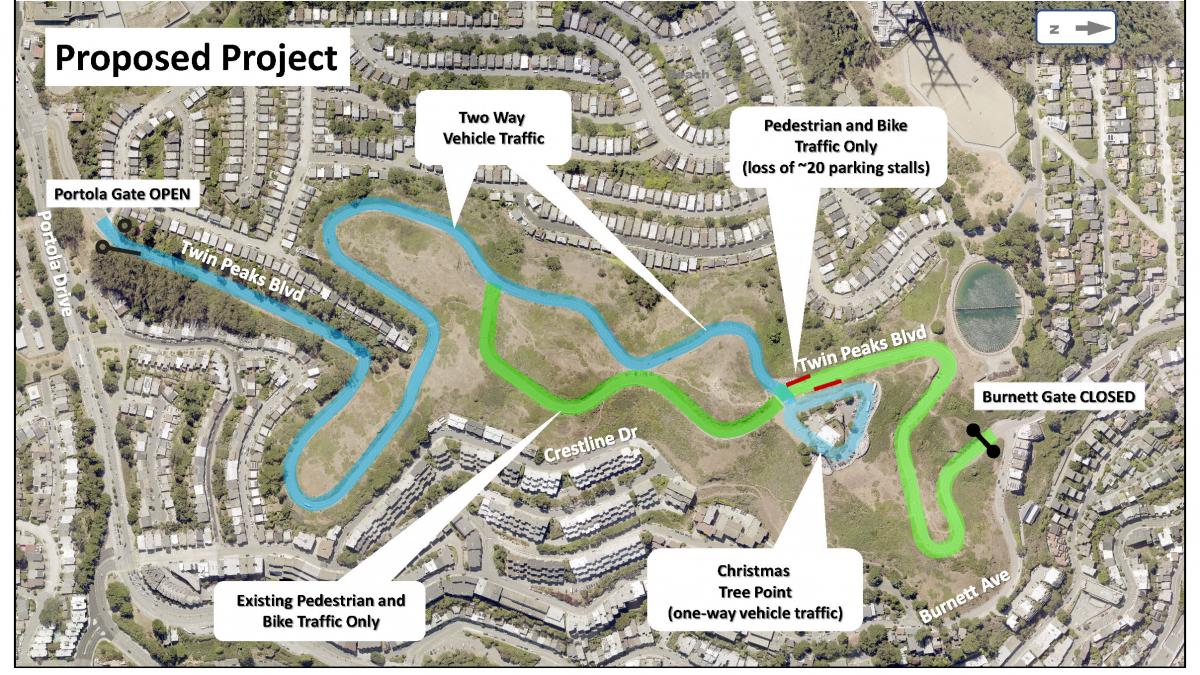 Map showing the proposed configuration of Twin Peaks Boulevard. See our website for a more detailed map or to read our report.
Recommendation: Open Portola Drive Gate at All Times, Close Burnett Avenue Gate
The proposal includes opening the gate at Portola Drive to traffic at all times and keeping the gate at Burnett Avenue closed. This option (also called Option 2) provides the best combination of safety and access, and addresses the negative impacts affecting neighbors.
This preferred option closes the northern Burnett Avenue gate to vehicles at all times, creating dedicated space for people walking, rolling and biking all the way to Christmas Tree Point Road.
The southern Portola Drive gate will be open to vehicles and tour buses at all times – improving access to the top of Twin Peaks for those with mobility challenges. The Portola Drive gate will also serve people walking, rolling and biking to and from Christmas Tree Point Road by way of the existing roadway shoulders and off-street paths. The recommended design does not require modifications to streets that currently restrict tour buses.
Five options were developed to achieve the project goals and reviewed by the SFMTA, in partnership with the San Francisco Recreation and Parks Department, the public, and other project stakeholders. Based on data and public feedback, SFMTA staff plans to bring the recommendation to the SFMTA Board of Directors for approval at a public meeting planned for this spring.
Photo: New space between Burnett Avenue and Christmas Tree Point parking lot that would be dedicated to people walking, rolling and biking. Vehicles would not be allowed at all times.
Project Background
Twin Peaks is a beautiful and unique natural resource for San Francisco residents and visitors alike. To provide additional recreational space for physical distancing during the COVID-19 pandemic the Burnett Avenue and Portola Drive gates on Twin Peaks Boulevard were closed in early 2020. Based on community feedback, we initiated the Twin Peaks for All project in October 2020 to explore how to best accommodate the high demand for this natural resource.
The project goals include restoring access to the viewpoint -- especially for people with disabilities, providing a space for people walking and rolling that allows for physical distancing, reducing negative impacts on neighbors and retaining the recent extraordinary increase in new park users. We collected data including parking counts, bicycle and pedestrian counts and historic collisions, reviewed turning radii for tour buses, talked to neighbors, released a public survey, analyzed the 1700 plus responses, reviewed street widths and coordinated with partner agencies.
We Heard from You
We heard concerns from neighbors of the Burnett Avenue gate that with the top of Twin Peaks closed to vehicles, substantially more drivers began parking near the northern gate, creating noise and litter. Vehicle break-ins were also reported in the area. Based on our analysis, opening the Portola Drive gate to vehicles at all times should decrease these negative impacts. The SFMTA also commits to monitoring and evaluating conditions once the proposal's recommendations are put into place.
Additionally, to help drivers wishing to access the peak, SFMTA staff will:
Install additional wayfinding at the Burnett Avenue gate, directing drivers to access the top of Twin Peaks from the Portola Drive side.

Work with navigation providers (Waze, Google, Bing, etc.) to update their maps to direct drivers to the Portola Drive gate for accessing the Christmas Tree Point parking lot and the top of Twin Peaks.
Next Steps
SFMTA staff plans to bring this recommendation to the SFMTA Board of Directors for approval at a public meeting planned for this spring. We will conduct outreach to the community once that date is finalized so that individuals will have the opportunity to provide feedback and comments at the meeting.
Currently, people walking and bicycling at the temporarily closed Burnett Avenue gate must travel over the curb into the dirt and then back over the curb to access the roadway. If approved, the permanent closure of the gate would require a more accessible path for pedestrians. In cooperation with the San Francisco Recreation and Parks Department, SFMTA staff will improve the entrance, allowing people of all ages walking and rolling to travel through the area more easily on a level surface.
For more information on this project and its history, please visit our project page. For comments on the proposal, please email TwinPeaks4All@SFMTA.com.