Van Ness Improvement Project Nears Completion
Wednesday, April 21, 2021
After years of planning and construction, work on the Van Ness Improvement Project is progressing rapidly and the end is in sight! Construction is projected to be finished by the end of this year, with Bus Rapid Transit (BRT) service running on Van Ness Avenue from Mission to Lombard beginning in early 2022.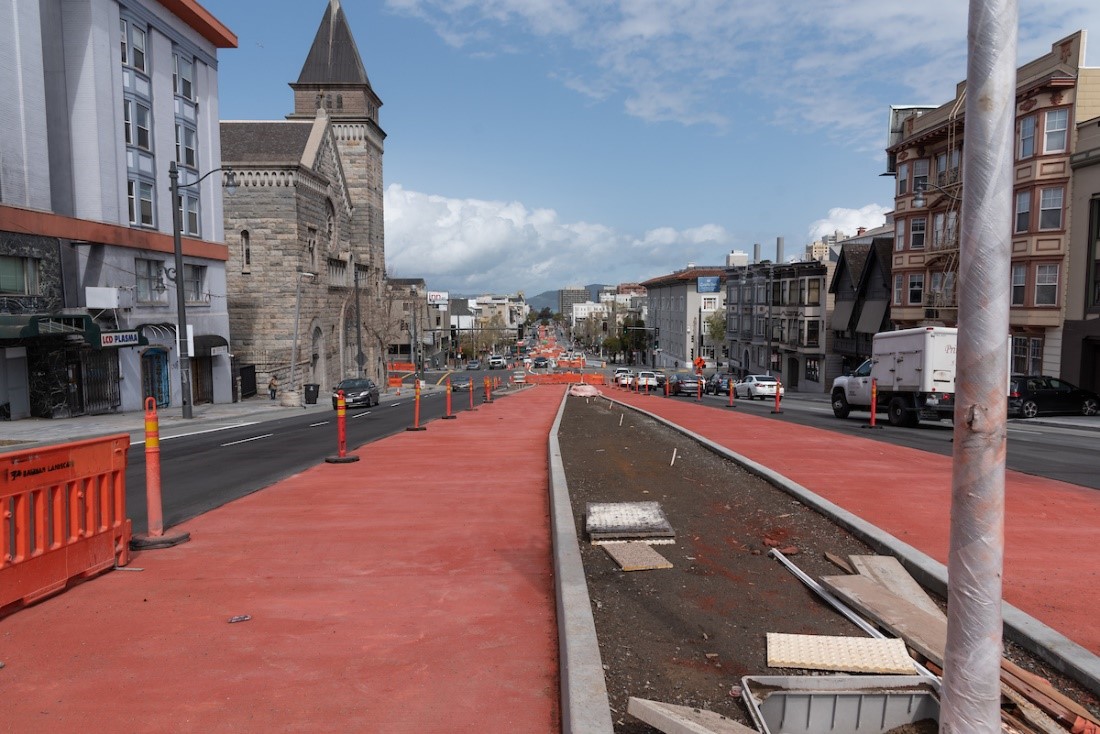 Work on the red transit lanes between Broadway and Pacific is almost complete.
Crews have been busy on Van Ness Avenue. You may have noticed them building new medians and sidewalks, paving the roadway and installing poles that provide lighting and power to the BRT system. Most recently they have installed the red lanes that will allow buses to move Muni and Golden Gate Transit riders quickly along the corridor, without getting stuck in traffic. To ensure durability and reduce fading, these red transit lanes are made from poured red concrete, as opposed to red paint or thermoplastic on top of concrete.
We are also planting hundreds of trees along Van Ness Boulevard as a part of the project, with more on the way. These trees replace those that were removed during construction at a ratio of more than 2-to-1. There are four species of trees being planted: Lemon-Scented Gum in the median and London Plane, Brisbane Box and Palm in sidewalk tree wells where similar species were planted previously. These species were selected for their suitability to the neighborhood and growing environment along a state highway.
As the end of construction approaches, staff on the project are planning for the transition that will happen as construction winds down and testing to launch BRT service on the corridor begins. We are planning significant outreach to the public , to ensure that customers know how to ride the system safely and efficiently.
We know it's been a long wait and we appreciate your patience with this long-term construction project. San Francisco's first BRT corridor is almost here and we're excited to welcome you aboard soon.
Check out the photos below for more of the work on Van Ness: