Warriors Ticket Holders Ride for Free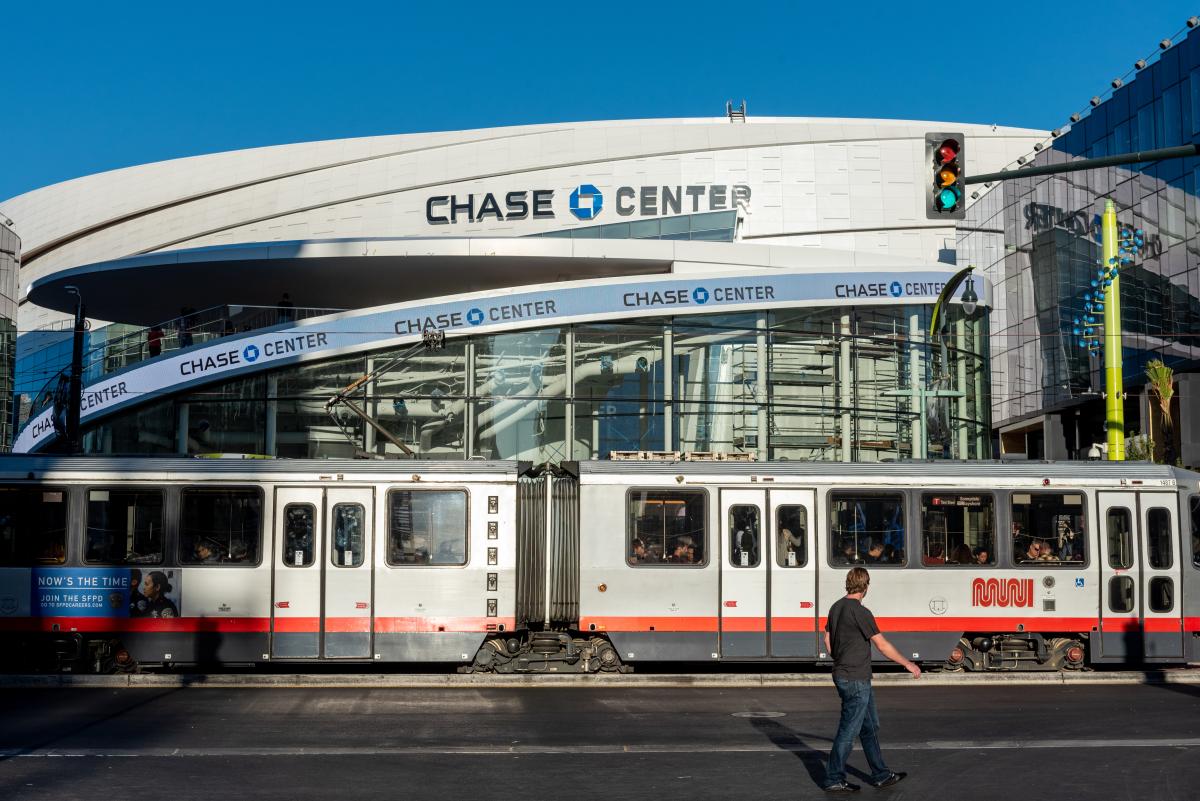 Calling all Warriors fans and Muni riders! As you know, an exciting preseason is underway, with the anticipated season opener scheduled to tip off in just a few weeks. As the Warriors look to a promising year with a committed staff and tenacious roster, it's going to be an electrifying season for the six--time NBA Champs.
To catch these blue and (golden) yellow must-see games at 1 Warriors Way, consider taking Muni for free! Your game ticket (electronic or physical) is your all-day Muni ticket. The ticket provides quick and free Muni for bus and light rail lines (but not cable cars), up until the end of the service day at 2 a.m. after the event. Just show your ticket to the Station Agent or board through any door on our coaches. Muni uses all-door boarding across our system, so fans can board through any door and arrive quickly to the game! For the Muni Metro stations, if the booth is not occupied, proceed through the gate nearest the Station Agent window; the gate will open automatically. Here are additional guidelines for your fast, reliable and frequent trips.
This transit accommodation which aims to boost (affordable) ridership to Chase Center, is provided by the Transit Bundling Program. Sponsored by Mayor London Breed and the Golden State Warriors, Warriors ticket holders receive free service on Muni all-day on game day. But wait! There's more!  Any ticket to a Chase Center event can also ride Muni all-day for free. It's the same procedure and paid for by the Warriors. Thanks, Dub Nation!
The Warriors chose Mission Bay as the site for the new arena back in 2019 largely because of its transit-rich location with easy access to Muni and regional connections such as BART, Caltrain and Ferry services. Walking, biking or scooting are also additional modes of transportation.
As a reminder and to help stop the spread of COVID-19, federal law requires wearing a mask in Muni stations and while riding transit. Additionally, some Muni routes have been modified as a result of COVID-19 pandemic restrictions, the city's emergency order and ongoing resource constraints. For details on Muni's current routes and service, visit individual route webpages or the Muni Core Service Plan.   We'll see you at Chase Center. Go Warriors! Go Muni!
Muni Service to Chase Center:
KT: K Ingleside-T Third Street - service to / from downtown San Francisco and Embarcadero BART Station. The stop is located on 3rd Street.
78X 16th Street Arena Express – service to / from 16th St Mission BART to Chase Center before and after the event. This shuttle stop is located on 3rd St near Illinois
22 Fillmore - serves as a connection to 16th St Mission BART. Exit 3rd St & Warriors Way. This stop is located on 3rd and Gene Friend Way.
15 Bayview Hunters Point Express - serves as a connection to Montgomery St BART. Exit 3rd St & Warriors Way.