This Weekend: Big Book Sale and Sunday Streets
Wednesday, September 18, 2019
Events: This weekend will have multiple varied events all around town, including the Big Book Sale at Fort Mason that will get an early start on its weekend-long run this Wednesday, September 18. Head down to the Mission any time Friday through Saturday (Sept. 20-22) for San Francisco's only Greek Food Festival at the Annunciation Cathedral on Valencia Street. Stretch your legs and enjoy the beautiful sights of the northern waterfront during Saturday's Pier to Pier History Walk and Festival at Aquatic Park, then consider taking a Muni E Embarcadero streetcar from the Wharf down to Oracle Park for an evening of Opera at the Ballpark. Lastly, Sunday Streets will bring car-free fun to the Western Addition along Baker, Fulton and Fillmore streets. Read more about our featured events below.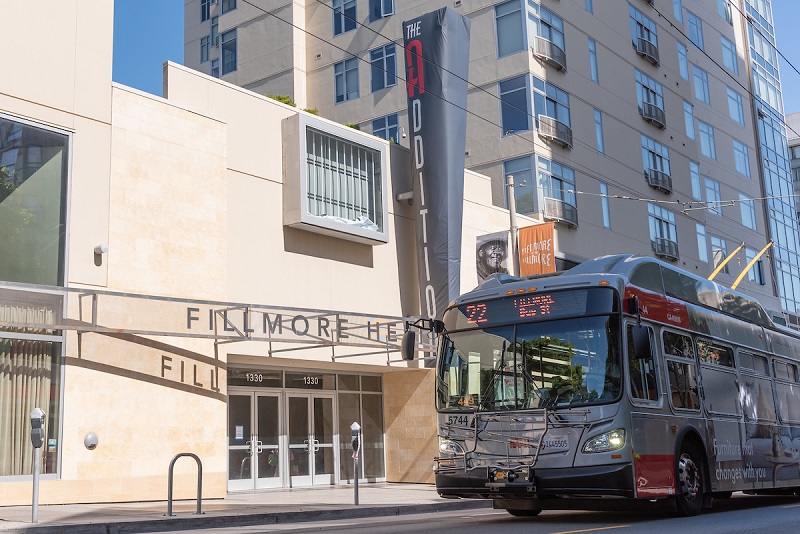 Despite a reroute during the event, the 22 Fillmore Route will be an excellent choice for those looking to attend Sunday Streets this weekend. Photo: SFMTA Archive
Big Book Sale
Wednesday-Sunday, Various Times
Fort Mason
Friends of the San Francisco Public Library is hosting the 55th annual Big Book Sale at Fort Mason beginning today, September 18, and continuing through Sunday. Thousands of books will be available at absolute bargain prices, especially on Sunday when the price of all remaining books will be just one dollar. All proceeds from the Big Book Sale support learning and literacy at the San Francisco Public Library.
---
How to Get There on Muni: Riders may take the 19 Polk, 28 19th Avenue, 30 Stockton, 43 Masonic, 47 Van Ness or the 49 Van Ness/Mission routes to near the event at Fort Mason.
Muni Service Notes: There are no planned service changes for this event.
Sunday Streets: Western Addition
Sunday, 11 a.m. to 6 p.m.
Western Addition
Explore the Western Addition on foot, bike, rollerskate, pogo stick or however you wish to get around --so long as it isn't by car-- during Sunday Streets this coming Sunday from 11 a.m. to 6 p.m. Enjoy the car-free fun and activities along a route that stretches along Baker Street starting at Fell Street, moves along Fulton to Fillmore, then proceeds up Fillmore to Geary Boulevard with activity hubs at O'Farrell and on Baker between Grove and Hayes streets. Check out local icons in the area such as Alamo Square Park, the Boom Boom Room and the African American Art and Culture Complex while sampling the shopping and restaurants along the route. 
How to Get There on Muni: Riders may take the 5 Fulton, 21 Hayes, 22 Fillmore, 24 Divisadero, 31 Balboa, 38 Geary or the 38R Geary Rapid routes to the event. 
Muni Service Notes: The 22 will have a reroute around the Fillmore Street portion of the event route. Other routes in the area may experience some minor delays and higher than usual ridership.
Remember that you can take Muni for the entire day for a single $5 fare. The new $5 Day Pass, available on MuniMobile®, is part of Muni's recent fare changes. The pass is intended to encourage a safe, convenient way to pay your fare and quickly board Muni vehicles, which reduces overall travel time for everyone. The $5 Day Pass is Muni bus, rail and historic streetcars only.
"On Tap" gives you a heads up about the big events in town and what Muni routes and lines will get you to the party. Look for this feature to be posted usually on Thursdays for a look ahead to the weekend. Check out our Weekend Traffic & Transit Advisory for more details.