This Weekend: Hardly Strictly Bluegrass and the Castro Street Fair
Thursday, October 3, 2019
Events: There's something for everyone this fun-filled weekend: The Hardly Strictly Bluegrass Festival returns to Golden Gate Park, the Longevity Walkathon Parade and Fair and the Rosary Rally March take place on Saturday, and the 46th annual Castro Street Fair rounds out the weekend on Sunday.
Read below for more about our featured events.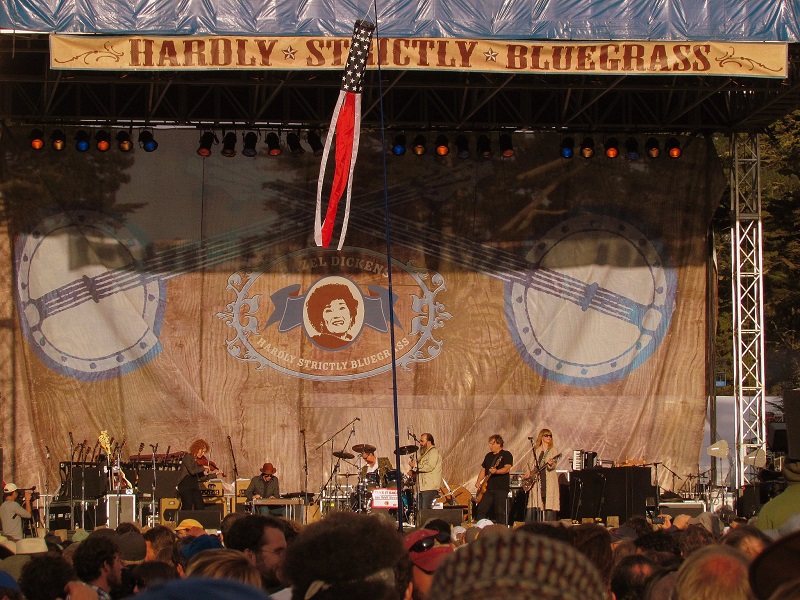 Hardly Strictly Bluegrass returns to Golden Gate Park this weekend with music, food and fun for all ages. Photo: David Berry/Flickr
Hardly Strictly Bluegrass
Friday through Sunday, various times
Golden Gate Park
Featuring over 90 acts across seven stages and three days, Hardly Strictly Bluegrass returns as what is arguably San Francisco's premier free concert event. The event takes place in Golden Gate Park and features acts from around the country and the world showcasing their respective musical talents for the estimated 750,000 attendees over the course of a three-day span.
---
How to Get There on Muni: Riders can take the N Judah Line or the 5 Fulton/5R Fulton Rapid, 7 Haight/Noriega, 18 46th Avenue, 21 Hayes, 28 19th Avenue, 29 Sunset, 31 Balboa, 33 Ashbury/18th Street and 44 O'Shaughnessy routes close to the event in Golden Gate Park.
Muni Service Notes: Routes near Golden Gate Park may see minor delays and crowding due to increased ridership. There will be additional service on the N Judah and the 5R Fulton Rapid.
Castro Street Fair
Sunday, 11 a.m. to 6 p.m.
Castro
A long-running community street celebration, the Castro Street Fair was founded by Harvey Milk in 1974. It returns for its 46th year this Sunday in the heart of the Castro District at the intersection of Market and Castro streets and the surrounding neighborhood. The fair features hundreds of local artists, vendors, craftspeople and organizations to promote and celebrate the diversity of the famed neighborhood. There will also be live entertainment and dance stages set up throughout the event. 
How to Get There on Muni: Riders may take the K Ingleside/T Third, L Taraval or M Ocean View Muni Metro lines to Castro Station, the F Market and Wharves Line, as well as the 22 Fillmore, 24 Divisadero, 33 Ashbury/18th Street, 35 Eureka or the 37 Corbett routes to near the event.
Muni Service Notes: The F, 24, 33, and 35 will have reroutes and may see crowding due to increased ridership. The K/T, L M and 37 may also see delays and crowding due to increased ridership.
Upcoming: Fleet Week, one of the most popular events of the year, returns next week October 6-14. Also, don't forget that Monday, October 14 is Indigenous Peoples' Day (Columbus Day) and there will be changes to Parking Enforcement.
Remember that you can take Muni for the entire day for a single $5 fare. The new $5 Day Pass, available on MuniMobile®, is part of Muni's recent fare changes. The pass is intended to encourage a safe, convenient way to pay your fare and quickly board Muni vehicles, which reduces overall travel time for everyone. The $5 Day Pass is Muni bus, rail and historic streetcars only.
"On Tap" gives you a heads up about the big events in town and what Muni routes and lines will get you to the party. Look for this feature to be posted usually on Thursdays for a look ahead to the weekend. Check out our Weekend Traffic & Transit Advisory for more details.