This Weekend: Macy's Flower Show
Wednesday, March 20, 2019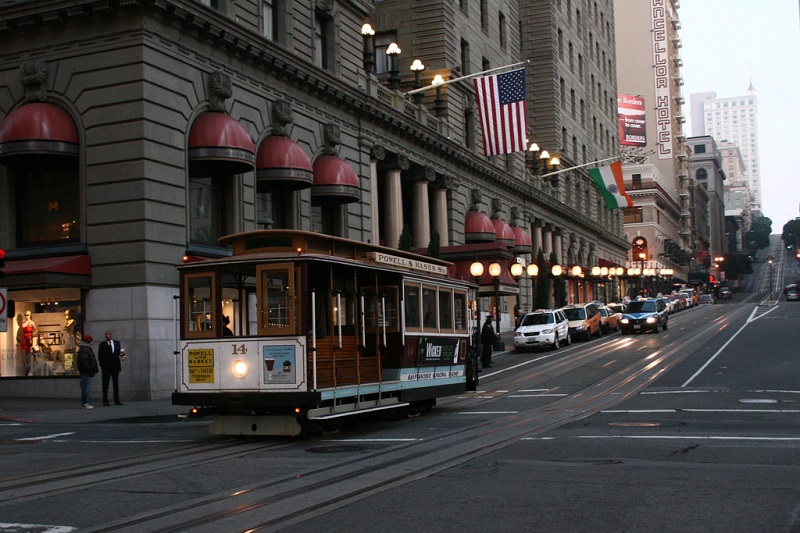 Hop on a Powell/Mason or Powell/Hyde Cable Car to head to Union Square for the Macy's annual Flower Show. Photo: Prayitno/Flickr
Macy's Annual Flower Show
Starts Sunday through April 7, various times
Union Square
Dubbed a "Journey to Paradisios," Macy's will transform its Union Square location into a space-themed floral fantasy world during its 73rd annual Flower Show beginning this Sunday through April 7. A celebration of color, adventure and discovery, the event will feature over 5,000 types of plants, trees and flowers depicting various outer space themes. Additionally, there will be a host of themed in-store events including floral, food and fashion demonstrations, celebrity appearances and much more during the two-week course of the show.
---
How to Get There on Muni: Riders may take any Muni Metro Line to the Montgomery Station stop, the F Market and Wharves Line, the Powell/Mason and Powell/Hyde Cable Car lines, any Market Street bus route, as well as the 2 Clement, 3 Jackson, 8 Bayshore, 30 Stockton, 45 Union/Stockton, or 76X Marin Headlands Express routes to near Union Square.
Muni Service Notes: There are no planned service changes for this event.
Remember that you can take Muni for the entire day for a single $5 fare. The new $5 Day Pass, available on MuniMobile®, is part of Muni's recent fare changes. The pass is intended to encourage a safe, convenient way to pay your fare and quickly board Muni vehicles, which reduces overall travel time for everyone. The $5 Day Pass is Muni bus, rail and historic streetcars only.
"On Tap" gives you a heads up about the big events in town and what Muni routes and lines will get you to the party. Look for this feature to be posted usually on Thursdays for a look ahead to the weekend. Check out our Weekend Traffic & Transit Advisory for more details.