Weekend Run: Hot Chocolate 15K/5K
Wednesday, January 4, 2017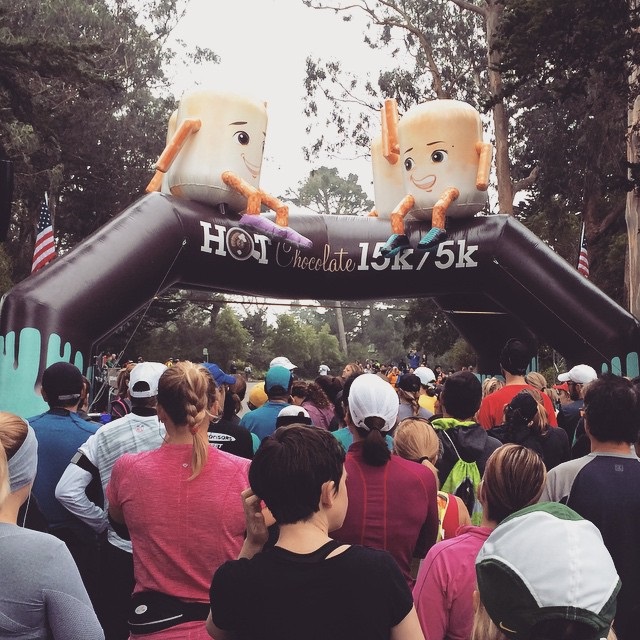 Runners at the starting line of the Hot Chocolate run on Jan. 11, 2015. Photo credit: Nicki Dugan Pogue/Flickr.
Hot Chocolate 15K/5K
Sunday, 7:30 a.m.
Golden Gate Park
This weekend, "America's Sweetest Race" helps to raise money for Ronald McDonald House Charities, creating a "home away from home" for families and children facing serious medical conditions. The Hot Chocolate 15K/5K features two race courses – a 15K (9.3 miles) which starts at 8:20 a.m. or a 5K (3.1 miles) which kicks off at 7:30 a.m.
The 15K race will take runners through Golden Gate Park and out along the beach as the runners make their way up and down the Great Highway and then back into the park to the finish line. The 5K course will be completely contained within Golden Gate Park near Stow Lake. Once the races conclude, the real fun starts at the post-race party with music, chocolate goodies, family friendly fun, and of course delicious hot chocolate.
Muni lines and routes near Golden Gate Park and Great Highway: N Judah, L Taraval, 5 Fulton, 7 Haight/Noriega, 18 46th Avenue, 21 Hayes, 23 Monterey, 28 19th Avenue, 29 Sunset, 31 Balboa, 33 Ashbury/18th Street, 43 Masonic, 44 O'Shaughnessy and 48 Quintara/24th Street.
Muni service note: The 18 46th Avenue and 44 O'Shaughnessy will have re-routes, while other service routes may see minor delays due to increased ridership.
Reminder: Muni Fare Changes in Effect
As of Jan. 1, single-ride Muni fares for Regular Adult Cash/Limited Use Ticket and Discount Cash/Limited Use Ticket have increased by .25 cents to $2.50 and $1.25, respectively. Single-ride fares paid with Clipper or MuniMobile remain at $2.25 for adult fares and $1 for discount fares. The cost of the Adult Monthly "A" Pass and the Discount Monthly Pass also increased. 
Customers who tag their Clipper cards or activate a MuniMobile ticket after 8:30 p.m. now get to ride until 5 a.m. Remember – if it's after 8:30 p.m., don't tag a second time to avoid being charged.
For complete details on the fare and monthly pass changes, please visit our Oct. 17 blog post.
Upcoming Dr. King Holiday: Muni Service and Enforcement Schedule
On Monday, Jan. 16, Muni will operate on a Sunday schedule for the Dr. Martin Luther King, Jr holiday.
Parking meters and restrictions for seven-day street sweeping will be enforced. However, there will be no enforcement of parking restrictions for:
Monday through Friday street sweeping
Residential parking permits
Commute hour tow-away zones
For complete details, visit the holiday enforcement schedule webpage.
Van Ness Construction Reminder
All left turn lanes on Van Ness Avenue have been removed with the exceptions of those at Broadway (southbound), Lombard (northbound), and temporarily at Hayes (northbound).
North and southbound lane re-configurations on Van Ness Avenue between Jackson and Greenwich streets are now in effect.
For complete details on these changes, please revisit our Nov. 4 blog post.
Temporary J Church and K Ingleside Service Changes Reminder
Due to Balboa Park Station Area and Plaza Improvement construction work, temporary stop changes for the J Church and K Ingleside lines will be in place at Balboa Park Station through the end of February. For details, please read our Sept. 1 blog post.
"On Tap" gives you a heads up about the big events in town and what Muni routes and lines will get you to the party. Look for this feature to be posted usually on Wednesdays for a look ahead to the weekend. Check out our Weekend Traffic & Transit Advisory for more details.