This Weekend: Veterans Day Parade and Union Square Ice Skating
Thursday, November 7, 2019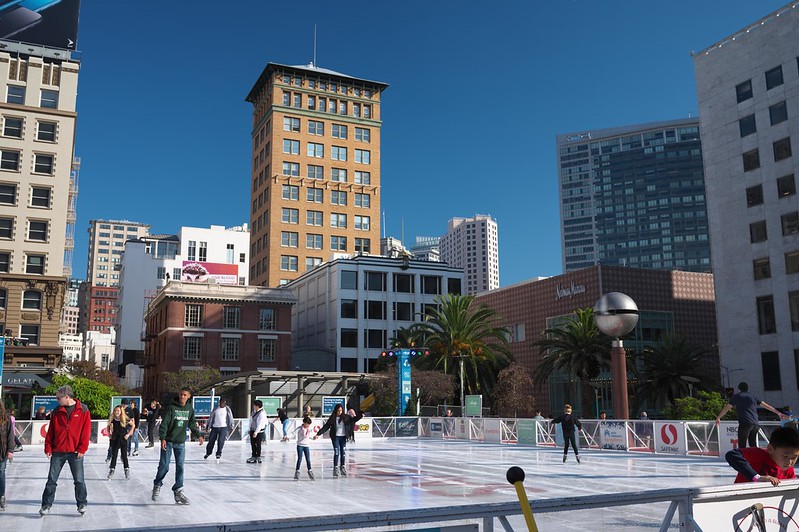 If it's winter in San Francisco then that means ice skating at Union Square's annual holiday ice rink. Photo: John Loo/Flickr
Holiday Ice Skating Rink
Daily, 10 a.m. to 11:30 p.m.
Union Square
Palm trees and ice skating: Is there a more iconic duo? During winter in San Francisco, the answer is no. One of the city's best holiday attractions is back! Grab your skates (or rent a pair when you arrive) head over to Union Square and step out onto the Holiday Ice Rink. Whether you're a seasoned ice skater or not; looking for some family fun or out on a romantic date night, this open air wonderland will be the backdrop for some memorable moments. This year the rink will host a Silent Night Skate party, Tots on Ice, Flashback Fridays, and more.
---
How to Get There on Muni: Skaters of all ages may take the Powell Cable Car Lines, 2 Clement, 3 Jackson, 8 Bayshore, 30 Stockton, 38 Geary, 38R Geary Rapid or 45 Union/Stockton routes.
Muni Service Notes: There are no planned service changes for this event.
Veterans Day Parade
Sunday, 11 a.m. to 1 p.m.
Fisherman's Wharf
World War I came to an end as the Allies' armistice with Germany went into effect at the 11th hour of the 11th month of 1918. Since 1938, November 11 has been a national holiday, first to commemorate the armistice and, since 1954, to honor and recognize all veterans for their bravery and service to the nation. the 99th annual Veterans Day parade will begin on the Embarcadero at North Point Street before heading northwest toward Jefferson Street and disband at Jefferson and Hyde streets.
Muni service note: During the parade service on the F Market, 8 Bayshore, 39 Coit, and 47 Van Ness will be affected.
How to Get There on Muni:  Parade watchers and participants may take the E Embarcadero or F Market lines, as well as the 8 Bayshore, 19 Polk, 39 Coit, 47 Van Ness, or the Powell Hyde and Powell Mason Cable Car lines.
Muni Service Notes: The E, F, 8, 39 and 47 will have reroutes during this event.
Remember that you can take Muni for the entire day for a single $5 fare. The new $5 Day Pass, available on MuniMobile®, is part of Muni's recent fare changes. The pass is intended to encourage a safe, convenient way to pay your fare and quickly board Muni vehicles, which reduces overall travel time for everyone. The $5 Day Pass is Muni bus, rail and historic streetcars only.
"On Tap" gives you a heads up about the big events in town and what Muni routes and lines will get you to the party. Look for this feature to be posted usually on Thursdays for a look ahead to the weekend. Check out our Weekend Traffic & Transit Advisory for more details.