24 Willie Mays Plaza, San Francisco, CA 94107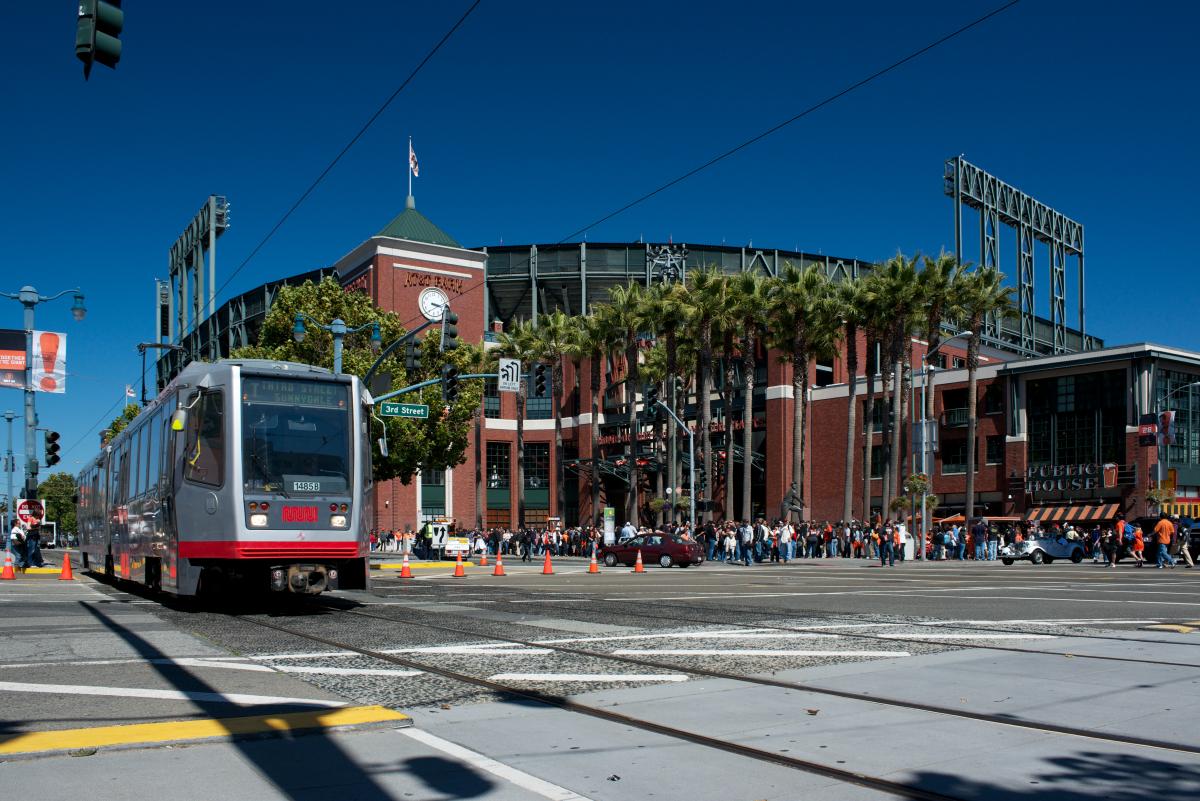 Oracle Park is the home of the San Francisco Giants baseball team. The ballpark is located in the South of Market area at the corner of 3rd and King streets. Oracle Park also hosts other popular events, providing wonderful views and first-rate amenities to make any baseball game or event a memorable one.
Muni Gameday Service - Take the N Judah
Muni Metro N Judah trains serve the platform at King & 2nd St, next to Oracle Park

The 

30 Stockton

and 

45 Union/Stockton

also stop near the ballpark, by the Caltrain Depot.

As of January 7, 2023, the new

T Third

 line

 

provides a direct Metro connection between Sunnydale and Chinatown-Rose Pak Station, traveling north to the new Central Subway from 4th & King platform. It no longer turns onto King Street or runs along the Embarcadero and the Market Street subway. Also, the K Ingleside now travels between Balboa Park and Embarcadero Station.
Late Night Service
The Muni Metro Subway service ends after midnight.
BART to Muni
Caltrain to Muni or Walk
Take Caltrain to San Francisco Station and transfer to the N Judah line at King & 4th St.
San Francisco Station is about a 5- to 10-minute walk to Oracle Park
For Giants night games, Caltrain offers special service from San Francisco Station, departing approximately 15 minutes after the last out or when the train is full
After games, please keep Caltrain regular schedules in mind. Caltrain will not hold these trains

On weeknights, the last trains depart San Francisco Station at 10:09 p.m., 11:09 p.m., and 12:03 a.m.
On Saturdays, the last trains depart at 10 p.m., 11 p.m., and 12:04 a.m.
On Sundays, the last train departs at 10 p.m.
For more regional transit information, visit 511 SF Bay.
Taxi Service
There are four taxi zones serving Oracle Park in effect on gameday and other event days.
East side of 2nd St, between King and Townsend (seven spaces)

West side of 2nd St, between King and Townsend (two spaces)

West side of 2nd St, between Townsend and Brannan (five spaces)

East side of 3rd St, between King and Townsend (five spaces)
Bike Parking
The San Francisco Bicycle Coalition provides a free, secure bike valet service at Oracle Park.
The bike valet is located on the south side of the ballpark, along the Port Walk, near O'Doul Gate.

Opens two hours before every game.

Closes 30 minutes after each game.
On the northeast side of the ballpark, beyond left field, there are public bike racks that can accommodate more than 100 bicycles. These racks are located between the 2nd Street and Marina gates.
For more information on getting to Oracle Park by bicycle, visit the Biking to the Ballpark page.
Gameday Traffic
Two and a half hours before the opening pitch, the SFMTA will close eastbound King Street between 3rd and 2nd streets to vehicle traffic. This change is to accommodate social distancing for fans entering the ballpark. King Street will reopen after first pitch until the seventh inning.
From the seventh inning until post-game traffic dies down, the SFMTA will again close eastbound King Street between 3rd and 2nd streets to vehicle traffic in order to reduce congestion on city streets. Additionally, the northbound portion of the 4th Street Bridge (Peter R. Maloney Bridge) will be closed to all traffic except Muni, taxis and bicycles during the post-game period. Giants fans parked south of Mission Creek Channel who are heading north of the channel are encouraged to exit to the south along 3rd or 4th streets in order to avoid congestion on King and 3rd streets after Oracle Park events.
Special Event Parking Rates
During baseball games and other major events with more than 10,000 expected attendees at Oracle Park, parking meters close to the ballpark will charge a special event rate of $8 per hour. These rates help make more parking spots available in South Beach and Mission Bay and help reduce congestion by discouraging circling for free or cheap parking near the ballpark. For more information and a map of the special event rate area, please visit the Oracle Park and Chase Center Special Event Parking Meter Pricing page.
Garage Parking
Several SFMTA garages are located about a 15- to 30-minute walk from Oracle Park. Fans can also take Muni to nearby garages. Rates and hours vary; please visit each garage's page for more information.