Central Subway Project Update for July 18, 2019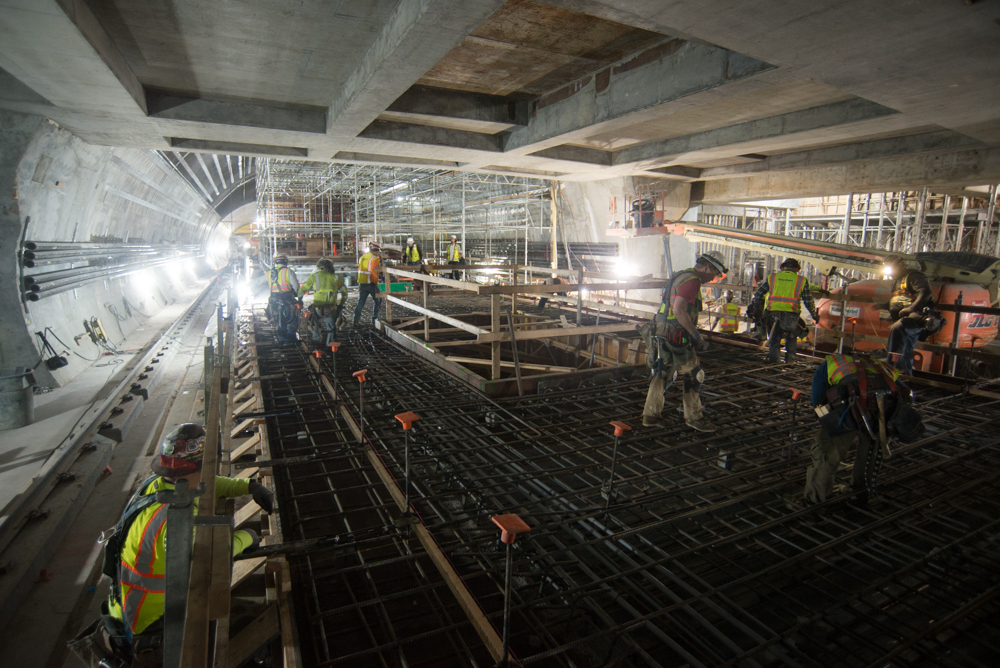 Crews put the finishing touches on rebar supports before pouring concrete for the Chinatown station boarding platforms.
---
This notice provides a general project update and look-ahead which includes information about work activities, traffic, and transportation impacts taking place over the next few weeks along the project alignment. For more project information, visit SFMTA.com/CentralSubway
Surface Work at 4th and King Intersection
Pavement renovation work for the intersection at 4th and King Streets is planned to begin Thursday, July 25 through Wednesday, July 31 and again on Saturday, August 3. Crews plan to restore the concrete roadway base in sections to minimize disruptions. While there may be some pedestrian and vehicular detours at that intersection through the course of work, there are not anticipated impacts to Muni service.
Work is planned from 7am to 7pm each day and some areas may remain blocked off at overnight while the concrete cures. More info below.
---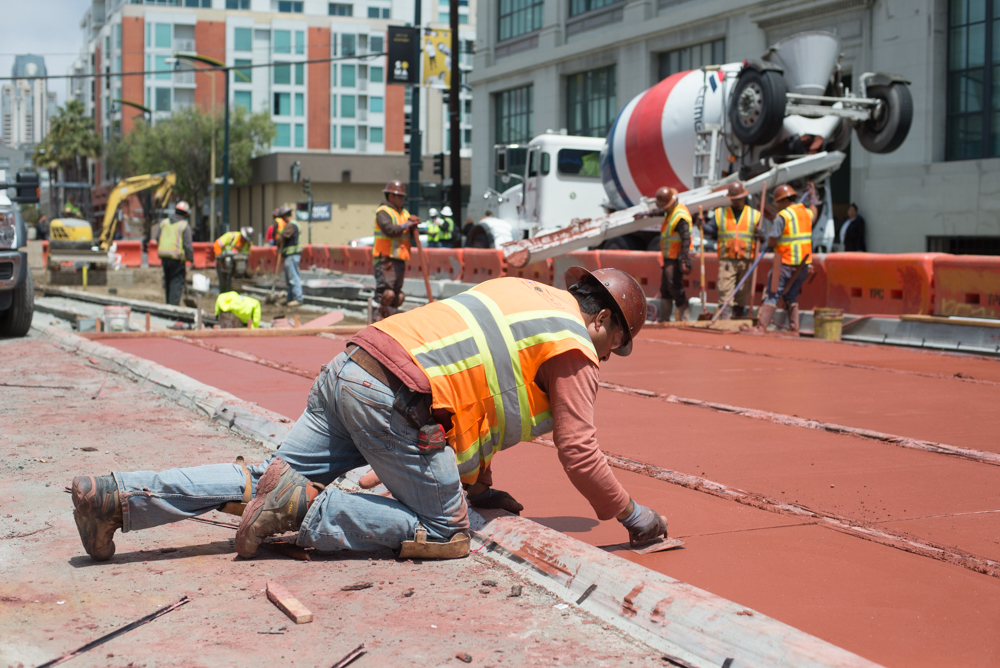 Red colorized concrete being poured around the tracks on 4th Street near Brannan.
4th and Brannan Station, surface tracks, and systems
This scope of work includes includes construction of the surface station between Bryant Street and Brannan Street, work along the surface of 4th Street between Bryant Street and King Streets, the tunnel portal, rail installation, and utilities and systems installation along the entire project alignment. The construction team is upgrading utilities and track work on 4th Street between the tunnel portal at Bryant Street and the connection with the existing light rail system at King Street.
Upcoming Work: Crews plan to renovate pavement at the intersection of 4th Street and King Street is scheduled to start on July 25. Vehicles traveling southbound on 4th may be limited to a right turn at King at times. Additional temporary detours may occur for vehicular and pedestrian traffic through the intersection. While primary work hours is scheduled to be from 7 am to 7 pm, some night work may occur for pavement cutting and concrete setting. Please note that the Third Street Bridge will also be closed for repairs during this time for a separate project.
Construction of the 4th and Brannan surface station platform is ongoing, as is rail installation, track foundation and final cement work along 4th Street south of Bryant. Some lane closures may also occur at night. Regular day shift hours are from 7 am to 4 pm.
---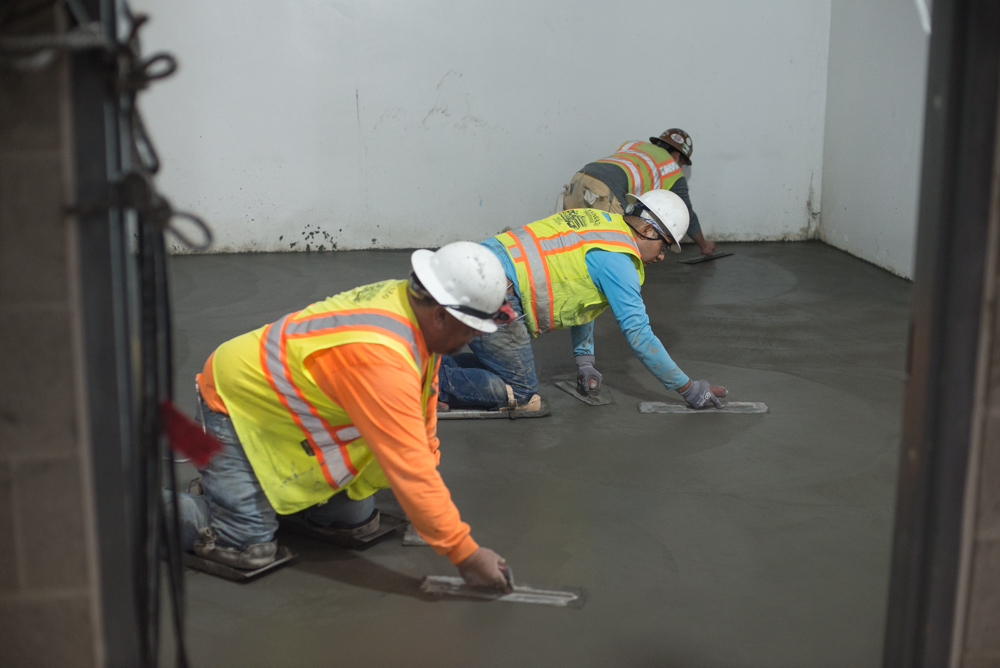 An interior room floor inside Yerba Buena/Moscone Station gets some finishing touches.
Yerba Buena/Moscone Station
Yerba Buena/Moscone Station is subway station built using slurry wall and cut-and-cover excavation techniques, with the future entrance plaza located at 4th Street and Clementina. The worksite spans 4th Street from Howard to Folsom.
Current Work: Crews are installing of major station interior elements include art work as well as building the street level station entrance structure. Regular day shift hours are from 5 am to 3:30 pm, and night shift hours are from 9 pm to 5 am.
---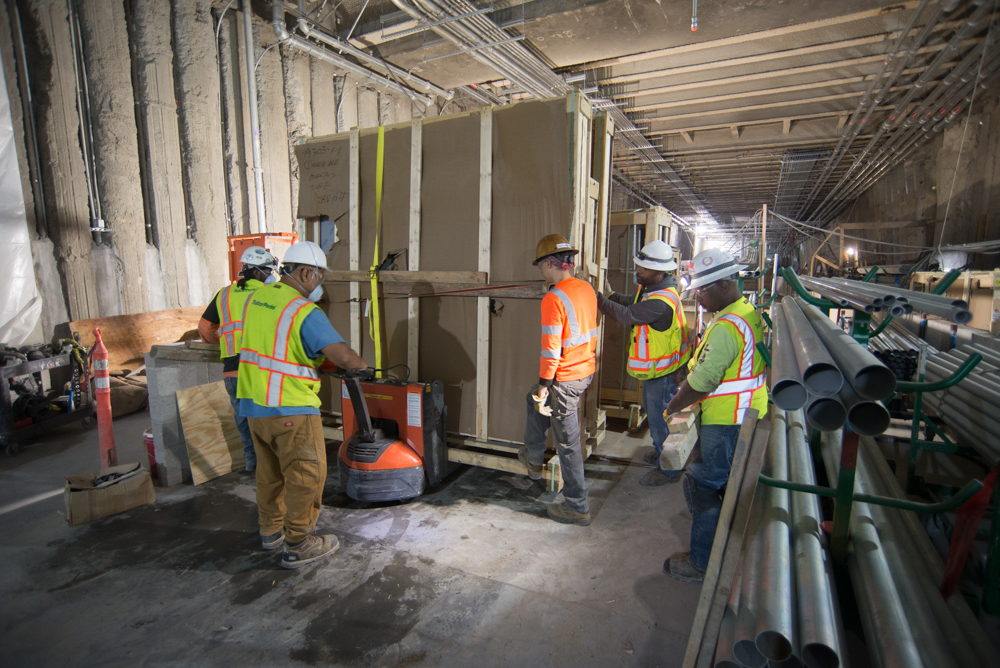 Artistic design elements get carefully transported into the Union Square/Market Station for installation.
Union Square/Market Street Station
Union Square/Market Street Station is subway station constructed using interlocking pile slurry walls and cut-and-cover excavation techniques, and will feature a direct concourse connection to Powell Station, in addition to future station entrances at Union Square and the northwest corner of Stockton Street and Ellis. The worksite spans Stockton Street from Post to Ellis, and includes a small portion of Geary south of Union Square.
The 8, 8AX, 8BX, 30, 45, and 91 OWL bus routes have returned to their previous alignments outbound on Stockton south of Geary and down 4th Street.
Current work: Installation of interior structural elements and the construction of the future station entrance at the southeast corner of Union Square. There will be a continued presence of vehicles and equipment as work at this location continues. Work hours may span 24 hours a day, seven days a week.
---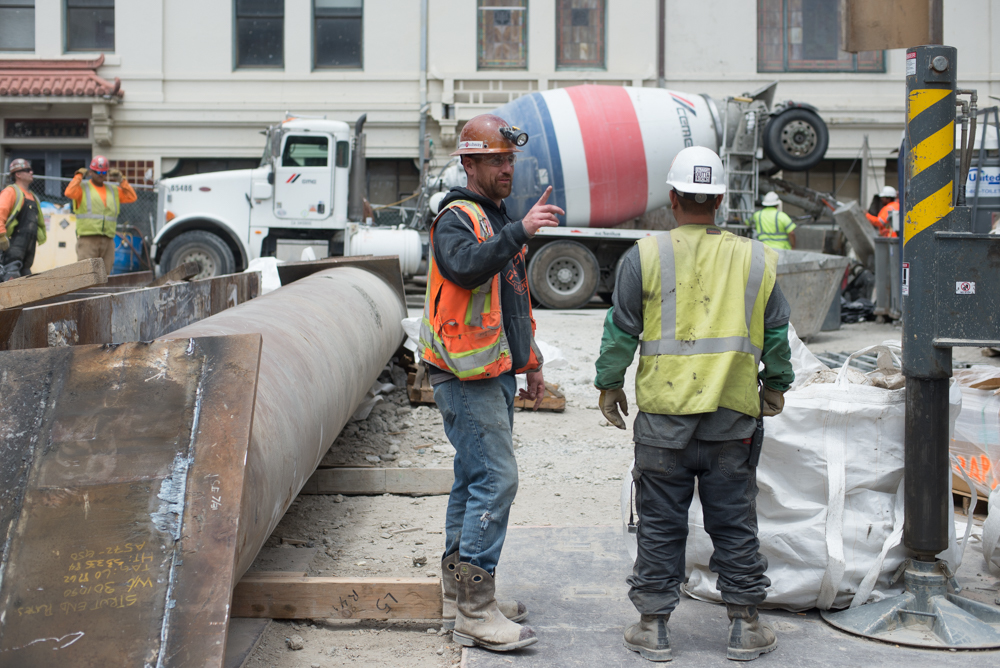 Crews strategize operations during a large concrete pour at Chinatown station.
Chinatown Station
Chinatown Station is subway station constructed using slurry wall, cut-and-cover, and sequential mining excavation techniques, with the future entrance at Washington Street and Stockton, featuring a rooftop plaza. The worksite spans Stockton Street from Jackson to mid-block south of Washington. Washington Street from Stockton through to Trenton Alley is open only for pedestrian access at the current time.
Current work: Crews are focused on construction of the north and south platform caverns, cross-cut cavern, track crossover cavern, and interior structural elements of the station headhouse. Additionally, the sidewalk along the west side of Stockton between Washington and mid-block toward Clay has temporarily been closed to facilitate utility upgrade work.