Central Subway Project Update June 2020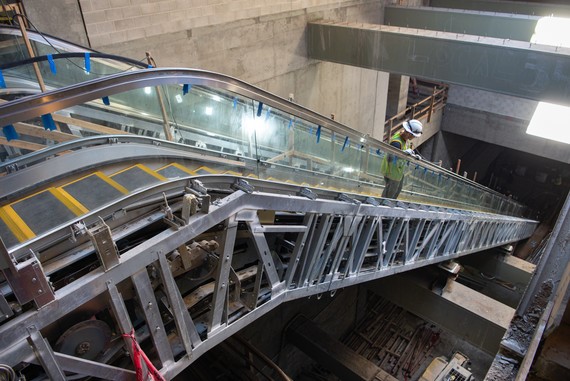 A worker pauses on one of the massive escalators leading down to Rose Pak Chinatown Station's future lobby and fare gate area.
The Central Subway project remains a key priority for the SFMTA, even during the current health crisis. Workers from the contractor and project staff continue to work every day while taking precautions and following best practices for physical distancing.
Important progress was made over the last few months, but there were also challenges resulting in revisions to our target dates for the completion of construction. Heavy construction on stations was scheduled to finish this Summer, but now will continue into the Fall and finish by the end of the year. The date for revenue service when we can welcome our first customers is now the end of 2021.
The opening of the subway will follow an extensive testing period because our number one goal is to open a service that is reliable and safe on day one of operation.
Although construction will continue a little longer into the year than expected, most of the impactful work is behind us. All but one street or sidewalk adjacent to worksite is now open. The remaining closed block of Washington Street in Chinatown will reopen once construction is complete later this year as it is a key access point for materials.
Lastly, we want to share a major project milestone was completed: Finishing an emergency exit for the Chinatown Rose Pak Station on Stockton near Jackson Street. This new exit was a massive endeavor that began in 2015 by excavating down over 95 feet. Once the soil was removed, the equivalent of a 9-story building was constructed underground -- surrounded by reinforced concrete, waterproofed and then capped with a pneumatic roof hatch.

During Construction: Cement casing was built down approximately 200 feet after excavation.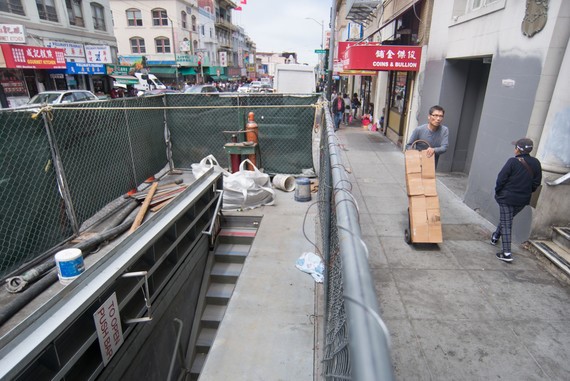 During Construction: Stairs leading up to the surface with the construction fencing that once adorned the corner.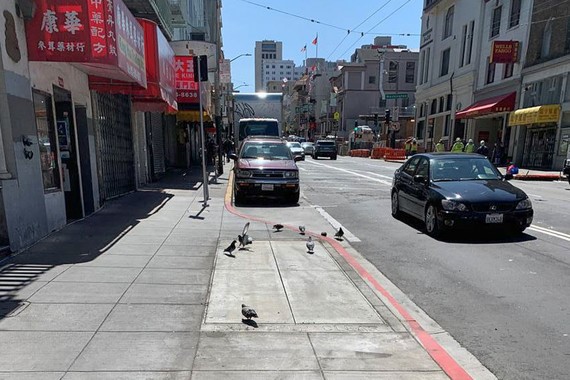 Today after Construction Finished: Competed Emergency Exit at Stockton and Jackson street with the grates closed and locked from the inside.
We know that construction of this vital project is disruptive to the community, so are deeply grateful for everyone's patience. Once operational, the Central Subway will provide key connections to some of our city's most densely populated and growing areas -- linking Chinatown, Union Square and SoMa to Mission Bay and the southeastern neighborhoods of San Francisco.
For more project information: SFMTA.com/CentralSubway
Information on our response to the current health crisis including Muni service, parking and more: SFMTA.com/COVID19