L Taraval Improvement Project Segment A Complete July 2021
Service Affected
Accessibility
Bicycle
Motorcycle
Parking
Driving
Transit
Walking
Construction of Segment A Successfully Completed July 2021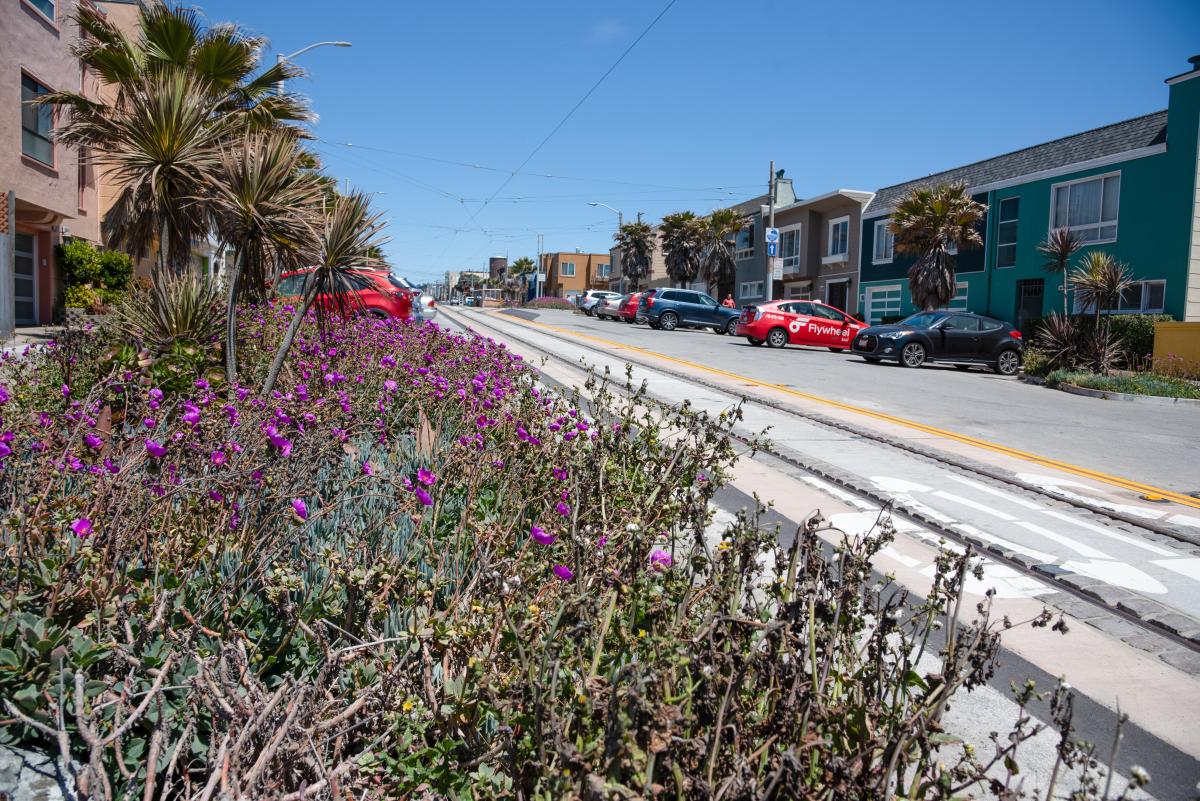 While the past 18 months have been full of challenges and anxiety because of the pandemic, today we have good news to share. With community support and collaboration from our city partners, the SFMTA has successfully completed the first of two segments of the L Taraval Improvement Project. Construction of Segment A started in September 2019 and was completed in July 2021 on schedule and within budget.
This project was made possible in part by Proposition K Sales Tax dollars provided by the San Francisco County Transportation Authority. Our work on this first phase improved transit and infrastructure between Sunset Boulevard and SF Zoo, with close collaboration between the SFMTA, the San Francisco Public Utilities Commission, and San Francisco Public Works. Upgrades to this vital corridor that help the community thrive include: 
Rail track and overhead line replacement
Water and sewer line replacement
Surface repaving
Curb ramp upgrades
Concrete boarding islands and pedestrian bulbs
Traffic signals
New trees and landscaping
These improvements have made pedestrian crossing safer, increased accessibility and improved transit reliability for our customers while rehabilitating water & sewer infrastructure and enhancing landscaping to make Taraval Street more enjoyable for everyone.
We would like to thank Supervisor Mar, Sunset neighbors, local businesses and People of Parkside, Sunset (POPS) for their partnership in shaping and completing this project. We are especially grateful to the residents who live along the Lower Great Highway where the traffic and parking patterns had to change due to the lane closures for staging of construction materials and equipment.
The project couldn't be a success without the close partnership with community stakeholders, sister city agencies, the contractor as well as SFMTA internal divisions.
By partnering with PUC, we were able to identify the potential utility conflicts early on and decided to split the project into Segment A and Segment B to allow PG&E and PUC more time to relocate the underground utility conflicts.
Thanks to the partnership with the contractor NTK Construction, a comprehensive communications plan was implemented to provide clear, transparent information to local businesses and residents on staging area, construction approach and sequencing, things to expect, service interruption and service support plan. Special accommodations were made to help support local businesses and residents in minimizing construction impacts.
To ensure a successful project delivery, the project team reflected on the lessons learned from previous projects as important ways of gathering and sharing project knowledge among internal partners. Special acknowledgements to Construction Management team, Street Division, Communications and Outreach, Transit Planners and Maintenance of Way.
While celebrating the completion of Segment A, we are now gearing up for Segment B,  which will make the same improvements from Sunset Boulevard to West Portal. Construction on this next phase is anticipated to start in early 2022 and last through the end of 2024.
Once completed, the nearly five-mile long corridor from West Portal to the Zoo will boast new transit priority traffic signals, bulbouts to make pedestrian crossing safer, new trees, high visibility cross-walks, safety boarding islands and increased accessibility. All of these changes will make Taraval more inviting for everyone that lives or travels there.