L Taraval Project Update: July 24, 2017
With initial L Taraval Rapid Project improvements completed, here are a few updates on our efforts to improve safety on Taraval Street and deliver faster, more reliable Muni service.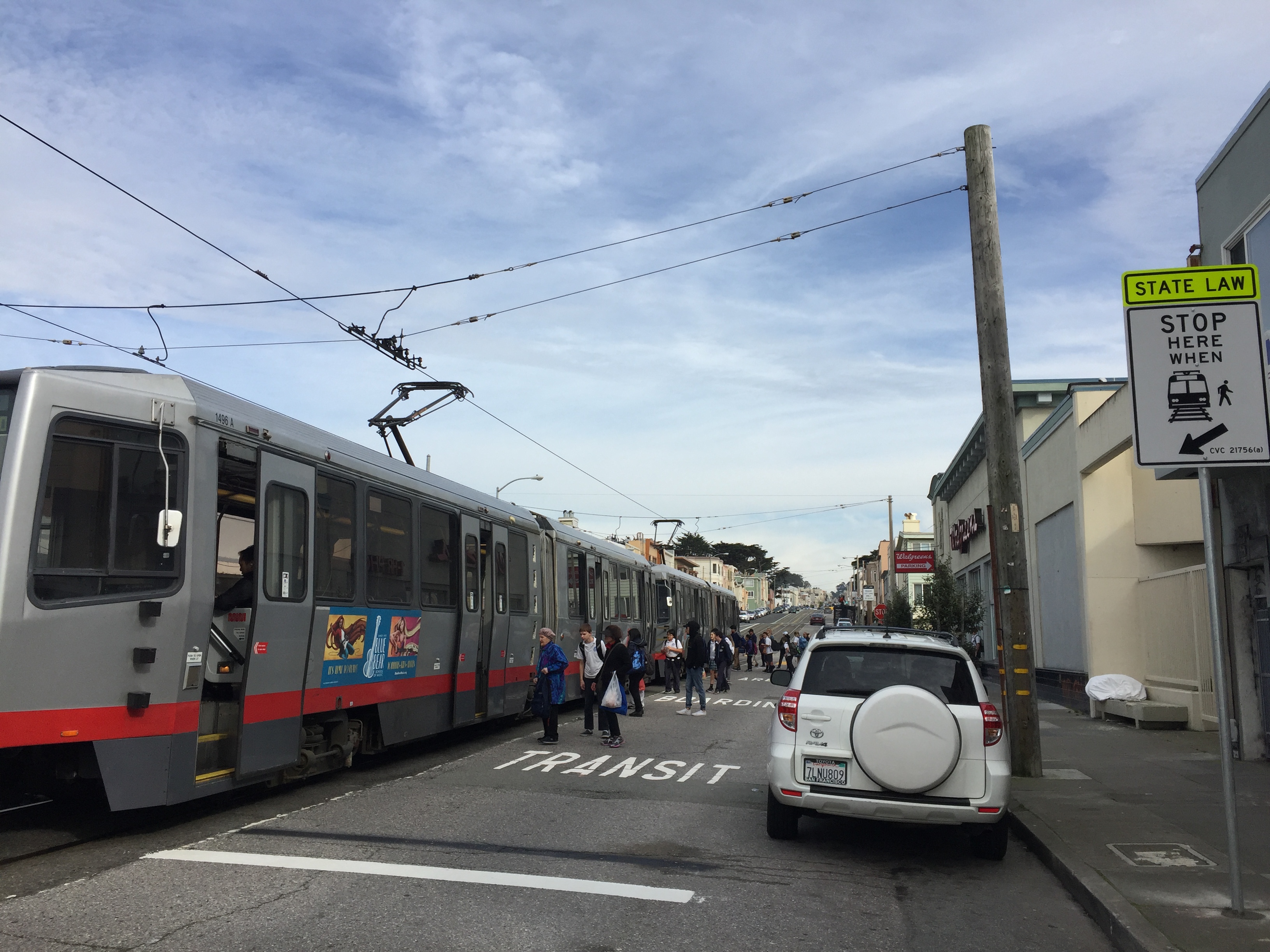 Six-Month Boarding Zone Pilot Reaches Midpoint
We are halfway through the six-month L Taraval Boarding Zone Pilot Project, our effort to evaluate how well measures like new street markings, signs and flashing lights on trains are working to get drivers to stop behind loading Muni trains on Taraval.
Since April, we've collected data on how these changes have impacted the share of drivers who stop behind stopped trains at five inbound stops on Taraval, between 26th and 40th avenues. If successful, the pilot will preserve parking spaces at these five stops. If the measures fail to increase the share of drivers who stop to 90 percent, or if anyone is injured at a pilot location, boarding islands will be installed at each location.
In a few weeks, we will provide an initial snapshot of that data. We expect to share the final data once it has been collected and analyzed in the fall.
You can learn more about the evaluation metrics for the pilot in this PDF document.
Vote on Angled Parking Spaces
In the coming months, neighbors on certain blocks near Taraval will receive ballots in the mail to vote on proposals that would create more on-street parking. To add parking spaces and create a narrower, calmer roadway, parallel parking spaces would be converted to perpendicular (90-degree) spaces on certain sections of Santiago and Ulloa streets, and to 45-degree parking spaces on several north-south blocks near Taraval.
If over 50 percent of neighbors on a block vote in favor of these changes, they will be implemented in the following months. If adopted on all proposed blocks, they would add over 140 new parking spaces to the area.
New L Taraval Stop Spacing in Place
To help make the L Taraval faster and more reliable, we removed closely spaced stops to align the distances more closely with those on lines like the N Judah. Most of the planned stop changes were implemented earlier this year. Based on direction from the SFMTA board and community feedback, however, the inbound 17th Avenue stop was retained during the six-month pilot period for further evaluation.
We will be surveying local merchants, neighbors and Muni riders for input before a final proposal is presented to the SFMTA board for approval in the fall. In addition to faster Muni service, we're also looking at how spacing affects accessibility for people with disabilities, walking distances to key destinations and impacts on parking. Stay tuned for a larger update on the process for evaluating stop removals in the next couple of weeks.
Stay Connected
For more details on the project, check out the L Taraval Rapid Project website and be sure to sign up for updates.