N Judah Bus Substitution Coming Up in April
Friday, March 15, 2019 - 4:40pm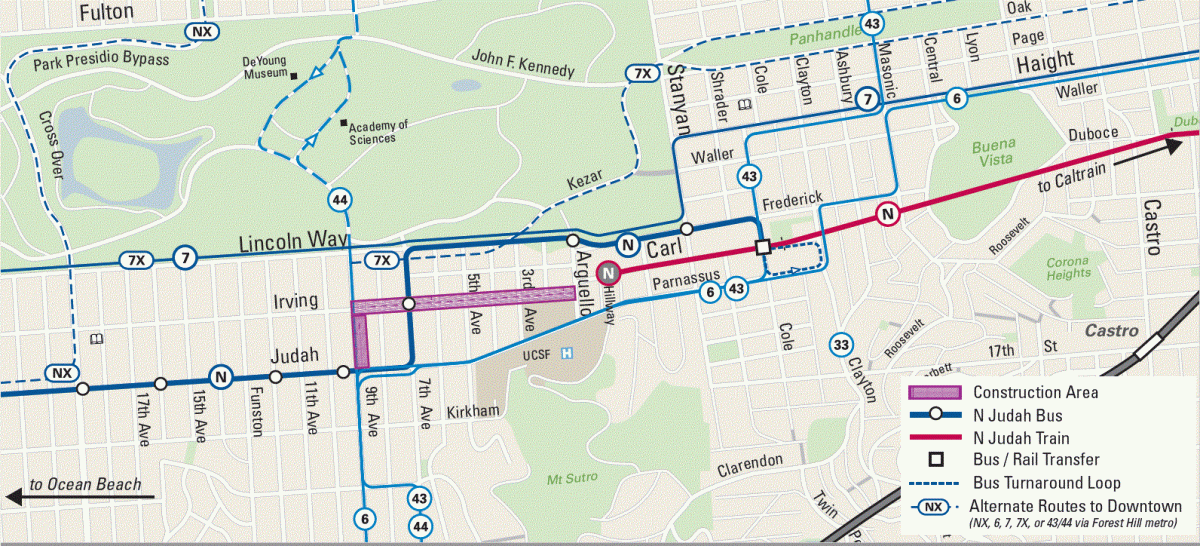 Bus shuttles substitute the N Judah service
To accommodate the final phase of the Inner Sunset Streetscape Improvement Project, Muni will run bus shuttles for the N Judah Line between Ocean Beach and Carl &Cole streets starting on April 13 and continuing for approximately two weeks. Bus substitution is required in order to complete paving work on Irving Street between Arguello and 9th Avenue.
Regular N Judah rail service will operate between 4th and King and Carl and Hillway. Carl and Hillway will be the last stop served by N Judah rail service. For stops west of Carl and Hillway, all customers must transfer at Carl and Cole to continue their trip.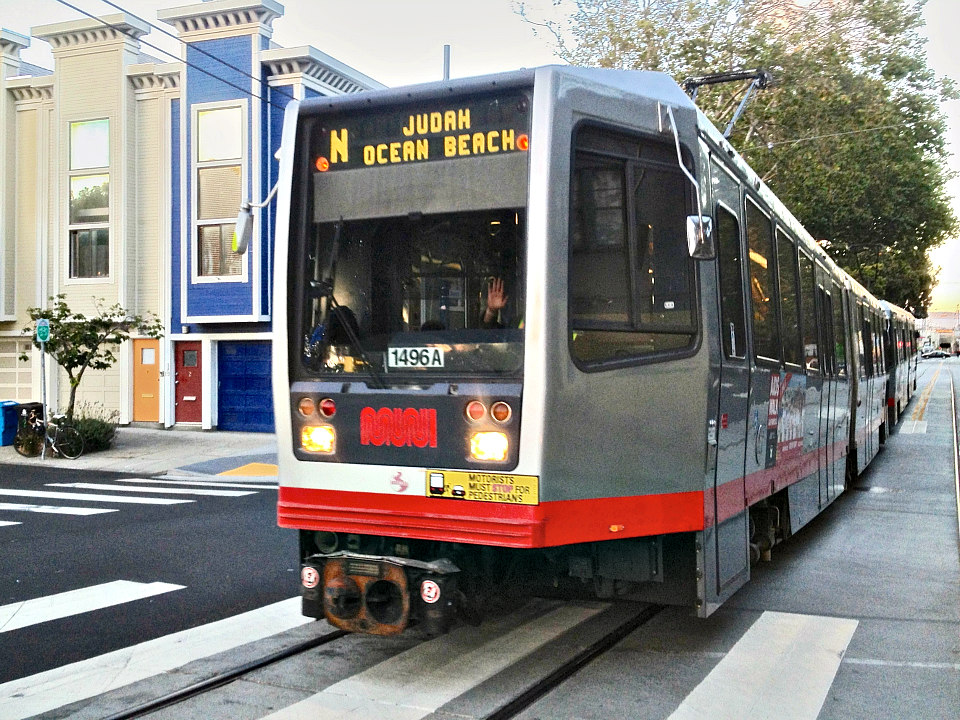 N Judah train will be substituted by bus
Bus service will begin on Saturday, April 13 at 4:30am and continue during regular service hours until construction is completed. Bus shuttles will follow the regular N Judah line except for short segments along Frederick Street and Lincoln Way.
Customers traveling downtown are encouraged to allow extra travel time for their trips or consider taking alternate Muni routes, such as the NX Judah Express, 6 Haight/Parnassus, 7 Haight/Noriega and 7X Noriega Express. Customers in the Inner Sunset area can also take the 43 Masonic or 44'Shaughnessy route to Forest Hill station and transfer to Muni Metro lines for downtown travel. L Taraval service is also available to connect downtown and the Sunset District.
Due to the need for additional bus operators during this time, Muni riders may experience moderate service gaps on the 14 Mission, 30 Stockton and 38 Geary routes. The E Embarcadero and 83X Mid-Market Express lines will also be suspended until construction is completed.
Bus staging areas in Cole Valley will be on the east side of Cole Street between Carl and Frederick, and on the north side of Carl Street fronting Richard Gamble Memorial Park (between Carl and Clayton). Buses will also be staged at the existing N Judah rail turnaround at Ocean Beach.

No parking restrictions will apply where street paving takes place
SF Public Works street paving will occur on the streets and the Muni trackways between Arguello and 9th Avenue, and on 9th Avenue between Irving and Judah streets. Work hours will be 8 a.m. to 5 p.m. weekdays and 8 a.m. to 6 p.m. on weekends. Work will be suspended on April 20 to accommodate Easter Sunday.
After the street paving, the project will reach a major milestone with only minor landscaping and sidewalk improvements left that will continue until the completion date expected in August.
After years of collaboration between city agencies and community partners, the Inner Sunset Streetscape Improvement Project began in summer 2017. The project entails improving areas around Muni stations in Inner Sunset to Cole Valley. The result is improved N Judah service, a more beautiful neighborhood and safer streets that are more livable, vibrant and sustainable.
The project is a partnership between the San Francisco Municipal Transportation Agency (SFMTA) and SF Public Works and Public Utility Commission (SFPUC). The project is to create new transit loading areas, curb ramps, replace sewers and water lines add landscape improvements, electrical work, and street paving.