N Judah Bus Substitution Coming Up in April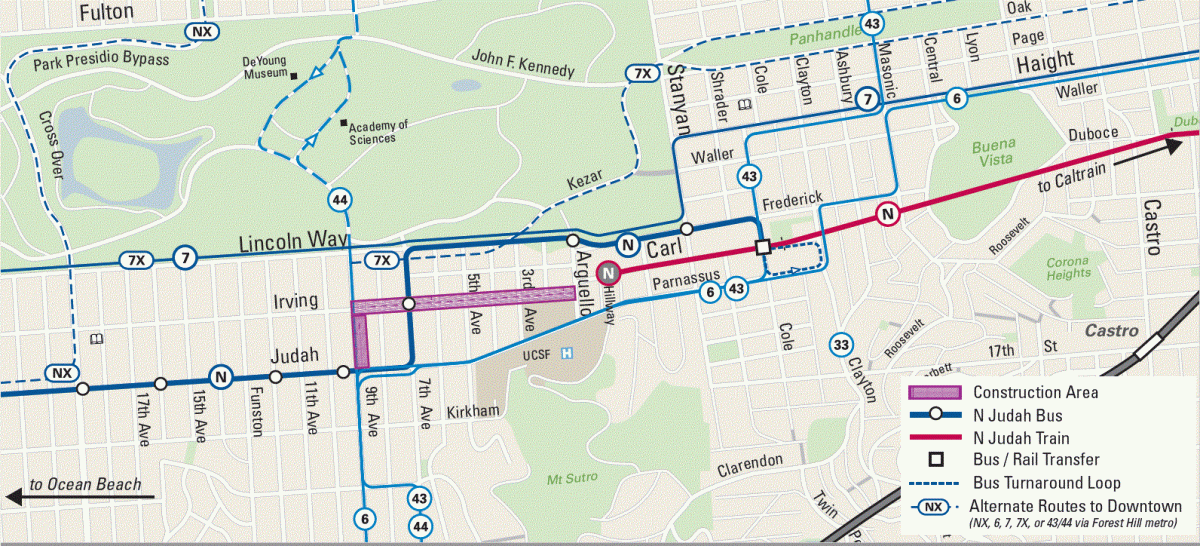 Bus shuttles substitute the N Judah service
In support of the Inner Sunset Streetscape Improvement Project,  Muni will run bus shuttles for the N Judah Line between Ocean Beach and Carl and Cole streets starting Saturday, April 13 and will continue for approximately two weeks. 
The Inner Sunset Streetscape Improvement Project is a streetscape project that features transit, infrastructure and street safety design improvements funded by the SFMTA's capital program supporting Muni Forward and Vision Zero. Safety features of the project include upgrades to the intersections for safer pedestrian crossing, installation of accessible stops for people in wheelchairs, transit bulbs, stop consolidation and road pavement in the Inner Sunset along the N Judah Line from Arguello Boulevard to 9th Avenue.
Bus substitution is required in order to complete paving work on Irving Street between Arguello Boulevard and 9th Avenue.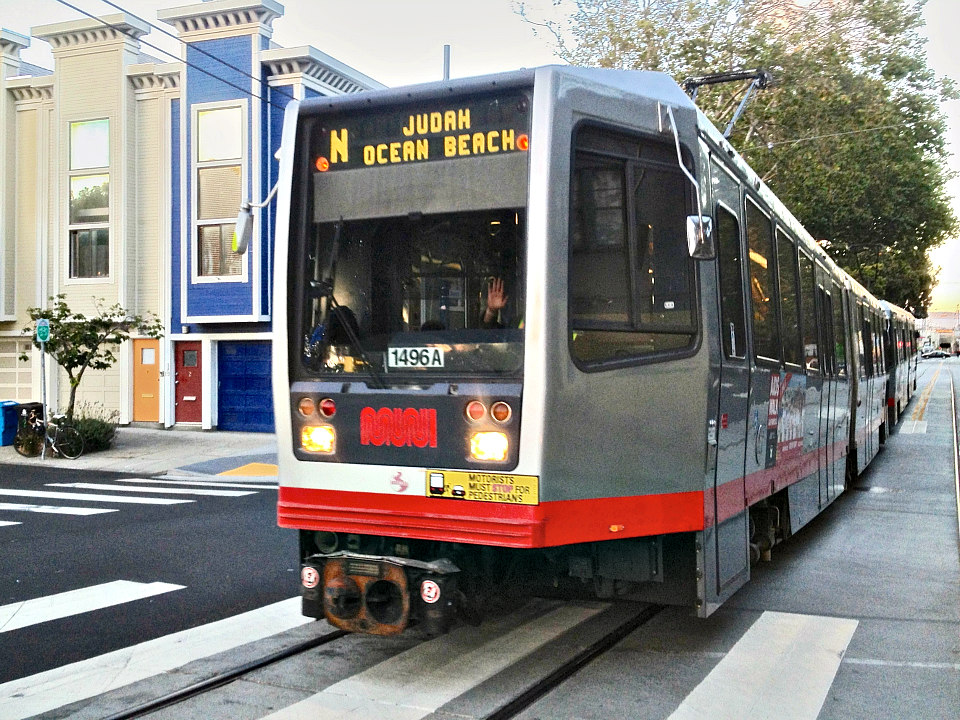 N Judah train will be substituted by bus
During the bus substitution, regular N Judah rail service will operate between 4th and King Street and Carl Street and Hillway Avenue. Carl Street and Hillway Avenue will be the last stop served by N Judah rail service. For stops west of Carl Street and Hillway Avenue, customers must transfer at Carl and Cole streets to continue their trip. Carl and Cole will also be the last accessible rail stop.
Passengers heading to UCSF Medical Center are encouraged to transfer to the 43 Masonic or 6 Parnassus at Carl and Cole. Passengers may also stay onboard N trains to Hillway, though the stop at Hillway is not accessible to passengers needing level boarding.
N Judah Bus substitution service will begin at 4:30 a.m., Saturday, April 13 and will continue during regular service hours until construction work is complete. Bus shuttles will travel down Fredrick Street to Lincoln Way, with stops at Lincoln at Arguello and 7th at Judah. Shuttles will then turn onto Judah at 7th, and serve all remaining N Line stops.

No parking restrictions will apply where street paving takes place
Customers traveling downtown are encouraged to allow extra travel time for their trips or consider taking alternate Muni routes, such as the NX Judah Express, 6 Haight/Parnassus, 7 Haight/Noriega and 7X Noriega Express. Customers in the Inner Sunset area can also take the 43 Masonic or 44'Shaughnessy route to Forest Hill station and transfer to Muni Metro lines for downtown travel. L Taraval service is also available for connection between downtown and the Sunset District.
Due to the ongoing need for additional bus operators, Muni riders may experience additional gaps and crowding on the Chestnut, Geary and Mission corridors during this time.
The E Embarcadero and 83X Mid-Market Express lines will also be suspended until construction work is complete. Alternate service will be provided by the F Market & Wharves and the regular N Judah trains:
Track maintenance work will take place at various intersections along the N Judah Line during the bus substitution.
All travelers, especially drivers, are encouraged to leave extra time and move carefully through the area.
Transit improvements planned for the Inner Sunset project include:
Muni Forward transit bulbouts on Irving Street at 5th, 6th, and 8th avenue, as well as on 9th Avenue between Irving and Judah street. Pedestrian bulbouts at the northwest corner of 7th Avenue and Irving Street, and the southeast corner of 9th Avenue and Irving Street.

Construction of two new ADA (Americans with Disabilities Act) "Key" stops at 6th Avenue.

Road repaving and curb ramp upgrades on Irving Street from Arguello Boulevard to 19th Avenue, and 9th and 10th avenue from Irving to Judah street.

Streetscape improvements at the existing transit bulb-outs in Cole Valley at the intersections of Carl and Cole streets, and Carl and Stanyan streets.
Thank you for your patience and understanding while we work to improve the safety of your streets and N Judah service.