Page Street Pilot: Open House and Public Hearing
Service Affected
Bicycle
Parking
Driving
Transit
Walking
Page Street is an important corridor for the Hayes Valley / Lower Haight neighborhoods because of its connectivity to John Muir Elementary School, parks and other destinations. It is also a popular east-west bicycle route, where there are often 1.5x more people on bikes than in cars headed downtown in the morning commute. While the SFMTA has made recent changes to improve safety and additional sidewalk changes are planned for 2020 through the Page Street Neighborway project, more is needed to address directly the impacts of chronic vehicle congestion. Based on several years of engagement and outreach with the community, the Page Street Bikeway Improvements Pilot is advancing an expanded proposal for an 18-month pilot project of circulation changes and bikeway upgrades using temporary materials.
Project elements include:
Reduced vehicle traffic

near John Muir Elementary School by prohibiting vehicles from entering eastbound Page Street at Webster Street

A protected downhill bikeway and an uphill bike lane

on Page Street between Octavia Boulevard and Laguna Street by converting that block to one-way westbound only for vehicles




The uphill bike lane would extend 3 blocks from Octavia Boulevard to Webster Street

Further reduced vehicle traffic and conflicts

on Page Street by prohibiting left-turns and westbound through-traffic at Octavia Boulevard

Support for transit on Haight Street

by enhancing bus stop access and discouraging traffic from diverting to Haight Street during the day
Plan view of proposed improvements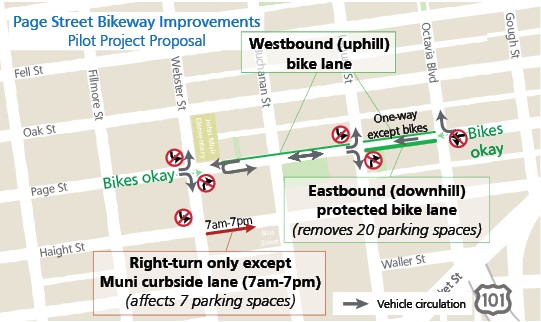 Open House and Public Hearing - Join us on August 27!
To learn more about the project and to submit a Public Hearing comment, we invite you to attend our upcoming open house and public hearing.
Date and Time: Tuesday, August 27, 2019 from 6:30 PM to 8:00 PM – drop in anytime!
Location: John Muir Elementary School Auditorium, 380 Webster Street
If you would like to comment on these proposed changes, you may attend the SFMTA Public Hearing described above or file your comments in writing before the hearing:
Email: pagebikeway@sfmta.com with subject line "Public Hearing: Page Street"
Mail:    Public Hearing, Sustainable Streets Division
One South Van Ness Avenue, 7th Floor, San Francisco, CA 94103-5417
No decision will be made at this public hearing. After the hearing, proposals must be approved by the SFMTA Board of Directors. Your testimony, along with all written correspondence will be documented for the SFMTA Board of Directors.