Up Your Alley Street Fair: Sunday, July 30, 2023
Service Affected
Driving
Transit
Weekend Traffic and Transit Advisory
Event Summary
Up Your Alley will take place on Sunday from 11 a.m. to 6 p.m. in the South of Market neighborhood. Streets will be closed and Muni will reroute the 12 Folsom/Pacific and 27 Bryant routes. Read below for more detailed information, including how to get to the fair with Muni.
On This Page
Street Closures
The following streets will be closed from 1 a.m. to 10 p.m.:
Folsom, between 9th and 11th streets
10th St, between Howard and Harrison
Dore, south of Howard
Sheridan, between 9th and 10th streets
Juniper, south of Folsom
Muni Reroutes
Note: Be sure to receive Muni service alerts via email or text by signing up through our Email and Text Subscriptions page.
Getting There on Muni
Muni Metro. The nearest Muni Metro stops are at Van Ness and Civic Center stations, both just a few blocks from the Howard Street entrances.
Muni Buses. Several bus routes stop within walking distance of the event. Visit any of these pages to see which routes serve that stop.
Event Service Map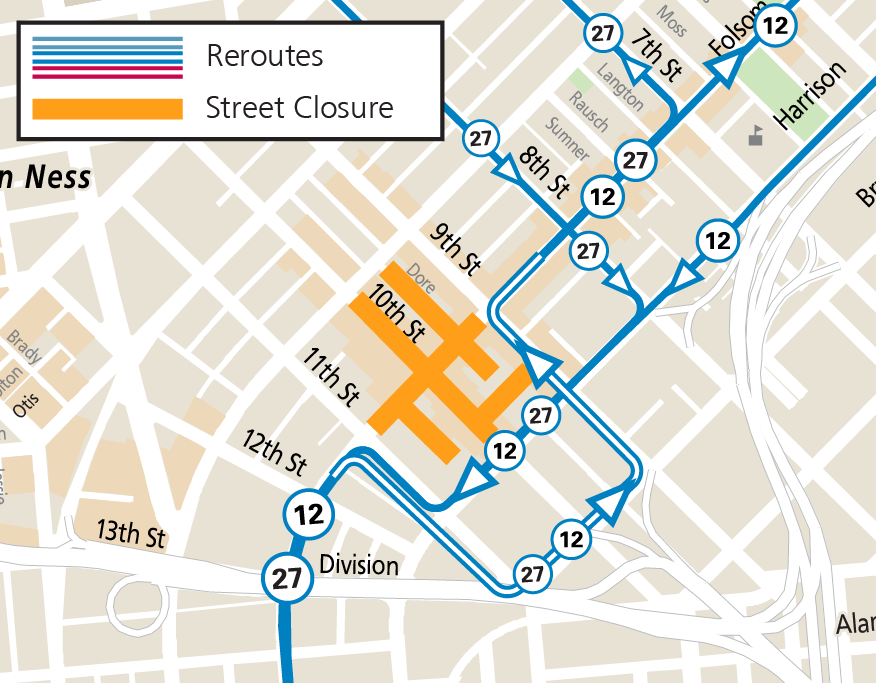 Contact
Call 311 within San Francisco; TTY 415.701.2323