Bryant Street Bike Network Improvement Project
Project Overview
The SFMTA is proposing to upgrade Bryant Street between Division and 17th Streets in coordination with repaving with new bike facilities and streamlined Muni stops.
Upcoming meetings
No upcoming meetings have been posted
Latest updates
No updates have been posted for this project
Project Details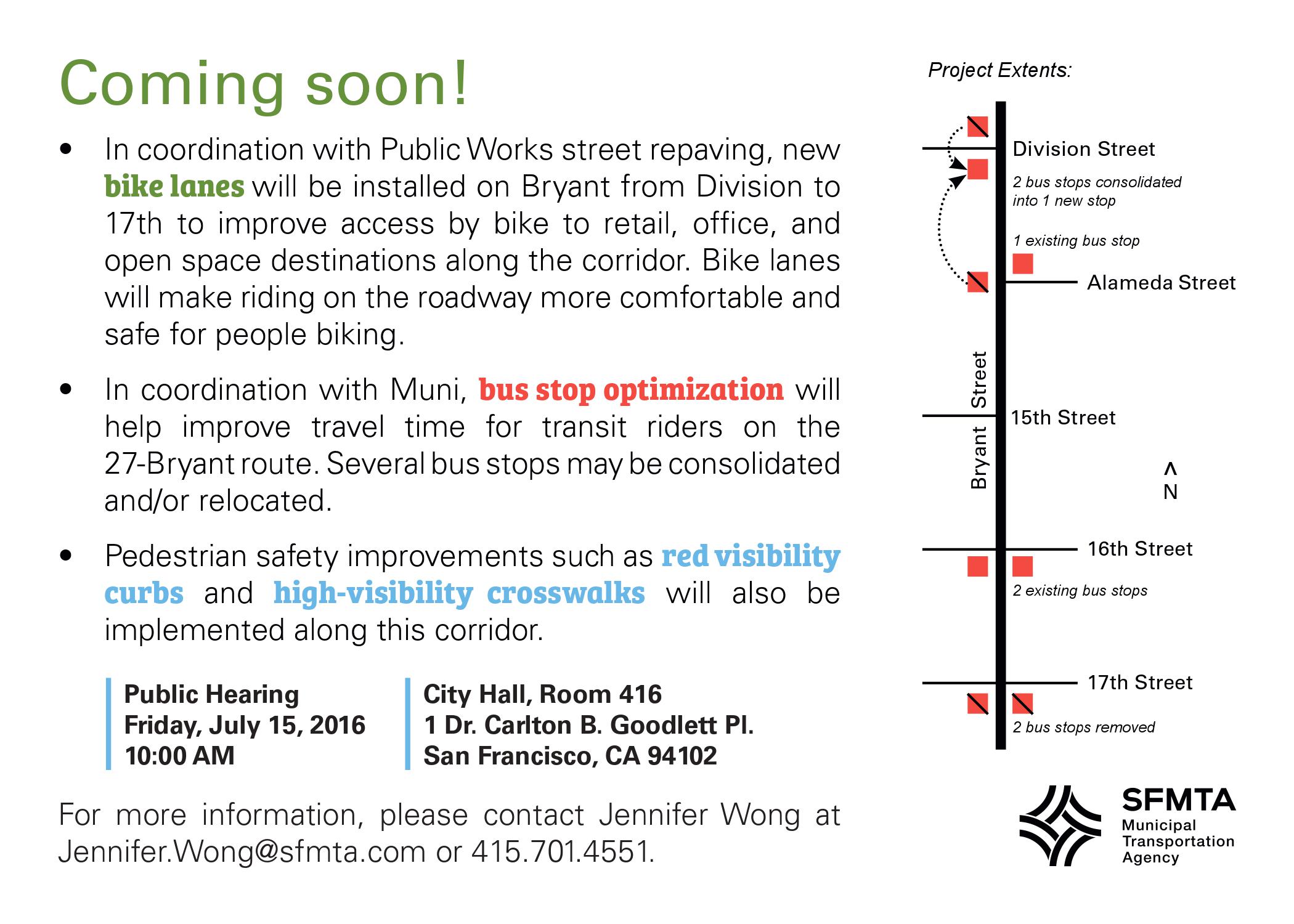 The Bryant Street Bike Network Improvement Project will upgrade safety on both sides of Bryant Street between Division Street and 17th Street by adding bike lanes. This change will help improve bicycling safety, comfort, and access by installing bike lanes where there are currently no bicycle facilities. Installing bicycle lanes on Bryant Street will also increase bicycle network connectivity by providing bicycle riders a direct north-south connection between the city's Mission District and South of Market area. The bicycle lanes will also provide immediate and direct neighborhood access to numerous affronting commercial businesses, office space, and public open space along the Bryant Street corridor. In particular, the project will establish a bike network connection to Franklin Square, a 5.18 acre park featuring a soccer field and playground, as well as Potrero Center, a 227,000 square foot urban shopping center. As an active transit corridor for vehicles in revenue service and vehicles traveling to and from the Potrero Division, bicycle lanes will provide the benefit of increased separation between bicyclists and large vehicles. In addition to bicycling improvements, this project will also install safety measures such as intersection daylighting and advanced limit lines in order to improve pedestrian safety and visibility.