Northwest Bernal Heights - Residential Permit Parking Pilot
Project Overview
Residents of Northwest Bernal have petitioned the SFMTA to form a new residential parking permit (RPP) area to better manage on-street parking and find parking closer to their homes.
Project Details
To help make more on-street parking available to residents in the northwest Bernal Heights neighborhood, the SFMTA is working with community members to launch a pilot project that would include a new Residential Parking Permit (RPP) area with two pilot measures to improve upon the current regulations in the RPP program.
Under the current general RPP program, the only limit on the number of parking permits made available is a maximum of four per household. When too many parking permits are issued in an RPP area, on-street parking spaces can become overfilled.
What's different about the RPP area proposed in northwest Bernal Heights?
The regulations for this RPP area would be the same as those in the rest of the city, except that it would include, on a trial basis, two alternative limits on the number of permits issued within it.
Proposed Pilot Measures: Limits on Parking Permits Issued
One parking permit per driver
Two parking permits per household
The RPP area would include a typical two-hour parking limit for non-permit holders Monday – Friday, 8 a.m. to 6 p.m.
Why was this project proposed?
This creation of pilot project was driven by interest from neighbors in establishing an RPP area, as well as community conversations that have been ongoing since spring 2015 and the SFMTA's RPP Evaluation and Reform Project, an effort to improve outdated RPP regulations.
PILOT RPP AREA
The proposed RPP area for northwest Bernal Heights can be seen in this map: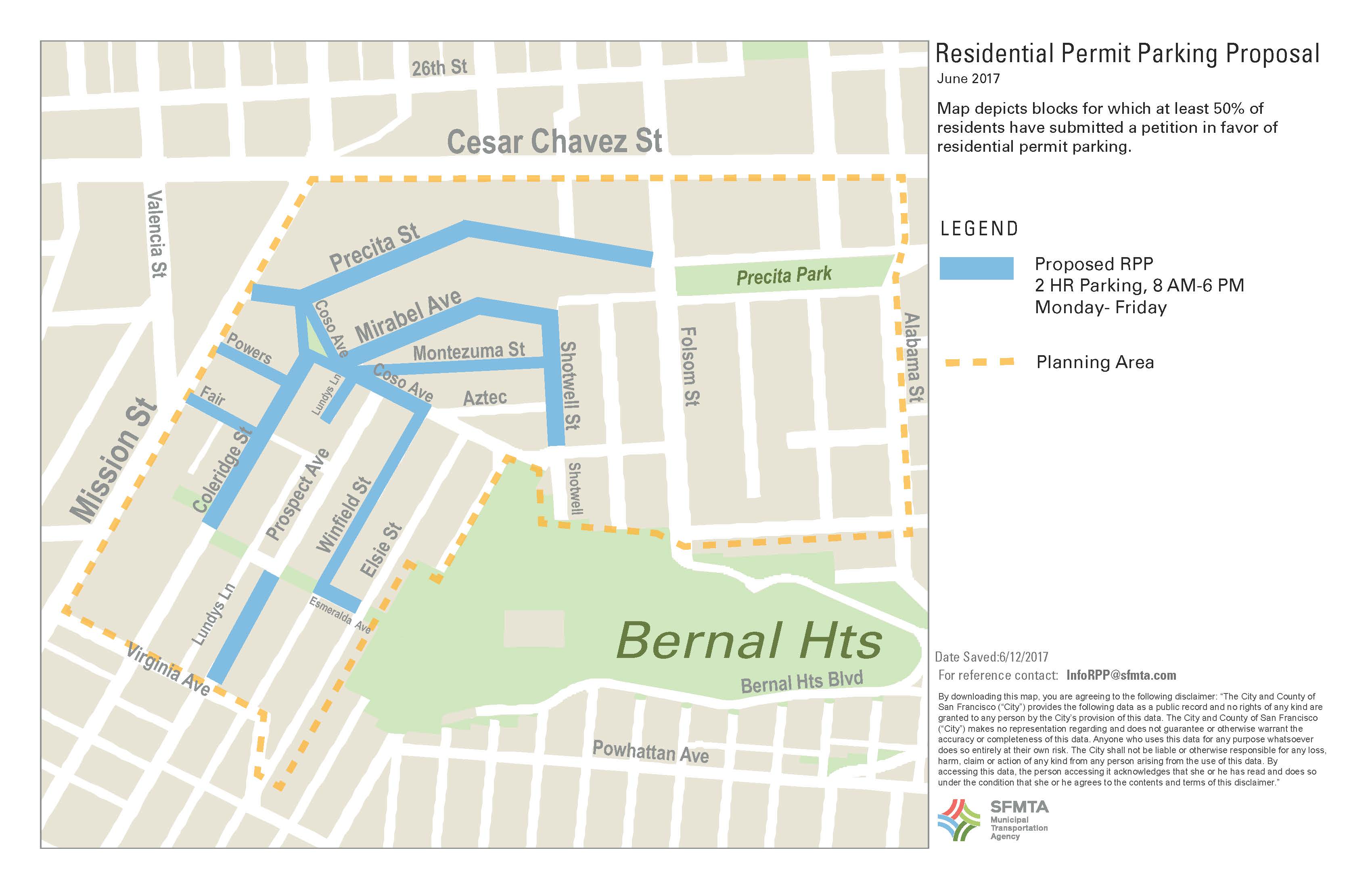 Who Parks in the Neighborhood?
Like many neighborhoods that petition for RPP regulations, northwest Bernal Heights has too many cars competing for curbside parking. The issue is compounded by the fact there are no existing parking regulations in the neighborhood and no street sweeping on some streets.
The SFMTA conducted a study which showed that 59 percent of vehicles parked were registered to owners who did not live in the northwest Bernal Heights pilot area.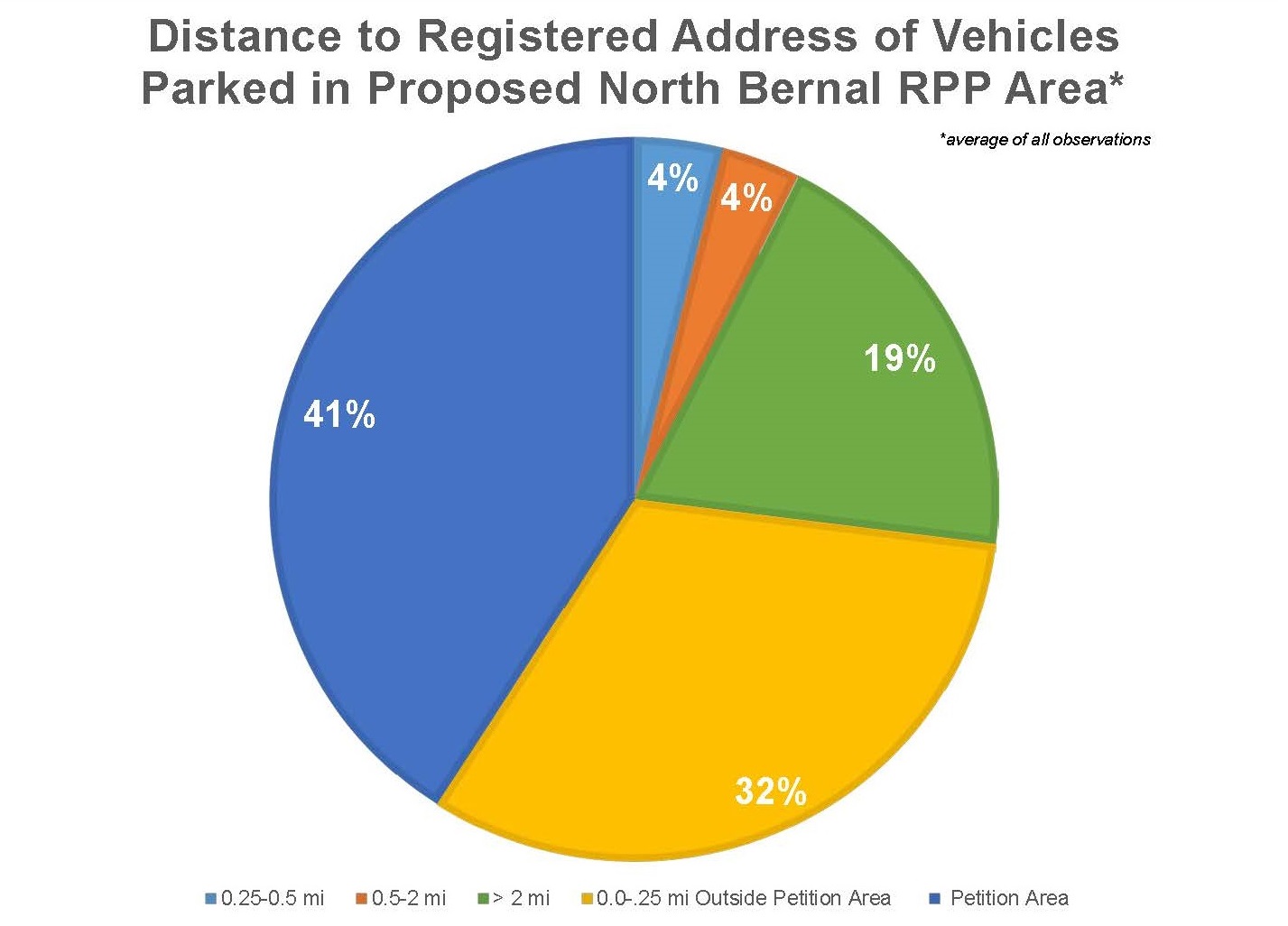 This data (PDF) came from a study of parking demand within a larger area that included Bernal Heights which was conducted as part of the agency's RPP Evaluation and Reform Project.
COMMUNITY OUTREACH TIMELINE
Past Meetings
June 24, 2015: Neighborhood meeting to share general information about the city's RPP program
July 29, 2015: Neighborhood meeting to share general information about the city's RPP program
December 7, 2016: Neighborhood meeting where the SFMTA reviewed the initial neighborhood parking data
April 19, 2017: Neighborhood meeting where the SFMTA provided an overview on the proposed Northwest Bernal Heights RPP pilot area and updated parking data
May 2017: Neighbors in the study area vote on whether or not they want RPP on their block. As a result of the vote, 14 blocks voted to establish an RPP area, viewable on this map [PDF].
July 7, 2017: The proposed RPP area will be heard at a SFMTA Engineering Public Hearing
Past Meetings
Wednesday, April 19, 2017, 6:30 pm

Wednesday, December 7, 2016,
Receive Updates
We will send you e-mail or SMS updates whenever the following are posted for the Northwest Bernal Heights - Residential Permit Parking Pilot project:
Upcoming meetings
Project updates