J Church Improvement Project
Project Introduction
Muni's J Church serves nearly 17,000 riders each weekday in Noe Valley, the Castro, the Mission, Glen Park and Mission Terrace. The J Church Improvement Project is focused on making near-term improvements along the 
J Church to reduce delays and benefit customers as soon as possible. This project is the next step in a larger effort to continue to improve the J Church.
Thank you for your feedback
Thank you to the over 800 people who shared feedback about your experiences riding the J Church. Feedback was received through surveys, pop-up open houses and at meetings with community organizations and senior communities. Feedback was received in both English and Spanish. The feedback surveys are closed. The SFMTA is putting together proposals to improve the J Church based on what we heard. ​​​​
Improving Reliability
Improving the reliability of the J Church is critical to providing better service. On weekdays during the day the train is scheduled for every 9-10 minutes, with less frequency on nights and weekends. Overall, 75% of J trains arrive within a few minutes of this schedule. The remainder fall behi
nd by more than five minutes – sometimes much longer.  When delayed, the J Church sees long gaps in service followed by the bunching of two or more trains in a row.
On Church Street, travel on the J line is slowed by: 
Closely spaced stops
Turning vehicles
Frequent stop signs
Red lights
In addition to reducing delays on Church Street, this project will also look at improving how trains are managed at the terminal at Balboa Park station. Related improvements in the subway will also improve reliability on the J line, as the impact of an incident in the subway can cause delays across the entire system.  
Related Improvements
A 2013 project focused on improving reliability for the J line on Church between Duboce and 16th Street. By adding red transit-only lanes and left-turn restrictions, the project was able to reduce travel time variability by 27% and improve travel times up to 14% on that segment. The SFMTA is building on the success of this project to address delays on the remainder of the line.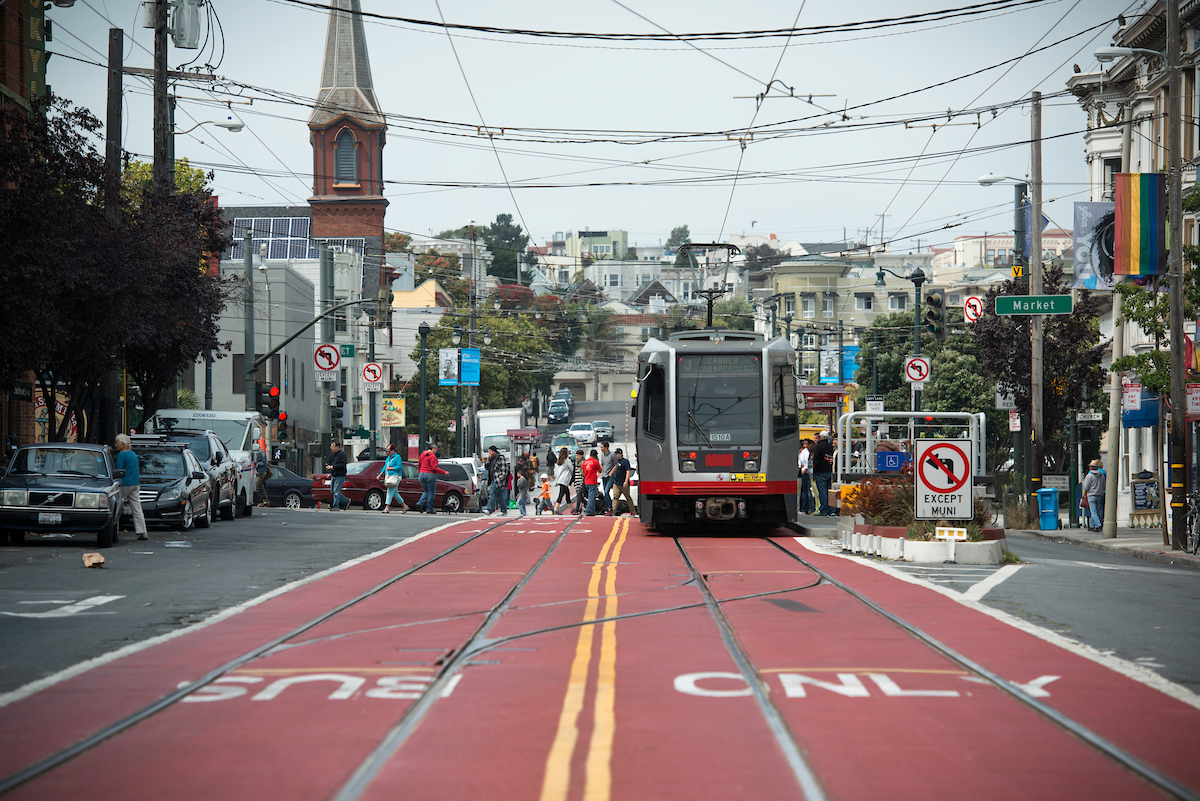 A future Muni Forward project on the entire J Church line from Duboce to Balboa Park station will look at additional improvements, building on the near-term improvements implemented as part of this project.
Project Timeline
Summer/Fall 2019
Project Development, Public Outreach
Bus Routes and Rail Lines


Contact Information
Michael Rhodes, Project Manager
Bonnie Jean von Krogh, Public Relations Officer