8/15/2022 Update: August 5, 2022 Engineering Public Hearing Results Posted
The Streets Division of the San Francisco Municipal Transportation Agency held an Engineering Public Hearing on Friday, August 5, 2022 at 10:00 AM to consider the proposed stop signs, raised crosswalks, and speed cushions on Lake Street.  
View the 8/5/2022 Public Hearing Results on the Engineering Public Hearing webpage.
Project Introduction
This project is an effort to assess and improve and determine the state of the Lake Street Slow Street between 28th and Arguello Boulevard. It will entail a community outreach process to determine traffic safety issues users of the Slow Street experience, and if warranted, propose a design to address those concerns.
The Lake Slow Street was approved by the SFMTA Board of Directors during the August 3rd, 2021, Board meeting to maintain in place as a post-pandemic Slow Street. This project will explore the state and design of the post-pandemic Slow Street on Lake Street.
Project Goals
Determine and implement other traffic safety features that can further calm the street and make it a friendlier, more inviting, and conducive space for people walking, biking, exercising, recreating, or driving
Support the SFMTA's Transportation Recovery Plan - Slow Streets corridors provide a low-stress network of walking and biking routes, which offer an alternative mode of travel that can augment Muni service
Repurpose the space on the residential street for use beyond just motor vehicle access and travel
Below is a map showing the extents of the Lake Slow Street: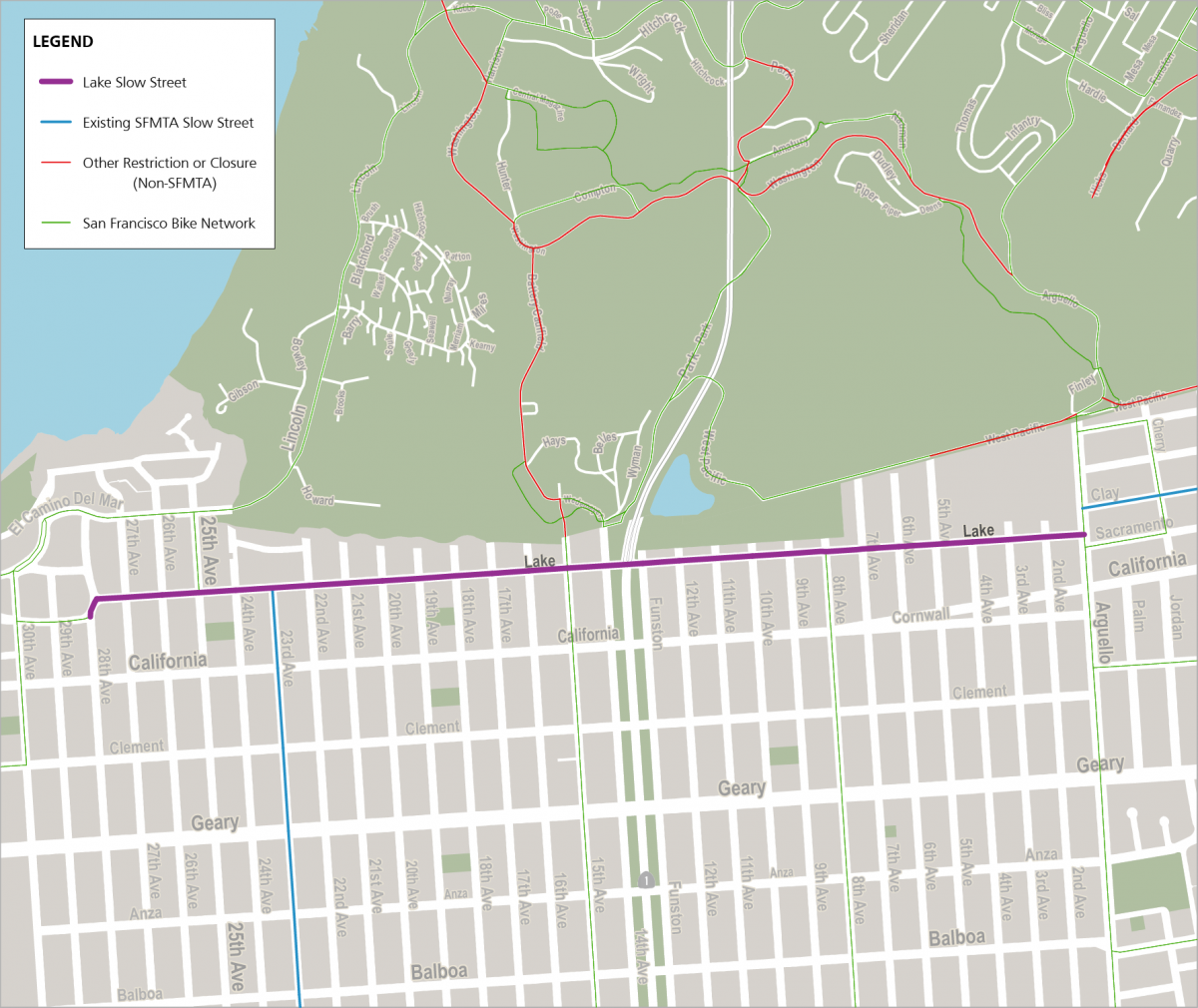 Project Timeline
Initial Community Outreach
Design Outreach
November 2021 - January 2022
Background
Slow Streets were conceived and implemented as a response to the COVID-19 pandemic. Their purpose is to provide more space for physically distanced essential trips through modes like walking or bicycling and enable residents to exercise or recreate outside during the shelter-in-place order. Slow Streets were part of the Mayor's Emergency Public Health Order, and most of them will sunset once the order has been lifted and the city is no longer in the state of emergency.
While the COVID-19 emergency purpose of Slow Streets will diminish and disappear in time, the treatment serves important purposes for recovery and beyond. Slow Streets are an important aspect of the SFMTA's Transportation Recovery Plan in creating low-stress walking and bicycle routes that augment limited Muni service and establishing public spaces for neighbors to build connections. By prioritizing the use of these streets for walking, biking, and as an outdoor space, Slow Streets represent a repurposing of public space towards a broader set of needs.
Resident and user surveys conducted in the Summer of 2020 have shown support for the Slow Street on Lake Street to last beyond the pandemic. The authorization to maintain the Slow Street and disassociate it with its original authorization under the Mayor's Public Health Order was made during the August 3rd, 2021 SFMTA Board of Directors meeting. That approval also prompted the Slow Streets team to kick off this project, which encompasses an outreach and design process to learn more about people's user experiences from a traffic safety standpoint on the Slow Street and propose traffic safety treatments from the Slow Streets toolbox to resolve issues determined. 
---
Project Outreach
As mentioned previously, resident and user surveys were conducted in the Summer of 2020 to evaluate how the Lake Slow Street was working and to assess the community's thoughts on it. The surveying effort also helped inform the possibility of maintaining the Slow Street past the pandemic. Here are some findings and community feedback from the surveying effort: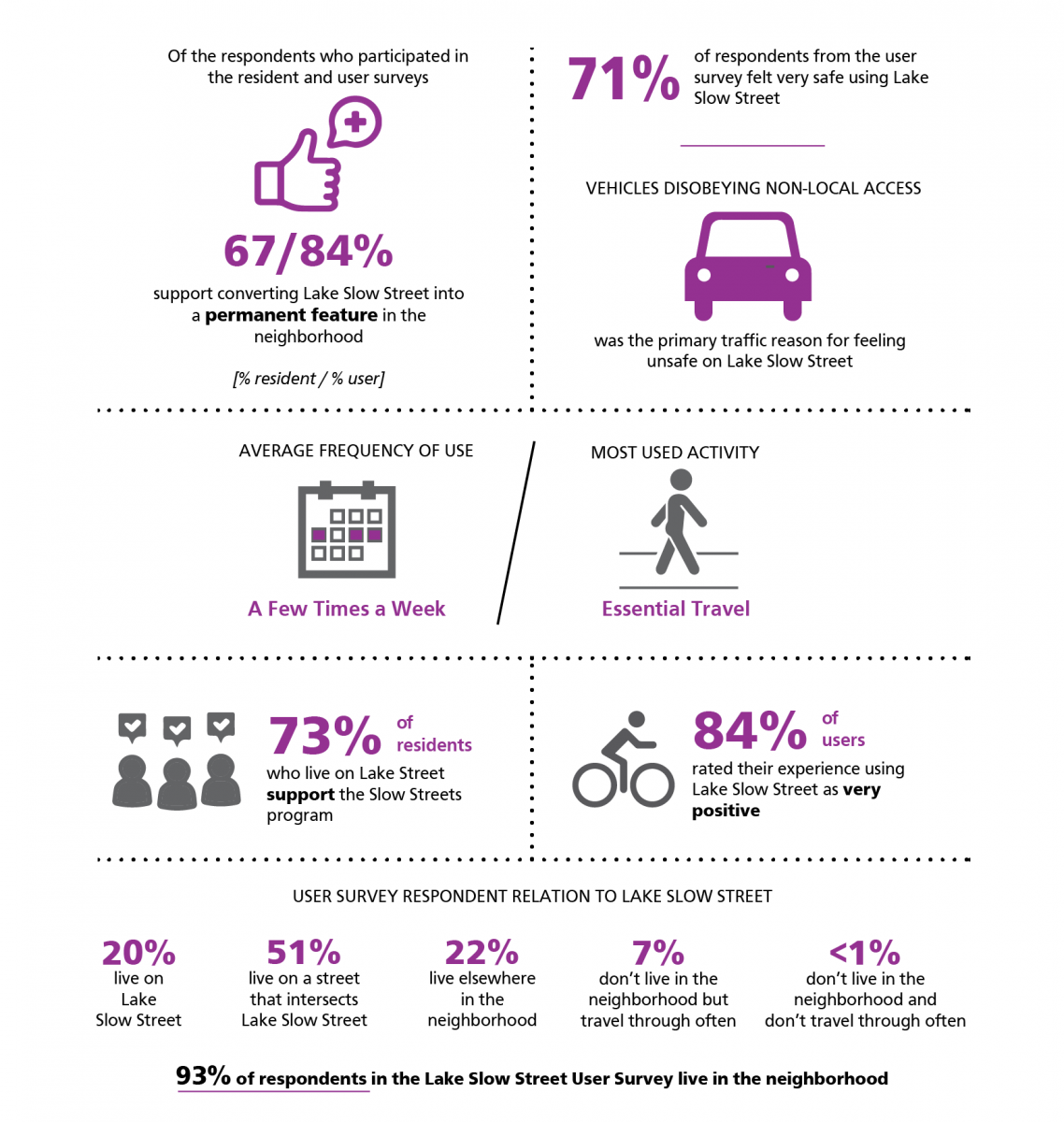 Russian and Chinese translation
Upcoming Outreach Meetings and Events
We want to hear about your experience using the Lake Slow Street and thoughts on how to improve it. The project team is planning a number of events later this fall to conduct community outreach and gather feedback:
Traffic Safety and User Experience Survey:
10/15/2021 Update: Thank you for your interest. At this time, the survey is closed. Please check back at a later time for future community feedback opportunities. 
Take the survey and share your feedback with us regarding your user experience using the Lake Slow Street. We also want to know your thoughts on potentially adding other design tools from our Slow Streets design toolkit to further improve the Slow Street. The team will be using this feedback to assess the need and to develop a design for the post-pandemic Lake Slow Street.
Community Hosted Meetings (ongoing)
If you host, coordinate, or attend a standing community organization or neighborhood association meeting, let us know and we can come to you virtually. The Lake Slow Street project team would be more than happy to attend and present at a community/neighborhood organization-hosted event to present about Lake Slow Street and gather feedback. Please complete this form if you want us to attend one of your meetings:
Virtual Design Open House - mid-December 2021 - mid-January 2022
An online open house was launched to share the project's proposals for the future of Lake Street. Additionally, the project team held three virtual meetings to present the proposals and gather feedback from the public. A survey was also deployed to gather public feedback on the four proposals. Click the button below to check out the four proposals and open house content.
Access the Lake Slow Street online open house
SFMTA Engineering Public Hearing
After the conclusion of the virtual design open house period, the project team will analyze public feedback, conduct another evaluation on Lake Slow Street, and determine the design proposal to move forward with. The design proposal will also undergo an internal review process before it is scheduled to be on the agenda of an SFMTA Engineering Public Hearing for final approval. At the hearing, the public will have a final opportunity to provide feedback before the City Traffic Engineer makes a final determination of the proposal. 
The Virtual Engineering Public Hearing Event for the Lake Street Design will take place from June 13, 2022 at 9:30 am – June 24, 2022 at 11:30 pm. Please visit the Lake  Street Design Virtual Engineering Public Hearing Event Page for more details.  
---
Slow Street Design
Slow Streets are shared roadways between people on foot, bikes, or scooters and cars on residential streets. They mainly work by using a traffic calming treatment known as soft-diversion, which is achieved by installing traffic diverters to discourage through traffic from accessing the street. Street access and usage from local traffic (i.e. residents and visitors with an origin or destination on the Slow Street), emergency vehicles, and mail/delivery services are still allowed. Signage is also installed to emphasize pedestrian and bicycle priority on the street, warn motorists of the possible presence of people walking, running, or biking in the roadway, and discourage unsafe vehicle speeds. Slow Streets are not full street closures. 
While traffic diverters (barricades) and signs are the main design components that make a Slow Street work, they are not the only design treatments available. This project will identify other design treatments that can be incorporated to create an even safer space for essential travel and recreation.
See the Slow Streets Toolkit of Design Treatments