M Ocean View Transit and Safety Project
To provide additional time for public feedback, the M Ocean View Transit and Safety Project will be presented to the SFMTA Board of Directors as an informational update only on Tuesday, November 21st without an approval vote. Approval will be considered at a later meeting, likely in January 2024. Read more in the project update. 
Project Introduction
The M Ocean View connects the Ocean View district to downtown San Francisco via the Twin Peaks Tunnel and the Balboa Park BART station. It also provides the Ocean View district with access to educational institutions including San Francisco State University and City College of San Francisco.
The M Ocean View had a ridership of over 30,000 people per day before the pandemic, which is recovering steadily. The line serves a high percentage of people from households with low incomes and people of color.  As a result, the Muni Service Equity Strategy identified the line as a priority for improvements in the Ocean View neighborhood. 
The M Ocean View Transit and Safety Project will focus on improvements along the M Ocean View between Junipero Serra Boulevard and Balboa Park BART Station. Our goals are to:
Improve reliability for M Ocean View riders

Enhance accessibility for people with disabilities along the corridor as many stops do not have fully accessible boarding areas

Improve safety for people walking
The project is part of the Muni Forward program, which is delivering transit priority and reliability improvements across the Muni system.
Project Outreach
The project team is working closely with the Ocean View community to determine where improvements need to be made. We will use this feedback to help shape our proposals.  
During the first round of outreach in early 2022, our project team met with community members. We learned about their experiences with the M Ocean View and improvement priorities. Pop-up events were also conducted along the corridor, and a multilingual self-guided open house was available at the Ocean View Public Library for the community to learn about the project and share their feedback.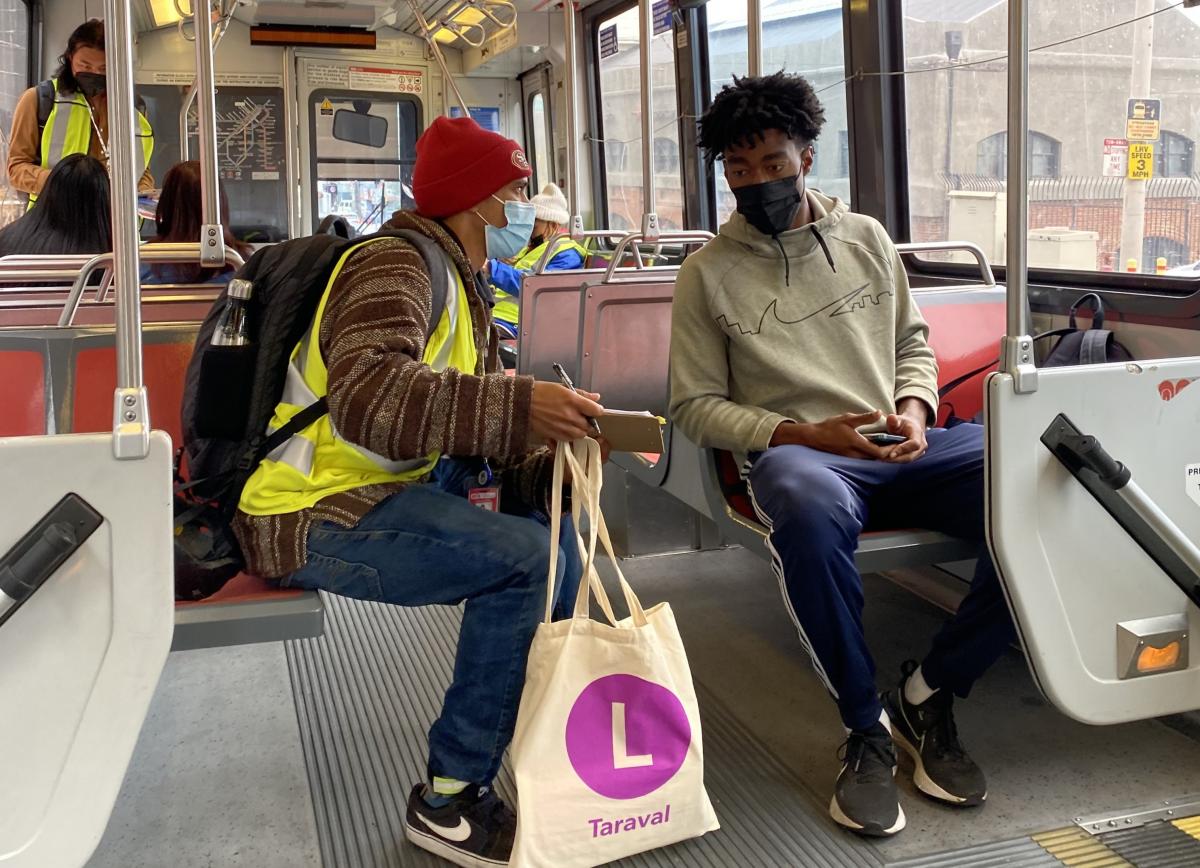 Multilingual rider and neighborhood surveys were also completed as part of the first round of outreach to gather feedback on improvement priorities. Results from both surveys showed reducing wait times to be the top priority, followed by reducing travel times and improving safety for people walking to stops. 
The majority of those who took the neighborhood survey also indicated that they would support transit and safety improvements such as:  
wider sidewalks or or boarding islands at train stops, 

traffic signals that stay green longer for trains,  

dedicated transit lanes where there's space for them, and 

safer crossings at intersections for people walking. 
Feedback received during this first round of outreach helped our project team develop initial proposals that we shared with the community in the fall of 2022. We have shared the proposals and received feedback at community events including the OMI Roller Skate Party, OMI Senior Luncheon and Lakeview-OMI Kwanzaa Celebration. Options to review the designs and sharing feedback online options were also available.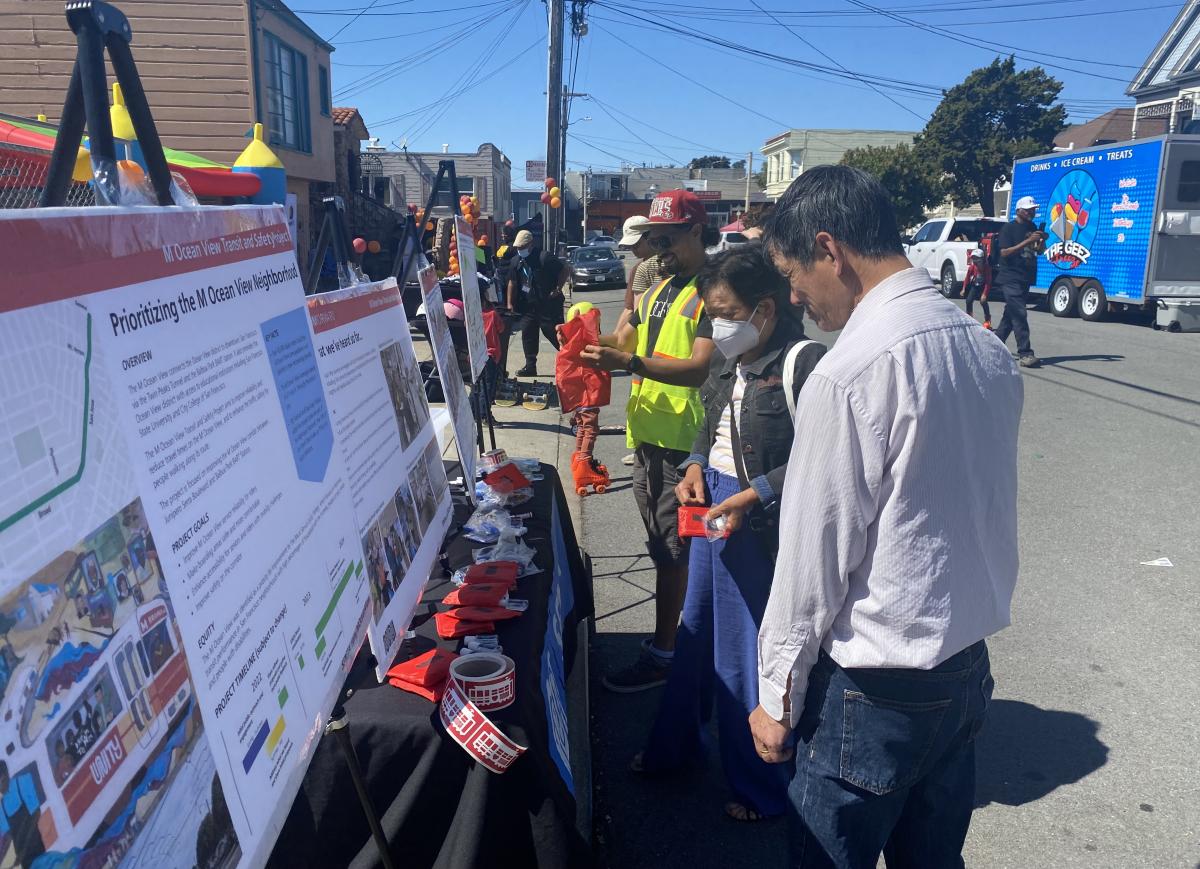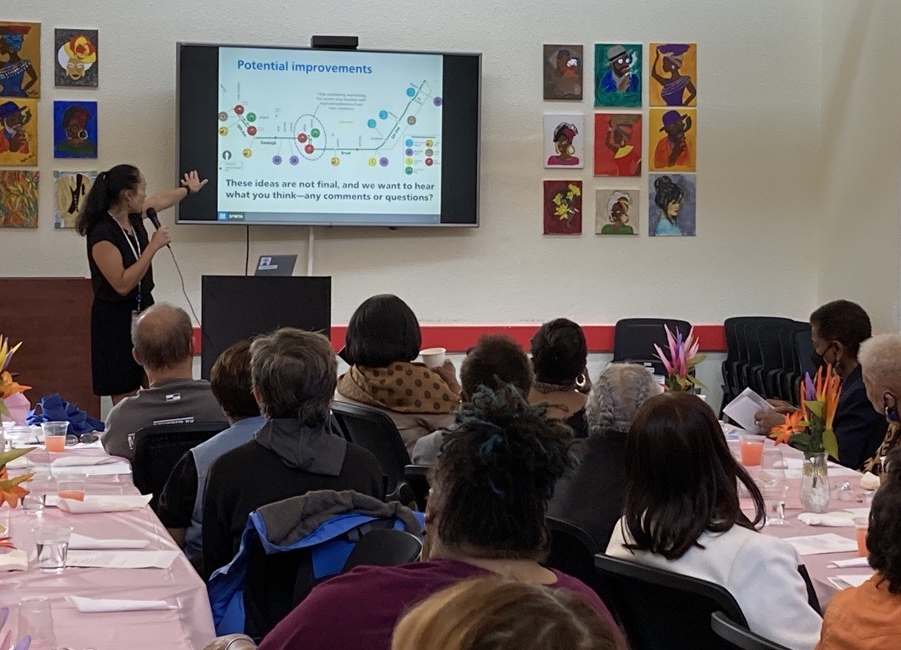 We have heard a wide variety of feedback on these proposals. We have heard that M Ocean View riders want faster and more reliable service, and that many M Ocean View train stops lack basic amenities. People walking along the corridor need safety improvements. Cars often sped on San Jose Avenue, and stunt driving is a common occurrence. Some would prefer to keep the stop at Orizaba Street and Broad Street to access the future library location on Brotherhood Way. Some have concerns that new traffic signals on Randolph Street at Ramsell and Victoria streets could encourage speeding and cause congestion on side streets. Many stops do not have accessible boarding areas—and it also doesn't feel safe to get on or off the train from the traffic lane. Lastly, we have heard from others that parking loss would be a concern.
Based on this feedback, we revised our proposals and shared these with the public beginning in May 2023. 
We will use feedback received during this final round of outreach to further refine the proposals and present them to our Board of Directors for approval later this year. 
Project Timeline
Spring - Summer 2022
Initial public outreach and engagement
Fall 2022
Address what we heard and share initial proposals
Spring 2023
Share refined proposals and gather more public feedback
Late Summer-Fall 2023
SFMTA Board consideration
Fall 2023 - Spring 2025
Quick-build implementation of initial improvements; detailed design of permanent improvements
Current Phase or Stage
Initial public outreach and engagement
Bus Routes and Rail Lines
Other Efforts
While this project focuses on street-level transit improvements in the Ocean View neighborhood, it complements a long-range study called the Muni Metro Modernization Core Capacity Planning Study. This Planning study will develop concepts for providing subway-quality service on the M Ocean View outside the tunnel between West Portal and San Francisco State University as a part of a package of capacity-increasing and State of Good Repair improvements funded by a federal Capital Improvements Program (CIG) Grant.
Separately, a study of different design approaches for extending the M Ocean View from SF State to Parkmerced and developing infrastructure in this segment for running longer train cars is underway. While these other studies are on longer timelines and focus on different segments of the M Ocean View line than the M Ocean View Transit and Safety Project, our project team is coordinating with these various ongoing efforts as appropriate.