Slow Streets - Visitacion Valley
Project Introduction
Slow Streets Phase 4 Update (05/21/2021): After further review, the SFMTA will not be implementing the proposed Slow Streets in Visitacion Valley. 
The goal of the SFMTA's Slow Streets program is to provide more space for socially distant essential travel and exercise during the COVID-19 pandemic. Throughout the city, nearly thirty corridors have been implemented as a Slow Street. For more information on the Slow Streets program, click here. 
The program is designed to limit through traffic on certain residential streets and allow them to be used as a shared space for people traveling by foot, scooters, skateboards, and bicycles. On these Slow Streets, signage and barricades have been placed to minimize through vehicle traffic.  
Slow Streets are temporary restrictions to through traffic.  
Residents can still drive to their homes, receive deliveries, be picked up or dropped off, and more.  
These are not full street closures, and city services like trash pickup and street sweeping will remain.  
On a Slow Street, the space in the roadway is shared between people on bikes or on foot, and people driving or riding in cars. 
Potential Slow Streets in Visitacion Valley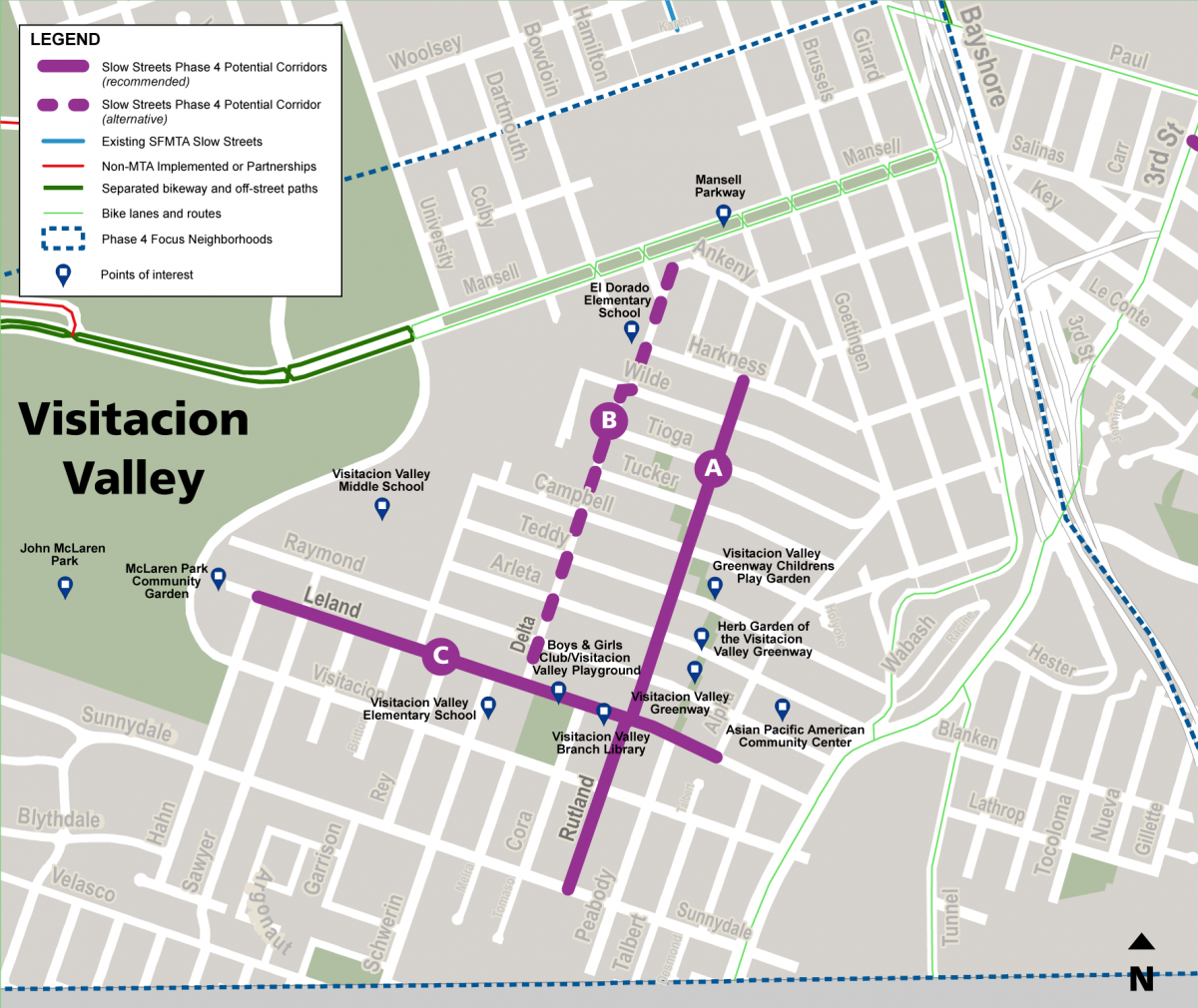 A - Rutland Street, from Sunnydale Avenue to Harkness Avenue: Slightly hilly north-south street that connects the whole neighborhood. 
B - Delta Street, from Ankeny Street to Leland Avenue: Residential north-south street connecting El Dorado Elementary School with the Visitacion Valley Branch Library. This corridor is an alternative to Rutland Street.
C - Leland Avenue, from Hahn Street to Alpha Street: Primarily residential east-west street connecting community places (Visitacion Valley Branch Library and Visitacion Valley Elementary School) with McLaren Park Community Garden. 
---
We'd Love to Speak with You! 
Thank you for your interest. The outreach process has concluded. 
---
Funding
This program was made possible in part by Proposition K Sales Tax dollars provided by the San Francisco County Transportation Authority.