420 Hippie Hill in Golden Gate Park: April 20, 2022
Service Affected
Driving
Transit
Weekend Traffic and Transit Advisory
On Wednesday, April 20, from 9 a.m. to 7 p.m., large crowds will gather in Golden Gate Park's Robin Williams Meadow for the 420 Hippie Hill event. 
Roads expected to be closed for periods of time and Muni buses will be rerouted away from the area. Consider walking, biking, or riding Muni to get to or around this event, as street closures and traffic congestion are expected. Parking is extremely limited. Additional Muni service will be offered between Golden Gate Park and Downtown to reduce crowding on lines servicing Golden Gate Park. 
This event is 21+. People under 21 will be turned away at the gate, including accompanied minors. 
Getting there
If attending this event or need to travel in the area, consider walking, biking, or riding Muni. Parking is very limited. Streets will on area expected to be congested, restricted, or closed. If driving on this day, avoid this area. 
Street Closures
The following streets are closed to vehicle traffic at all times: 
JFK, between Crossover & Stanyan
MLK, between Great Highway and Middle 
Middle, between MLK and Traverse
The following streets may be closed depending on how crowded they are. Generally, crowds start to grow around 2 p.m. and clear by 7 p.m.:
Kezar, between Stanyan and Lincoln
MLK, between 9th Ave & Kezar
Frederick, between Lincoln & Stanayn
Haight, between Stanyan & Masonic
The following streets will be local access only:
All streets in The Haight, between Oak and Frederick, and between Stanyan and Masonic, including including Stanyan, Masonic, and Frederick
Carl, between Cole and Hillway
Muni 
Recommended Travel Routes between Golden Gate Park and Downtown
To the event: Route 7 Haight-Noriega and N Judah. 
Before the event, extra service on the 7 Haight/Noriega to Stanyan will run from 12 noon to 3 p.m. to relieve crowding. 
From the event: Civic Center Express, Route 7 Haight-Noriega, Route 5R Fulton Rapid, or N Judah
After the event, Civic Center Express shuttles will run from 4 to 7 p.m., providing one-way express service from Golden Gate Park to Civic Center BART. Board on JFK @ Conservatory Dr East, near the JFK Event entrance. 
Reroutes
The table below summarizes how Muni will reroute around the crowds. Service will return to normal after streets are clear.
Temporary Service Changes

| Route | Start Time | Summary of Change |
| --- | --- | --- |
| 7 Haight/Noriega | 2:30 p.m. | From Lincoln, reroute will be along Funston, Parnassus, Cole, Frederick, Masonic and Haight to the regular route. Between Funston & Cole, board at curbside Muni bus stops along Judah. Bus will not service bus stops on Lincoln between Funston & Cole.  |
| 33 Ashbury/18th | 3:30 p.m. | From Ashbury, reroute will be along Haight, Masonic, Hayes and Stanyan to the regular route. Board at regular Muni stops along this route.  |
| 37 Corbett | 2:30 p.m. | From Cole, reroute will be along Frederick, Masonic, Waller, Central, and Haight to Masonic. Board at regular Muni stops along this route.  |
| 43 Masonic | 2:30 p.m. | From Cole, reroute will be along Frederick and Masonic to the regular route. Board at regular Muni stops along this route.  |
| 66 Quintara | 2:30 p.m. | Toward The Haight, last stop will be at Frederick @ Cole. From the Haight, first stop will be Cole @ Frederick.  |
Popular lines
In addition to the above rerouted lines, these routes may experience large crowds on board:
5 Fulton
5R Fulton Rapid
44 O'Shaughnessy
N Judah
Event Map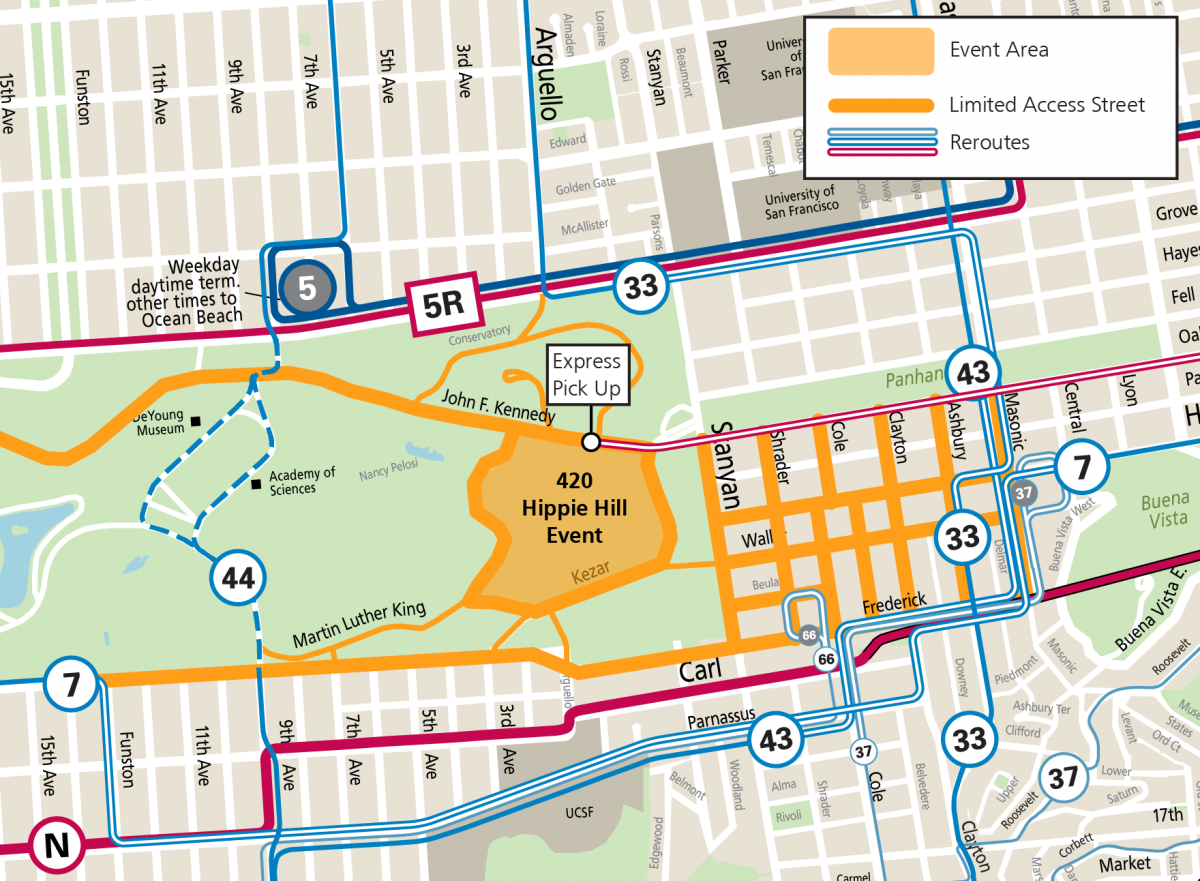 Contact
Call 311 within San Francisco; TTY 415.701.2323