Cole Valley Street Fair: Sunday, September 24, 2023
Temporary, from 6 a.m. to 7 p.m.
Service Affected
Accessibility
Driving
Transit
Weekend Traffic and Transit Advisory
Event Summary
The annual Cole Valley Street Fair will take place from 10 a.m. to 5 p.m. The Fair features local artists with handmade crafts, food, live music, vintage automobiles, children's events and more. Streets will be closed from 6 a.m. to 7 p.m. and Muni will reroute around the event. Read below for more information.
Street Closures
These streets will be closed from 6 a.m. to 7 p.m.
Cole between Frederick and Rivoli
Parnassus between Belvedere and Shrader
Muni Reroutes
The 6 Haight/Parnassus, 37 Corbett, and 43 Masonic routes will have reroutes around the event from 5 a.m. until 7 p.m.  Operators will make stops before each intersection along the reroutes, at passenger request.
Note: The N Judah may experience minor delays near the event area. 
Note: Be sure to receive Muni service alerts via email or text by signing up through our Email and Text Subscriptions page.
Service Changes during Cole Valley Street Fair 2023
Route
Duration
Missed Stop
Alternate Stops
N Judah Bus
5 to 8 a.m.

Inbound to Caltrain:

 

Outbound to Ocean Beach:

 

Inbound:

Haight St & Cole St (east side of Cole)

Outbound:

Haight St & Cole St (west side of Cole)
Stanyan St & Frederick St
Carl St & Stanyan St

5 a.m. to 7 p.m.

Inbound to Downtown:

Outbound to The Inner Sunset:

Inbound:

Outbound:

5 a.m. to 7 p.m.

Inbound to The Haight:

Outbound to Twin Peaks:

Inbound:

Outbound:

17th St & Clayton St (east side of Clayton)

5 a.m. to 7 p.m.

Inbound to Fort Mason:

Outbound to Munich & Geneva:

Cole & Haight
Cole & Frederick
Cole & Carl
Parnassus & Cole
Parnassus & Shrader

 

Inbound:

Stanyan St & Carl St
Haight St & Cole St

Outbound:

 

Haight St & Cole St (west side of Cole)
Stanyan St & Frederick St
Stanyan St & Carl St
Event Reroute Map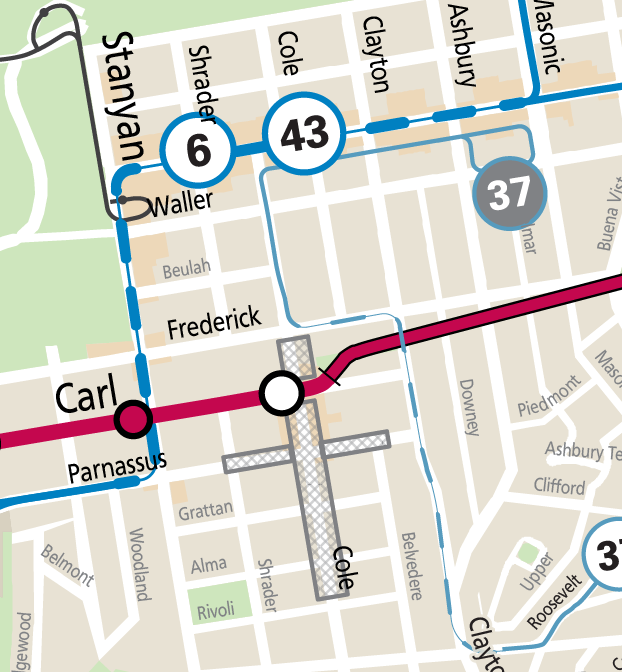 Contact
Call 311 within San Francisco; TTY 415.701.2323