Transit and Safety Improvements Coming to Geary
The Geary Rapid Project was approved by the SFMTA Board on August 21, 2018, paving the way for a better Geary. Implementation of the first set of transit and safety treatments will begin October 1, 2018 and are expected to take about four to six weeks.
What changes will happen first?
Transit-only lanes on most blocks between Stanyan and Gough streets, resulting in removal of one travel lane in each direction and some on-street parking. Temporary transit-only lane treatments will be implemented and later colorized red after roadway repaving is completed. To make room, all on-street parking will be removed on the south side of Masonic to Presidio, the north side of Steiner to Fillmore, and the south side of Fillmore to Webster. Learn how to safely navigate transit-only lanes.

Pedestrian safety improvements at intersections, which may result in removal of up to three on-street parking spaces per intersection.

Several intersections will be "daylighted"—painting the curb red at intersections—to make people crossing the street more visible to drivers. Some locations will receive a temporary paint treatment before pedestrian bulbs are installed.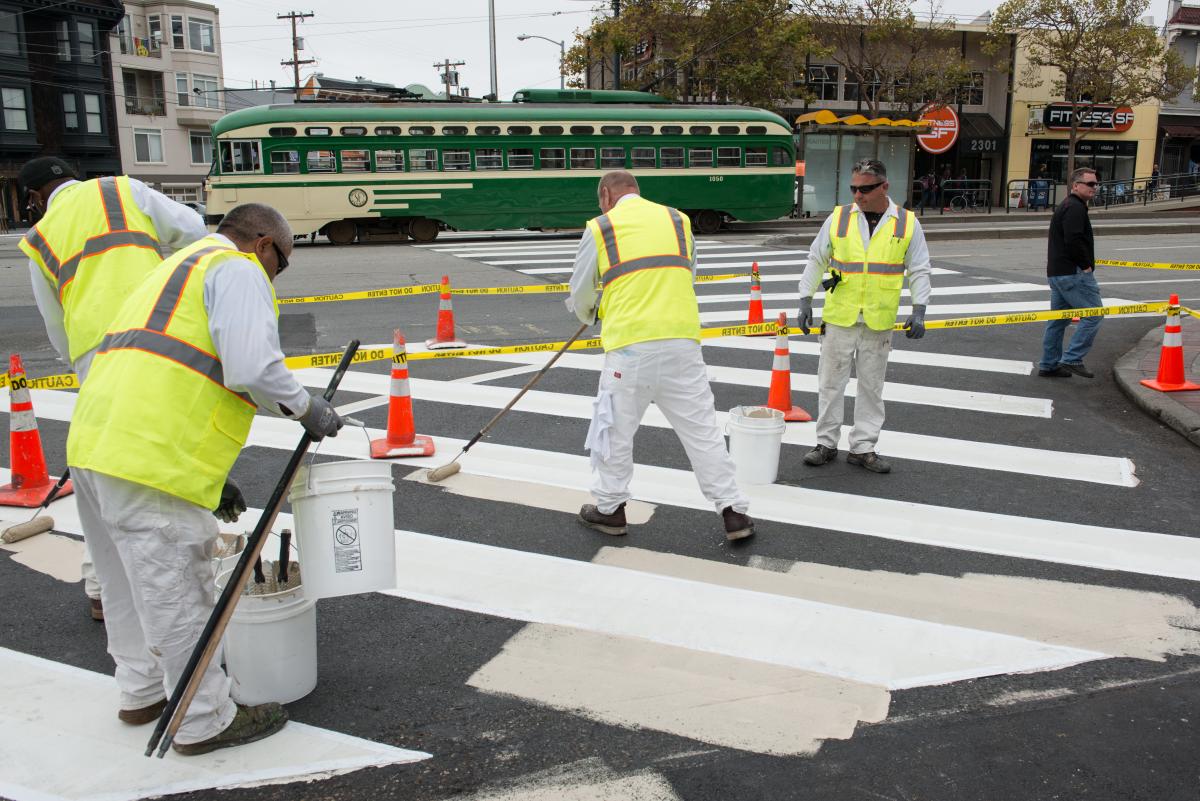 Painted safety zones provide a visual cue for motorists to slow down.
On-street parking or loading will change on some blocks.

New bicycle markings.

New green-backed sharrows will be painted at Webster and Steiner to help cyclists crossing Geary, and existing sharrows between Masonic and Presidio will be made more visible.

On October 6, bus stops at Masonic, Presidio, Fillmore, Webster and Hyde will be relocated or removed, and 38R Geary Rapid service will be discontinued at Spruce.

Learn more about bus stop changes.
Major construction of the Geary Rapid Project is expected to begin in winter 2018 and continue until spring 2021. That work includes coordinated utility upgrades, removal of the Steiner Street pedestrian bridge and major transit and safety improvements.
Around the start of 2020, bus bulbs will be installed, which extend the sidewalk at bus stops and allow buses to remain in the travel lane. Pedestrian bulbs will extend the sidewalk at intersections and shorten the distance for people crossing the street. To minimize disruption, Geary Rapid Project construction will occur in coordination with work sponsored by partner city agencies, including roadway repaving by SF Public Works; sewer and water main replacement by SF Public Utilities Commission; and fiber optic conduit installation by the Department of Technology.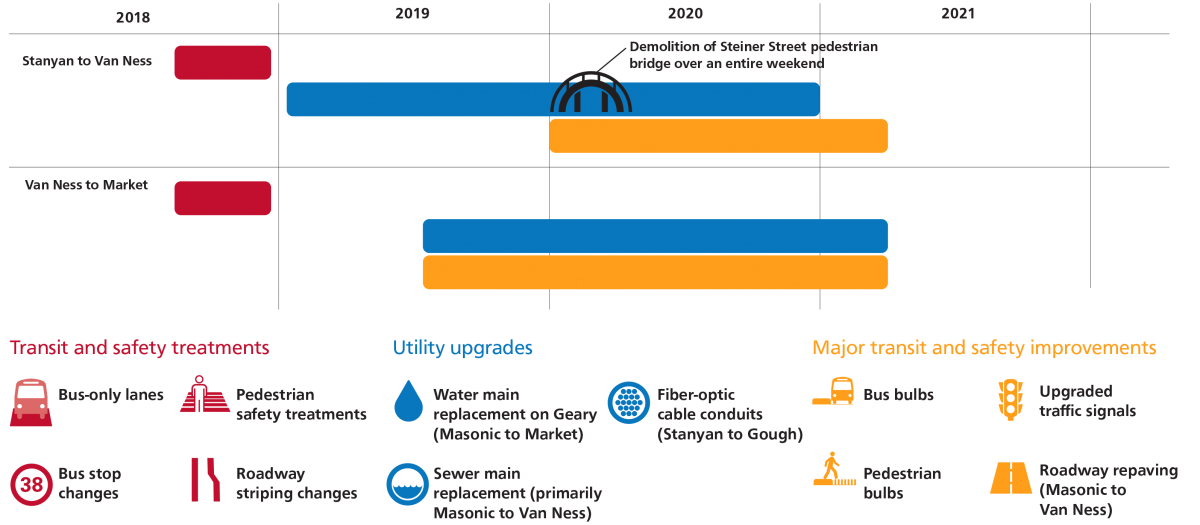 Geary Rapid Project construction timeline. 
Have questions? Contact project staff throughout construction at GearyRapid@SFMTA.com or 415.646.2300.