Two-Week N Judah Bus Substitution Starting April 13, 2019
Service Affected
Accessibility
Bicycle
Motorcycle
Parking
Driving
Transit
Walking
Weekend Traffic and Transit Advisory
UPDATE: N Judah train service will be restored starting Sunday, April 21, 2019.
---
In support of the Inner Sunset Streetscape Improvement Project, a Muni Forward initiative for transit, infrastructure and safety improvements, the N Judah Bus will substitute N Judah train service starting April 13, for 2 weeks.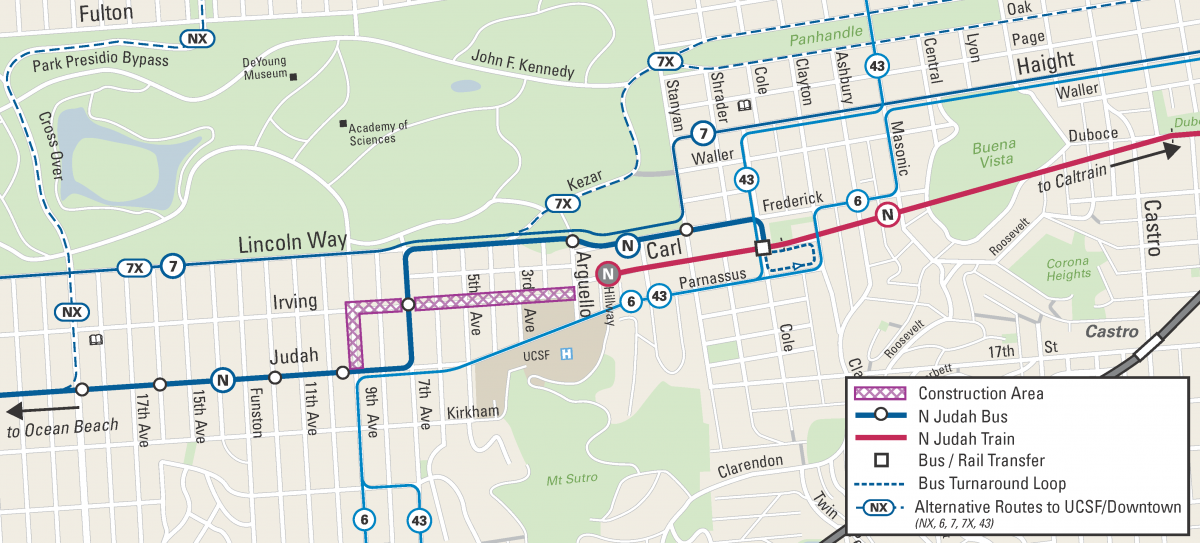 Street Closures
Work hours will be 8 a.m. to 5 p.m. weekdays and 8 a.m. to 6 p.m. on weekends. During these work hours, these streets will be closed to automobile traffic for paving on the streets and Muni trackways:
Irving, between Arguello and 9th Ave
9th Ave, between Irving and Judah
During street paving, at least one lane will remain open to vehicular traffic in each direction. All travelers, especially drivers, are encouraged to leave extra time and move carefully through the construction area.
Temporary N Judah Changes
The N Judah train will switchback--changing direction from outbound to inbound--at Carl & Hillway. For stops on Judah St, transfer to the N Judah Bus at Carl & Cole.
The N Judah train will serve the stops at Carl & Stanyan and Carl & Hillway, providing access to the UCSF Parnassus Campus, but these stops are not ADA accessible. Customers requiring ADA access to UCSF can use the 6 Haight/Parnassus or the 43 Masonic. Read below for accessible alternative routes to the UCSF campus.
Alternative Muni Routes
Express Routes to Downtown
For a one-seat ride during the weekday morning and evening commute hours, consider these express routes operating between the Sunset and Downtown. 
The 7X runs along 22nd and 23rd avenues and along Lincoln Way with express service to Downtown and the Ferry Plaza. The last inbound stop in the Inner Sunset is Lincoln Way & 9th Ave.
The NX runs along Judah west of 19th Ave with express service to the Financial District. The last inbound stop in the Outer Sunset is Judah & 19th Ave.
Accessible Routes to the UCSF Parnassus Campus
For an ADA accessible trip to UCSF, consider using these local routes that serve stops on campus.
From Downtown, board the 6 along Market Street.
From the inbound N Judah Bus, transfer to the 6 at 9th Ave.
From the outbound N Judah train, transfer to the 43 at Cole & Carl.
From the inbound N Judah Bus, transfer to the 43 at 9th Ave.
Note
The N Owl will operate on its normal route at night and early weekend mornings.
Contact
Call 311 within San Francisco; TTY 415.701.2323