2022 Muni Service Gradually Phasing Back
Monday, February 14, 2022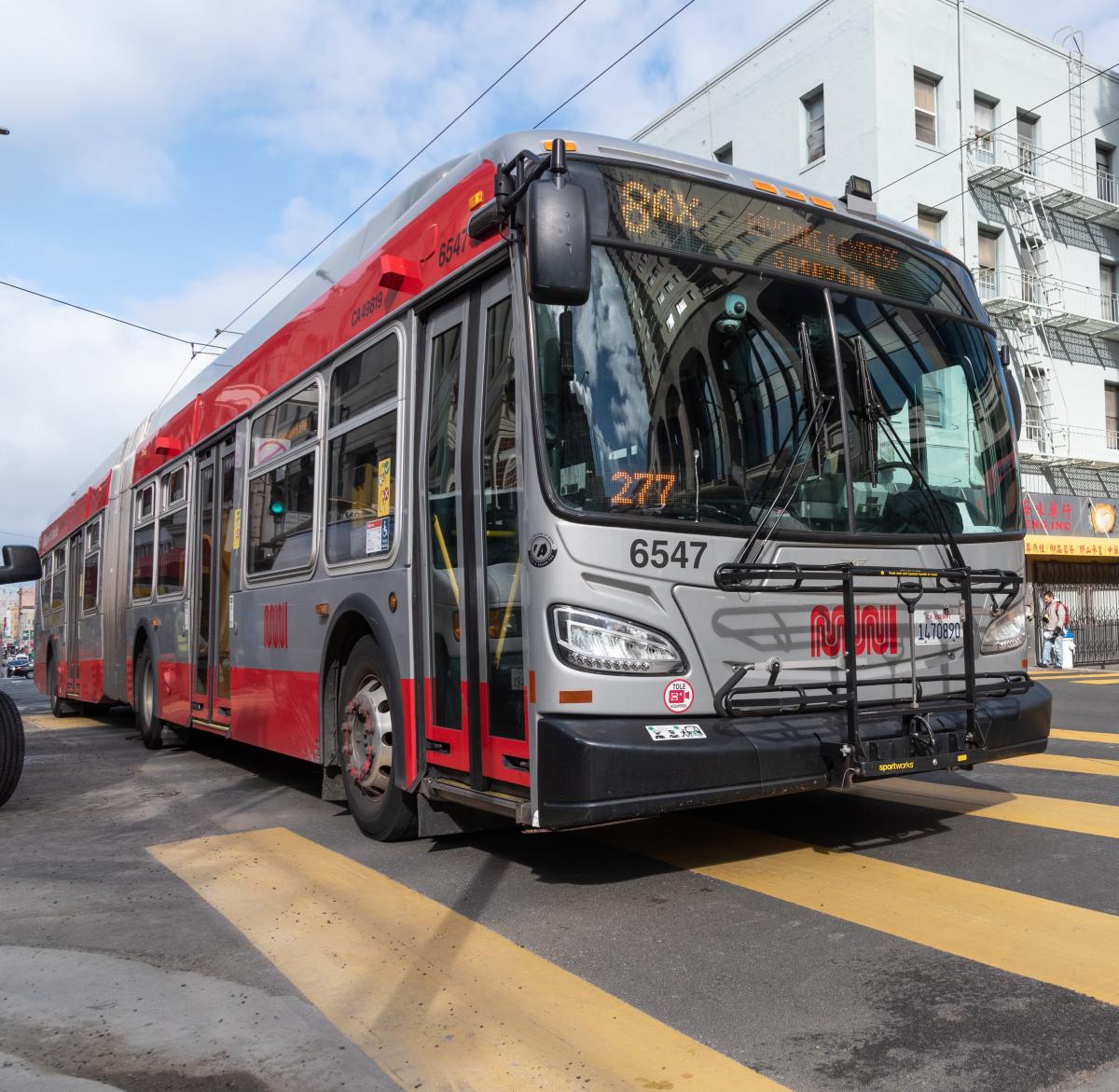 Note: As of January 7, 2023, the K Ingleside and T Third are no longer combined. The K Ingleside continues to run between Balboa Park and Embarcadero stations. The T Third runs between Sunnydale and Chinatown-Rose Pak Station via Central Subway. 
The 8AX Bayshore Express A is one of the Muni bus routes temporarily suspended since March 2020 that will be brought back into service in April 2022. 
Starting Saturday February 19, we will begin implementing the 2022 Muni Service Network plan. Changes include long-awaited Muni service restorations set to return in phases over the course of the year based on available resources.  
While we look forward to continuing implementation of the approved 2022 Muni Service Network as quickly as possible, Muni service since the beginning of the year has been significantly impacted by the Omicron surge. Currently, we are missing between 20 and 25% of scheduled Muni service, which means that riders are waiting longer than usual for their bus or train, and they are experiencing more crowding while onboard. 
The staffing shortages the SFMTA is experiencing will not impact the February 19 service changes because they are relatively resource neutral. However, we do need to delay the more extensive bus changes that were planned for March. 
What to Expect February 19 
Starting Saturday, February 19, Muni Metro service hours in the subway will be extended on Sundays until midnight (instead of 10 p.m.). The new Muni Metro hours will be approximately 6 a.m.–12 a.m. on weekdays and 8 a.m.–12 a.m. on weekends. 
Last Muni Metro trips on the KT Ingleside-Third, M Oceanview and N Judah will depart from their various neighborhood stops between approximately 11:30 p.m. and 11:50 p.m. in order to service the subway by midnight.  
Late night Muni Metro buses on the KT Ingleside-Third, M Oceanview and N Judah lines will continue to operate, in addition to train service, from 10 p.m. to 12 a.m. on Sundays until bus service is adjusted in mid-April. 
Owl service will continue to run from midnight to 5 a.m., except for the L Taraval Owl, which will continue to run from 10 p.m. to 5 a.m. 
Additionally, the J Church will resume service between Balboa Park and Embarcadero. This change was approved by the SFMTA Board of Directors in December 2021 based on feedback from J Church customers. As the SFMTA Board of Directors requested we will continue to monitor subway performance and report if conditions degrade. To minimize subway congestion, J Church frequency will go from 10 to 15 minutes on weekdays, and 12 to 15 minutes on weekends. 
During hours when the subway is closed, the J Church will turn around at Church Street and Duboce Avenue.
Looking Ahead 
 We plan to implement our next schedule in mid-April and will include the 8AX/BX Bayshore Express routes and a minor extension on the 56 Rutland to Burton Highschool. We will also reduce the scheduled frequency on the 1 California, 14R Mission Rapid and 30 Stockton to match our current delivery. This will improve reliability and vehicle spacing on these routes. 
Despite our desire to expand service further in March, we don't believe it would be responsible to make these changes until we are confident that we have the staffing needed to deliver on them. We are committing to a schedule we know we can deliver so our customers are not left waiting longer than usual for their bus or train. Customers are already experiencing longer wait times and crowded vehicles because of our high level of absences related to the Omicron surge compounded by our existing transit staffing shortage. Additionally, because of the fallout from Omicron and an increasingly competitive job market, we had fewer trainees in our operator training classes in January and February than we had planned for. These were the trainees who were going to be supporting our added service.  
In summer we expect to bring back additional routes that have been temporarily suspended since 2020 like the 2 Sutter (previously the 2 Clement), 10 Townsend and the 21 Hayes, some with modified routing, see 2022 Muni Service Network for information. We will provide a more detailed description of the schedule as soon as it's available. 
We deeply appreciate your incredible patience and understanding as we keep pushing forward. Please know that we are working behind the scenes to address gaps in service with a focus on access to essential services like hospitals, groceries, diverse workplaces and schools and service in the neighborhoods identified in the Muni Service Equity Strategy. We are also working to minimize large gaps in service and prioritizing service to Chinatown to support additional travel during Lunar New Year. A huge thank you to the hard working men and women at SFMTA that are keeping the city moving under extraordinarily difficult circumstances. 
If you need an alternative to Muni for essential trips, read about our Essential Trip Card and other transportation support programs.