4th Street Transit Lane Offers Muni a Path Forward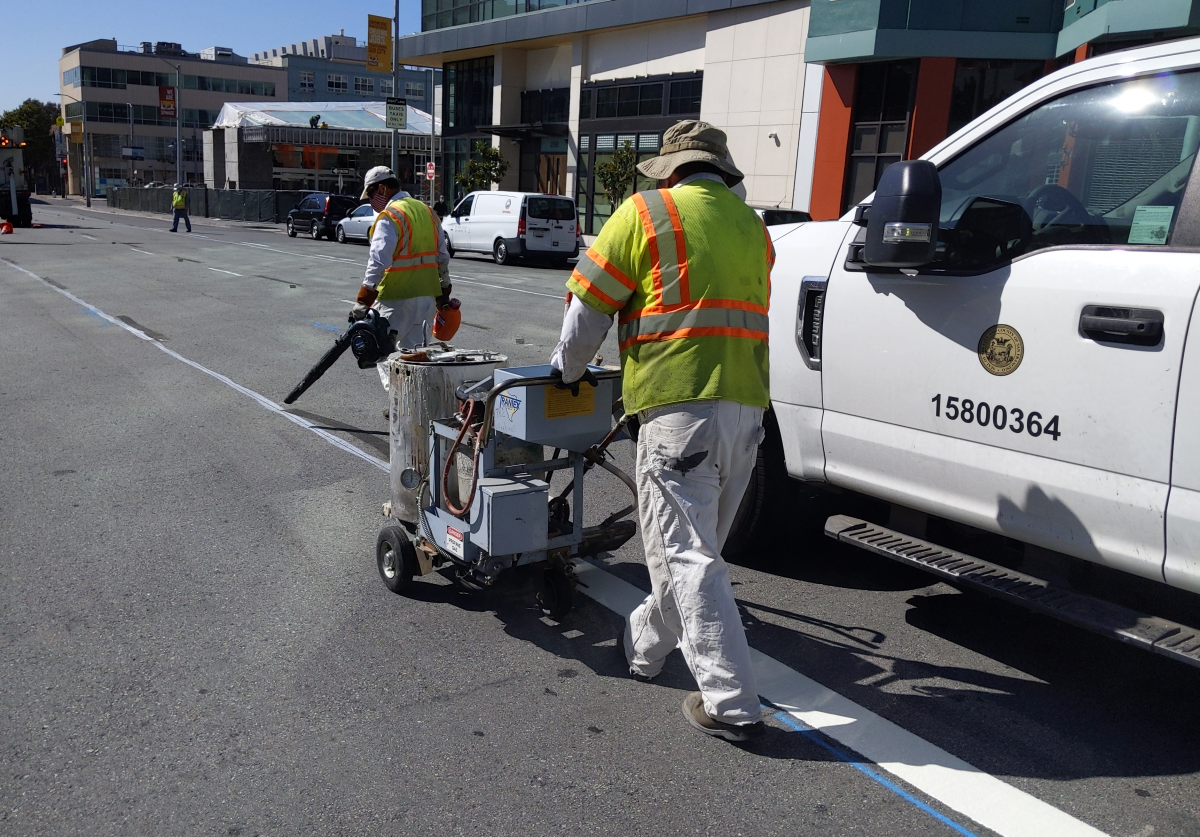 A new transit lane was installed last week on 4th Street in SoMA as part of the previously approved 4th Street Transit Improvement Project. As the first transit lane put in place during the COVID-19 pandemic, this change will help protect Muni passengers as congestion returns to city streets.
Transit lanes allow buses to complete trips in less time and turn around back into service more quickly. That means with our limited resources, we can provide more Muni service with the same number of buses, reducing crowding and maintaining better physical distancing onboard.
The benefits that transit lanes provide – saving time and avoiding congestion – have become critically important during COVID-19 to protect the health of Muni passengers. Physical distancing requirements mean that Muni's passenger capacity is cut in a third from pre-COVID levels. When buses take longer to complete their routes, customers increase their possible exposure to COVID-19.
The 4th Street transit lane can be used as a model for how this proven tool can benefit Muni customers throughout the city. The SFMTA is using travel time data to evaluate additional locations where adding new transit lanes would achieve the biggest time savings and provide the greatest benefit.
4th Street Transit Lane: A Model for a Broader Return of Muni Service
The new transit lane is the primary feature of the 4th Street Transit Improvement Project approved in October 2019 following months of community engagement. Other key elements of the project include additional passenger and commercial loading, as well as improved safety for people walking. The dedicated transit lane runs from Market to Folsom streets. It is currently identified with white "Bus/Taxi Only" stenciling and will later be painted red. The 4th Street lane complements the recently updated transit lane on 3rd Street as part of the 3rd Street Transit and Safety Project. Taken together, these transit lanes can substantially reduce transit delay, minimizing health risks for Muni passengers.
See the diagram below for the new design of 4th Street approaching Howard.

The 4th Street corridor is a major transit and traffic corridor, providing connections to Caltrain, 101 South and the Bay Bridge and is anticipated to have high levels of traffic congestion moving forward. Typically, it is used by five of Muni's busiest bus lines, including the 8 Bayshore, 8AX and 8BX Bayshore Expresses, 30 Stockton, 45 Union/Stockton and 91 OWL lines. During COVID Core Muni service, it supports the 8 Bayshore and 91 Owl lines.
As economic activity gradually resumes, we know that if just a fraction of the people riding Muni before the crisis switch to driving, congestion will be so severe that it will cripple San Francisco's economic recovery. Simply put, without transit there is no recovery. Transit lanes are a proven success that allow Muni to avoid traffic congestion, improve travel times and increase frequency. If buses are less frequent, customers will have to wait longer and more people will need to use the same bus, increasing crowding or pass-ups when buses are full.
SFMTA has the task of meeting changing mobility needs in real time. But our challenge is that much greater with the immense loss of revenues the SFMTA is experiencing due to the COVID-19 pandemic. With limited resources, Muni's number one goal is to keep transit moving while protecting the health and safety of our passengers and operators as we recover.
The 4th Street transit lane can help reduce the current crowding on the 8 Bayshore and ensure that when additional Muni routes return, they too can avoid traffic congestion. Given the critical importance of this corridor to local and regional transit, it will serve as an example to look to for similar treatments on other corridors.