3rd Street Transit and Safety Project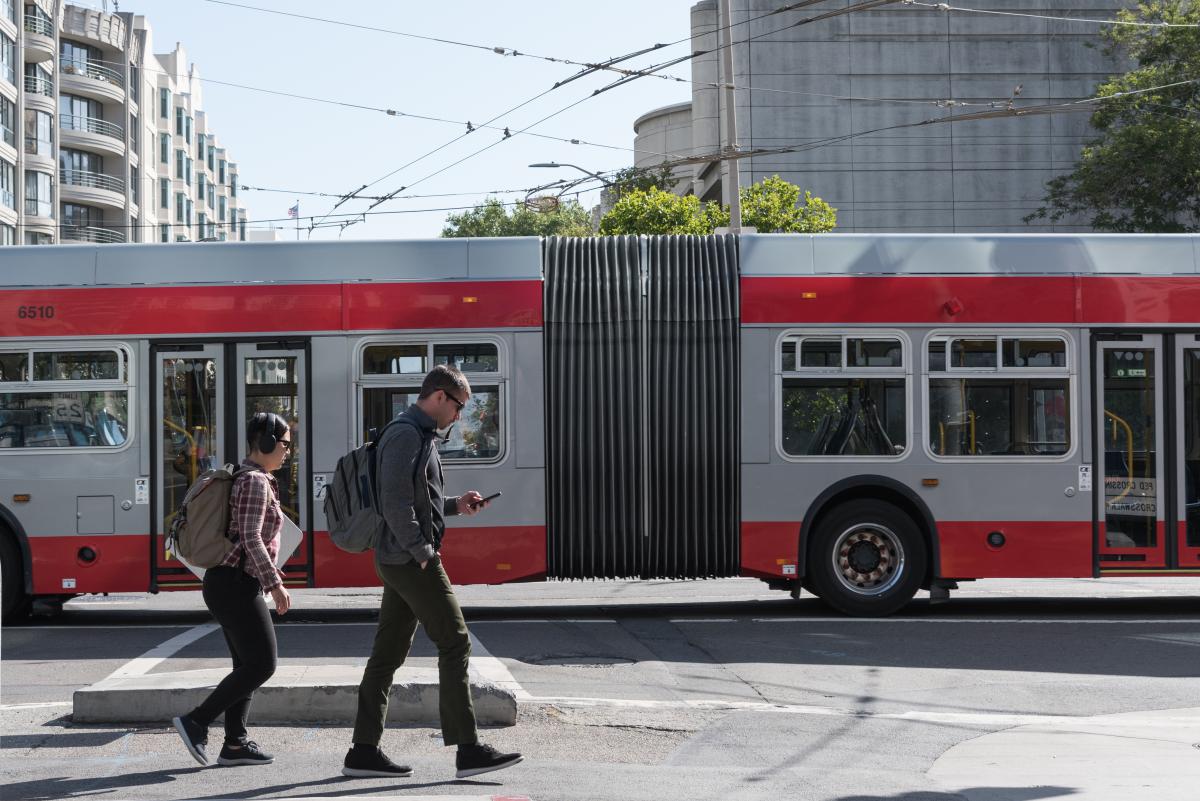 Five of Muni's busiest bus lines run on 3rd Street in the South of Market neighborhood, including the 45 Union/Stockton, 30 Stockton, 8 Bayshore, and the 8AX and 8BX Bayshore Express buses. But during rush hour, cars block the transit lane and delay thousands of Muni passengers. 3rd Street in SoMa also has some of the most serious traffic injuries in the city. 
The aims of the 3rd Street Transit and Safety Project are to reduce bus delays and improve safety for people walking on 3rd Street between Townsend and Market Streets, as well as to reconfigure traffic lanes to better accommodate existing travel demand patterns.
On February 19, 2019, the SFMTA Board of Directors unanimously approved the 3rd Street Transit and Safety Project. Learn more about the project's proposed improvements: 
Project Implementation
Early implementation of some project improvements will take place over summer 2019, with the interim project construction occurring in the fall. Construction for the interim project is expected to take one to two months. Following the completion of the interim project, the SFMTA and San Francisco Public Works will begin to develop detailed designs for elements of the final project, including sidewalk extensions at bus stops (transit bulbs) and at intersection corners (pedestrian bulbs). The final project is expected to start construction in 2023. 
Intersection Improvements 
The sample intersection illustrated below shows upcoming improvements to 3rd Street for transit and people walking. By shifting the transit lane away from the curb, the project can reduce bus delays and provide an additional right-turn lane to accommodate Bay Bridge traffic. Pedestrian improvements will improve safety for people walking. In order to accommodate these improvements, one through lane of traffic will be removed outside of rush hour, and some curbside parking will be converted to a traffic lane during rush hour. Some curbside parking will also be removed to accommodate right turn lanes.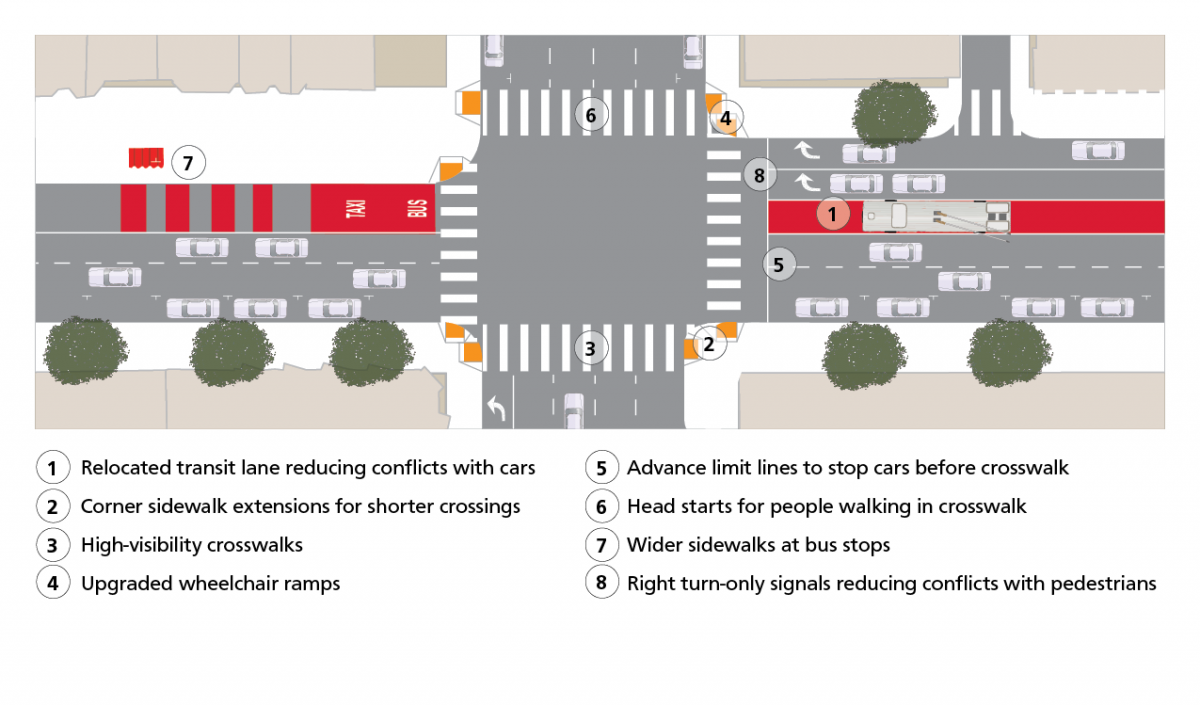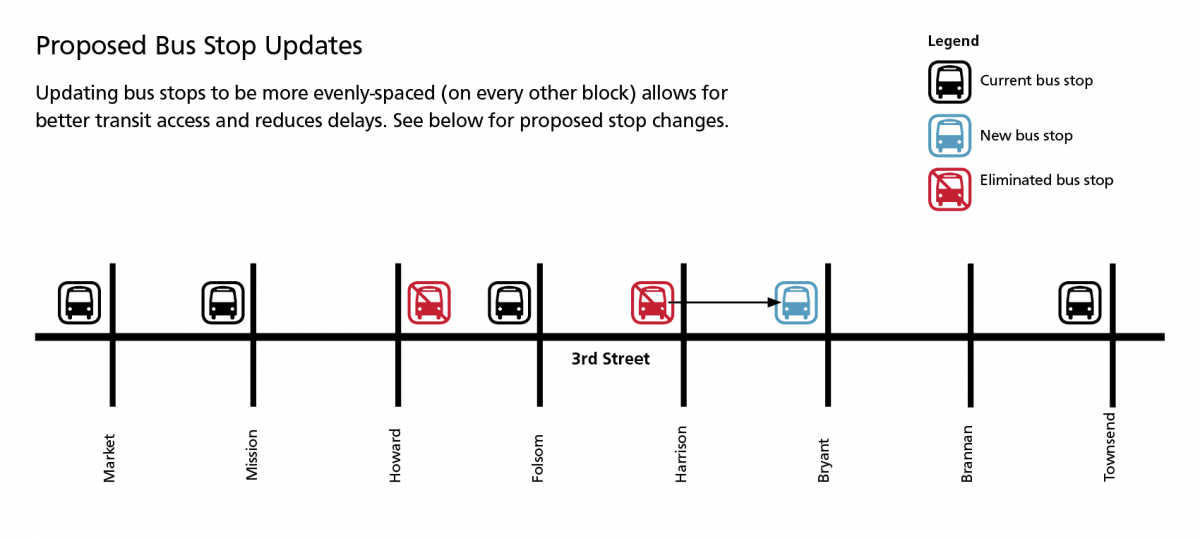 Project Timeline
By End of 2019
Interim Project Construction
Project Status
Detailed Design
Legislated
Improvements
Relocated transit lane reducing conflicts with cars
More even stop spacing for better bus access
Wider sidewalks at bus stops
Corner sidewalk extensions for shorter crossings
High-visibility crosswalks
Advance limit lines to stop cars before crosswalk
Walk sign head starts for people walking in crosswalk
Right turn-only signals reducing conflicts with pedestrians
Reconfigured traffic lanes to better accommodate existing travel demand patterns
Bus Routes and Rail Lines
Transit and Safety Needs
Bus Delays
During the busiest hours, 3rd Street is used by close to 40 Muni buses carrying thousands of passengers – one bus every 90 seconds. Cars and trucks head downtown and to the Bay Bridge and Highway 101, While 3rd Street does have a lane prioritized for transit, during rush hour it is blocked by vehicles waiting to turn right, delaying thousands of Muni passengers.
High-Injury Corridor
Crowds of people walk to the area's many businesses, cultural and civic destinations. As a one way street with up to six lanes, 3rd Street is one of the city's high-injury corridors that have the most severe and fatal traffic injuries in San Francisco. Many of these injury collisions involve people walking in the neighborhood, which features several low-income senior housing projects, Bessie Carmichael Middle School and multiple major cultural and civic facilities (including Moscone Center and the San Francisco Museum of Modern Art).
Improvements to 3rd Street for people walking are also critical to achieving the city's Vision Zero goal to eliminate all traffic deaths by 2024.
Thank you for your feedback
The 3rd Street Transit and Safety Project proposal was developed with input from over 200 Muni passengers, pedestrians and motorists on 3rd Street. Feedback was received from local merchants, senior communities, neighbors, community organizations and institutional stakeholders. Take a look at highlights of the community's feedback. Feedback surveys were offered in English, Chinese, Spanish and Filipino. The feedback surveys are now closed.